Bella Abzug and Gloria Steinem in the Spotlight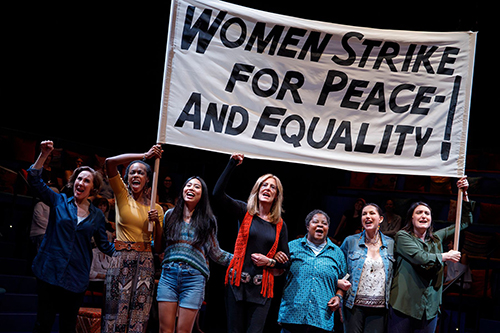 When Gloria Steinem approached Emily Mann in 2014 with the idea to adapt her life for the stage, the award-winning playwright didn't have to think twice.
"The reason I jumped in an instant was I could not have the life I led without Gloria Steinem," Mann said. "There was no question in my mind that I wanted to get to know her and to work with her."
Mann spent the next four years workshopping a show based on the famed journalist and women's rights activist. The initial idea—a one-woman show with Steinem playing herself—ended up morphing into an eight-member cast, with Emmy Award-winning actress Christine Lahti first portraying Steinem in the Off Broadway production. Additional actors played people from Steinem's life, such as celebrated feminists and civil rights activists Bella Abzug and Coretta Scott King.
Gloria: A Life, now on a national tour, is part of a new crop of theater, film and television retellings of the lives of 20th-century feminists, many of them Jewish.
Steinem, the daughter of a Jewish father and Christian mother, will also be featured in two upcoming films: The Glorias: A Life on the Road, directed by Julie Taymor, with four actors portraying Steinem at different points in her life; and An Uncivil War, directed by Dee Rees, with Carey Mulligan playing Steinem.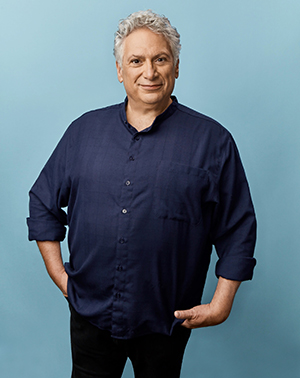 Meanwhile, Abzug is getting her own production as well. Harvey Fierstein is portraying the Jewish attorney and politician famed for her big hats and brash manner who worked alongside Steinem to found the National Women's Political Caucus in 1971. The play, Bella, Bella, opens Off Broadway on October 22 at the Manhattan Theatre Club.
Other productions currently in the works include Mrs. America, an FX television series produced by Cate Blanchett about the failed battle to ratify the Equal Rights Amendment. Slated to air in spring 2020, Blanchett will play conservative activist Phyllis Schlafly, with Rose Byrne as Steinem, Margo Martindale as Abzug and Tracey Ullman as Betty Friedan, Jewish author of the groundbreaking The Feminine Mystique. And Amazon is adapting Ninth Street Women, a book about female artists—including Jewish painters Lee Krasner and Helen Frankenthaler—who broke barriers in the art world in the 1950s.
In Mann's play, Steinem's character directly addresses the audience as she relates her life story, from her relationship with her mother, who suffered from mental health issues, to the sexism she faced from bosses and co-workers and her encounters with fellow activists as she rose to prominence.
Some of those moments take on added meaning in light of current events, Mann said, noting that the play has been influenced by the changed political climate in the years since she began working on it. By the time Gloria: A Life premiered in the fall of 2018, Donald Trump had replaced Barack Obama in the White House. Millions of women had joined the 2017 Women's March in Washington, D.C., in response to the election. And in October 2017, the #MeToo movement exploded, igniting an ongoing series of conversations around sexual misconduct.
As a result, certain scenes in the play resonated in unexpected ways. Among them is an incident in which an editor tried to pressure Steinem, then a young journalist, into sleeping with him. Steinem's character recounts the incident, and it is then acted out on stage—a #MeToo moment decades before the advent of the movement.
Mann said that the scene took on an unexpected and huge significance: "It's like a thunderbolt when you hear it, and that's quite different than when I was writing it."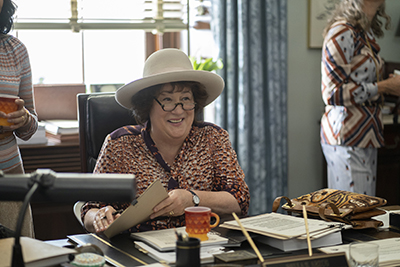 The play changes according to new developments, with clips from recent events projected on screens. For instance, showings have included scenes from the first Women's March in Washington. At each performance, the final 20 minutes is dedicated to a talking circle, where audience members are invited to share reactions.
The sheer number of new productions seems to indicate increased interest in the lives of second-wave feminists, active in the 1960s and 1970s.
Even 10 years ago, people may have thought earlier activists were "old school," according to Judith Rosenbaum, executive director of the Jewish Women's Archive. But there is now a new understanding that "these are people who have dedicated their lives to social change, so let's not reinvent the wheel—let's learn from them."
Indeed, in 2011, when Mary Gabriel began writing Ninth Street Women, a biography of five pioneering female abstract artists, the current "wave of women—if we want to call it a new wave of feminists—hadn't really started."
The book covers the artists' successful fight to find a place in the male-dominated mid-20th-century New York art world. Daniel Palladino and Amy Sherman-Palladino, the husband-and-wife duo behind the hit series The Marvelous Mrs. Maisel, are adapting the story for Amazon.
"The timing is perfect," said Gabriel, who is a consultant on the Amazon project. She believes her subjects' stories will "give hope to those feeling discouraged" by today's heated sexual and social discourse.
Another explanation for the proliferation of these feminist-focused projects is that the barriers female filmmakers and writers have historically faced are beginning to come down, said Eric Goldman, an adjunct professor of cinema at Yeshiva University.
"The playing field is leveling off a little bit—still not level—but as a result, women are coming in and they're saying, 'There are these great stories to be told and it's about time that they are told,' " he said.
Ironically, in Bella, Bella, Harvey Fierstein plays the pioneering politician in the one-"man" show, set in 1976 when Abzug unsuccessfully ran for the United States Senate after having served three terms in the House of Representatives. The play, with a script by Fierstein, has Abzug talking to the audience about her experience during the campaign as she hides out in a bathroom, while her friends and family wait in a nearby hotel room for the election results.
Fierstein acts as a vehicle for Abzug's words, said director Kimberly Senior. "She's speaking through that person, and what that body is doesn't actually matter. It's not like he's interpreting her or imitating her," she added, noting that Fierstein wears a simple black shirt and pants and does not try to copy Abzug's famous accent.
According to Senior, Fierstein was inspired to write the play because of parallels he saw between the media coverage of Hillary Clinton's 2016 presidential campaign and Abzug's experience.
Liz Abzug, the congresswoman's daughter and founder and president of the Bella Abzug Leadership Institute, is a producer and consultant for Bella, Bella as well as executive producer of an upcoming documentary titled Bella!.
At first, Abzug said, she was hesitant about her mother being portrayed by a man. The production team had initially approached several female actors. None of them worked out due to scheduling conflicts, so Fierstein decided to play her himself.
Abzug was convinced that Fierstein was perfect for the role when she discovered that the Tony Award-
winning director and actor shared her mother's earthy sense of humor. "I thought at first, 'Well, it's a little bizarre,' but I encouraged it," she said, "because, I thought, 'He gets her.' "
Meanwhile, Mann has been busy working on the current run of Gloria: A Life at Princeton University's McCarter Theatre Center, where she has been the artistic director for 30 years.
This production, running through October 6, offers a new cast, including Academy Award-nominated actress Mary McDonnell in the lead role. (It is then slated to move to Boston's Loeb Drama Center in January.) McDonnell hopes the play as well as other productions about iconic feminists will energize younger generations.
"It absolutely means everything," she said, "to be able to have all of the stories of all the great feminists of the past 30 years and beyond come to life right now."
Josefin Dolsten is a staff writer for the Jewish Telegraphic Agency, reporting on the intersection of religion, gender and politics.