Shopping and Schmoozing at Macy's With an Old Friend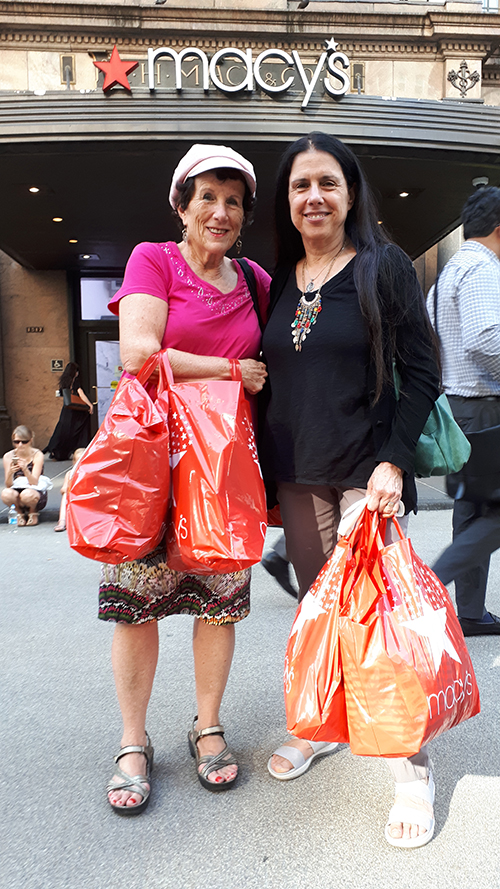 My college friend Mona and I live 6,000 miles apart. Whenever we can—usually twice a year—we meet in New York City at Macy's department store on 34th Street to fortify our friendship.
Despite the current ease of international communications, getting together still matters. When you live far away from a close friend, you can't be the one who shows up to shampoo her hair after she fractured her shoulder. You're not the friend beaming in the front row at an event celebrating her book launch. You know each other's headlines but miss the nuances, the accumulation of modest triumphs and disappointments of everyday life.
My everyday life happens in Jerusalem, seven time zones east of Philadelphia, where Mona lives.
Scheduling dedicated friendship time is a priority. We can't count on having it forever. We've both recently turned 70. We're fit and busy, not morose about embracing the new decade, though many of our contemporaries are confronting dreaded diseases or have passed away.
I let Mona know when I'm flying to the United States, making sure to travel through New York in at least one direction. I'm usually on motivational speaking tours, a traveling storyteller in the tradition of maggidim, who visited distant Jewish communities to relate inspirational tales.
She makes the appointment at Macy's My Stylist, a free personal shopper service, and fills out the requisite profile: "Barbara likes vivid colors and never wears brown. She wants skirts and dresses, no pants or sleeveless. She has a weakness for metallic fabrics. Mona needs conservative suits for her professional life, but still likes the bohemian sweaters of her college years."
We met as freshmen at the University of Pennsylvania in Philadelphia. I majored in English, not surprising considering my passion for 19th-century novels. Mona studied nursing. She had an old television in her dorm room and scheduled classes around ABC's soap opera General Hospital, her inspiration for what would become a successful career as a nurse and, later, owner of a company that provides medical and rehabilitation services. At Penn, I was a cub reporter for The Daily Pennsylvanian. Mona went folk dancing. Together, we ate dinner at the campus Hillel House. Our waiters were male grad students working off their scholarships.
Immediately after graduation, I moved to Jerusalem, where I lived in a basement apartment and spent my time teaching and writing. Then Mona turned up in the city, becoming a nurse at Hadassah Hospital and caring for Jews and Arabs, civilians and soldiers. I borrowed her Bordeaux-colored velour pantsuit and had it copied by a tailor in Bethlehem. Back then I wore pants, and we would drive in my fire engine-red, two-cylinder Citroen to the Arab cities of the West Bank, where we bought giant cauliflowers and brass wall lamps shaped like magic lanterns. I finished a master's thesis about English novelist George Eliot, while Mona got a graduate degree in public health, both of us studying at the Hebrew University of Jerusalem.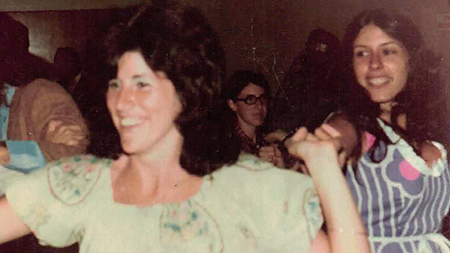 The Yom Kippur War in 1973 brought us closer. Her apartment had a phone, rare in those days. I used it to call home, reversing the charges to my anxious parents in Connecticut. This time, I owned the television. After harrowing shifts at the hospital, she would walk with a flashlight through streets made darker by the enforced blackout to watch the evening news with me.
When Mona moved back to the United States after the war, we kept in touch using the blue, fold-up aerograms available from the post office or stationery stores. As the years passed, we switched to email. We attended the bar and bat mitzvah celebrations of each other's children, and then their weddings. But you can't talk intimately at a party when one of you is the hostess. We've always wanted more.
Over the years, we've tried different venues and activities for a short but substantial rendezvous. Shopping at Macy's works best—it erases my jet lag even after the 11-hour flight. Mona travels to New York by Amtrak.
I get to Macy's first because I like the main floor's potpourri of makeup; Mona still doesn't wear any.
Macy's personal shopper service provides brewed coffee and a sitting room, where we give each other affirming, exuberant hugs of infinite friendship. Then, like foreign diplomats, we exchange gifts. Mona brings me something American and nifty: my first gloves with touchscreen finger pads, a nearly weightless purse that can become an overnight bag. I carry terry cloth robes monogrammed in Hebrew for her grandchildren and designer jewelry from an artists' cooperative for her: pomegranate-shaped earrings, filigree pendants, sleek silver pins.
The personal shopper sizes us up, goes into the back rooms and returns to the large dressing room with a weighty armful of shirts, dresses and sweaters. We hang our stashes on opposite racks, rejected items in the middle. For hours, we try on and exchange, look in the mirror, zip each other up and offer opinions. At the same time, we catch up: health, husbands and hawaiij—the Yemenite spice blend we both use in homemade lentil soup. Such are the winding ways of women's conversations. We already have the back stories. The talk gets deep, touches God and mortality, Zionism and fate. Without leaving the store, we break for a treat, ice cream or frozen yogurt topped with berries.
Riding the almost 100-year-old oak-and-ash escalators, the Brothers Straus, who once owned Macy's, always come to mind. Nathan Straus created life-saving pasteurized milk distribution centers for New York children and then later funded the delivery of pasteurized milk on donkeys along the narrow alleys of Jerusalem. That was the beginning of Tipat Halav, Hebrew for "a drop of milk," the well-baby clinics created by Hadassah. Nathan lived to 82, but his brother Isidor died at 67, in the sinking of the Titanic, where he and his wife, Ida, gave up their seats on a lifeboat.
Life is unpredictable. Spending quality time with a dear friend is essential.
Back in Jerusalem, my new purchases are still professionally folded in tissue paper in my suitcase. As I lift the clothing out, my heart gladdens—and not only for the new fuchsia blouse and silver cardigan. I see my friend Mona nodding at the choices—not just of clothing—that each of us has made. 
Barbara Sofer is a veteran journalist and author as well as the Israel director of public relations for Hadassah. She lives in Jerusalem. Both she and Mona Yudkoff are life members of Hadassah.