Bulletproof Backpacks Feature Israeli Technology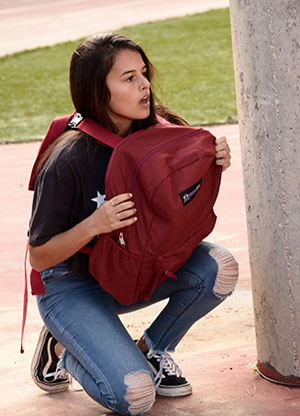 Gabi Siboni hopes you'll never find out how good his new product really is. That's because the Tel Aviv-based security specialist and retired Israeli army colonel who consults with the Israel Defense Forces is part of the team behind ArmorMe bulletproof backpacks. Siboni's partners are his one-time IDF colleague, Adi Dagan, and Dagan's wife, Iris. The Hong Kong-based couple oversees a manufacturing company that produces the high-end gear, which for now is exclusively for sale in the United States.
Bulletproof backpacks and suitcases were already on the market when ArmorMe launched its Kevlar-panel bags earlier this year ($140 to $230 on Amazon or at armorme.com). Unfurled in a matter of seconds, the bags, with features including canvas construction and double-panel plates, cover from the bottom "of your head to your knees, or you could put it over your head," explained Siboni, who hired Israeli defense experts to test ArmorMe bags in various handgun scenarios.
At just over five pounds, the bags are designed to keep contents in place even when jostled during what Siboni refers to as "an event"—a thoughtful measure, considering how frequently today's students participate in safety drills. "It's frustrating when you hear a noise, it's a false alarm, but suddenly your
stuff is all over," he said.
How effective is ArmorMe? "This type of protection will dramatically increase your survivability," even improving the odds against assault weapons, said the colonel, though the bags are designed to specifically protect against handguns.
Beyond their popularity with schoolchildren, backpacks—a $17.2-billion global industry—are increasingly the bag of choice for office workers. The New York-based NPD Group, which tracks consumer trends, has reported that 2018 saw double-digit growth in backpack sales driven by adult demand, while sales of traditional totes and messenger bags have declined.
Now, in addition to school and the workplace, there is the synagogue to consider, Siboni said: "You have some crazy guys who are shooting all the time. So even if you're going to synagogue, just put your siddur in the backpack."