Milwaukee, Iconic Sights and Jewish Delights
The Milwaukee Art Museum's glass-topped atrium will make your spirit soar, like the giant wings of its brise-soleil that unfold and rise to deflect the sun. The atrium is part of the lakefront museum's futuristic expansion, designed by Spanish architect Santiago Calatrava, who claims to have Jewish ancestry and whose many projects worldwide include Jerusalem's Chords Bridge.
Calatrava's world-class structure is but one of the many surprises awaiting visitors to Milwaukee, on Lake Michigan's western shore. With a population of about 600,000, including 25,000 Jews, the city is dubbed a "mini-Chicago" and lies an easy 90 miles north of the Windy City. Many of its natural attractions and its arts and entertainment venues are clustered in or near the downtown, making it a walker's delight.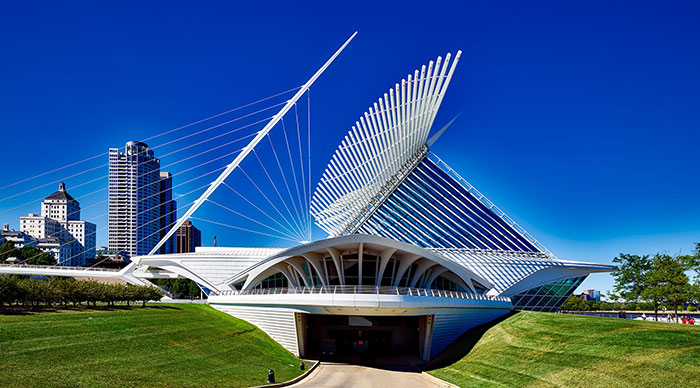 In addition to the futuristic, the city features two older, distinctive architectural features. One is the frequent use of cream city brick (from which Milwaukee got the nickname Cream City), made from a local red clay that turns yellowish when fired and used for facades, especially of private homes. The second is the Richardsonian Romanesque style—notable for rounded arched windows and symmetrical facades—seen in such buildings as City Hall and numerous public schools.
In this Midwestern metropolis that gave America Schlitz, Pabst, Miller and Blatz beers, many of the old breweries once displayed a six-pointed star, like the Star of David but actually a traditional German brewers' symbol with roots in alchemy. Now the old breweries are being repurposed as condos.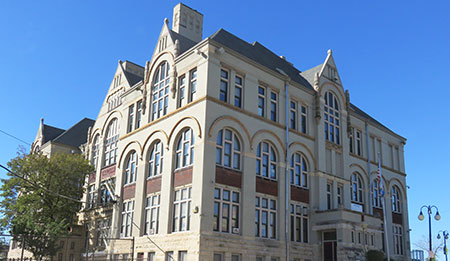 Milwaukee's first large-scale (non-Jewish) European immigration was from Germany, starting in the 1840s. These newcomers had a tremendous influence on the school system, introducing the kindergarten and liberal arts studies; local schools even taught in German. So, when German Jews arrived soon after and settled on Milwaukee's East Side, they felt comfortable speaking their native tongue. As in other American cities, they were followed by Jews from Russia and other parts of Eastern Europe, including, in the early 1900s, the Mabovitch family, one of whose daughters, Golda, would become Israel's fourth prime minister.
Though Golda attended a school built for children of Schlitz brewery employees, her father worked for the railroad and her mother ran a grocery store. Jews who were connected with the beer industry generally owned taverns or supplied salty snacks like popcorn to encourage people to drink more.
The scrap metal trade was also a major occupation on which Jewish fortunes were built. Innovation, too, played an important role. When Prohibition brought a need for strong locks to safeguard large amounts of cash raked in through bootlegging, Harry Soref, a locksmith who had emigrated from Poland, used thin pieces of steel to make strong but inexpensive locks, marketed as MasterLock.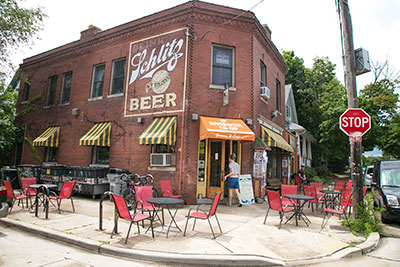 After World War II, Aaron Scheinfeld and Elmer Winter came up with the idea for ManPower, one of the world's largest staffing agencies. Winter also established strong ties to Israel, acting as a national president of the American Jewish Committee and forming and helping to lead the Committee for the Economic Growth of Israel.
Long before the reign of Martha Stewart, generations of Jewish women turned to The Settlement Cook Book for culinary guidance and household hints. Some still use its recipes, making it one of the best-selling cookbooks of all time, with about two million copies and 40 editions. The surprise is that the settlement house named in the title was not in New York City but in Milwaukee. The author, Lizzie Black Kander, was a descendant of German Jewish immigrants. The book started out as a pamphlet based on her classes at Milwaukee's Settlement House, where she taught mainly Russian Jewish immigrants how to keep an American home. Kander herself edited 23 editions, and book sales supported the Settlement House.
Today, many of the city's 18 synagogues as well as the Harry & Rose Samson Family Jewish Community Center have moved north, following the migration of Milwaukee's Jews to the suburbs.
The Milwaukee chapter of Hadassah, which formed in 1920 and today counts 1,000 members, comes together once a year for a Hanukkah celebration. 
WHAT TO SEE
Milwaukee Art Museum
Worth a visit just for its architecture, the Milwaukee Art Museum has collections spanning antiquity to the present, including Jewish figures such as glass artist Marvin Lipofsky, painter and sculptor Alexander Liberman and multimedia artist Michelle Grabner.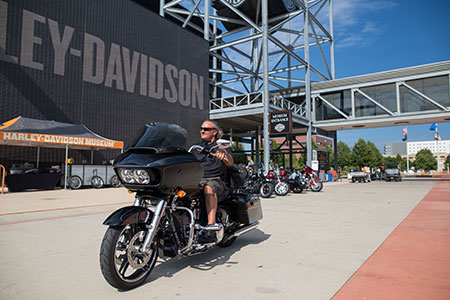 Jewish Museum Milwaukee
Golda Meir and the Prophet Jeremiah are two of the main figures in the Marc Chagall tapestry at the entrance to the Jewish Museum Milwaukee. Besides presenting Jewish beliefs and chronicling Jewish immigration to the city, the well-designed museum showcases community members' contributions to culture and industry, including novelist and playwright Edna Ferber and children's clothing designer Florence Eiseman. A number of Hadassah artifacts, including a Junior Hadassah Yearbook from 1946-47, appear in the exhibit "Israel and After."
Golda Meir School
Even as a young child in Milwaukee, the Kiev-born Golda Mabovitch was enterprising and had a finely honed sense of social justice. At age 8, she would help manage her mother's grocery store. While in fourth grade at the Fourth Street School, she organized a fundraiser to provide textbooks for her classmates. In 1979, the magnet school was renamed in her memory. Visitors can tour the original school building—built in 1890 in Richardsonian Romanesque style—in which Golda attended classes.
Harley-Davidson Museum
By now, it's common knowledge that Jews ride Harleys and belong to HOGs (Harley Owners Groups). But did you know that the Milwaukee-based company was rescued from potential bankruptcy in the 1980s by Jewish business executive Jeffrey Bleustein, who became its CEO? He not only improved the bikes so riders didn't have to be expert mechanics, he embraced the idea of marketing the brand—selling everything from shirts to posters. Learn more Harley history at the company's high-tech museum.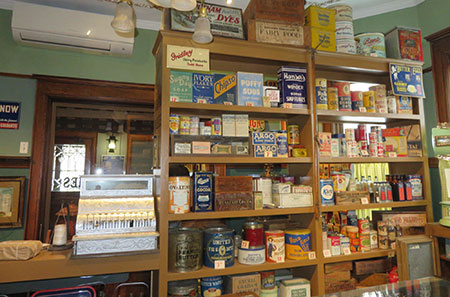 Seven-Seat Bicycle Tour
Shlomo Levin, formerly rabbi of the Orthodox Lake Park Synagogue, operates these unconventional tours on bikes that each accommodate seven peddlers. One tour, titled "Ghastly History of the East Side," includes the haunted lighthouse where Georgia Stebbens, the longest-serving keeper, made 26,000 trips up the winding stairs to keep the flame lit.
Chudnow Museum of Yesteryear
Avrum Chudnow—the late Milwaukee lawyer, entrepreneur, philanthropist and principal supporter of Timna Valley National Park in southern Israel—was an indefatigable collector of early-20th-century Americana. At the house in which the collection is displayed, each room portrays a different aspect of a bygone era, including a soda fountain, a grocery store, a barbershop and a post office. Every bit of wall space is used to convey the visual feel of decades past as well as tidbits of historical information—for example, that Bayer pharmaceuticals used to advertise heroin for "non-addictive relief from the coughs."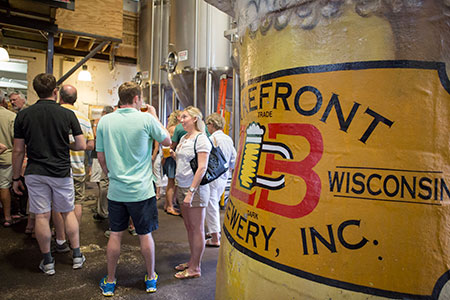 Brewery Tour
No visit to Brew City is complete without a tour of a brewery, especially one that produces kosher beer under Star-K supervision. The Lakefront Brewery tour includes a humor-filled history and plenty of drinks. Surrounded by new condos, the complex is located on the RiverWalk pedestrian zone, along the Milwaukee River.
IF YOU GO
Detailed tourist information is available from Visit Milwaukee.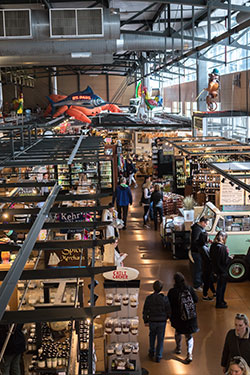 The Plaza Hotel offers suites with fully equipped kitchens in easy walking distance of the downtown and lakefront.
Culinary surprises await visitors who think Milwaukee is strictly cheese and meat-and-potatoes. There are no kosher restaurants, but there is a kosher grocery store (The Kosher Meat Klub) as well as several vegetarian and vegan options. The menu at the popular vegan restaurant Celesta includes "creamy" lasagna, a "turkey" seitan club sandwich on sourdough and baked walnut French toast.
Don't miss a stroll through the Milwaukee Public Market, a collection of international gourmet restaurants and stalls whose offerings include Wisconsin's signature chocolates and cheeses as well as ethnic foods, vegetarian and vegan delicacies, spices, coffees, wines, olive oils and kitchen gadgets.
Esther Hecht, a journalist and travel writer based in Jerusalem, was a guest of Visit Milwaukee.