The Mural of the Story, Jewish Women Street Artists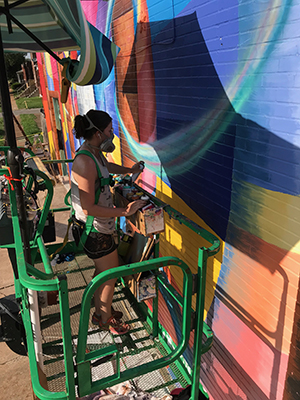 One of Liza Fishbone's earliest memories is of standing on scaffolding, helping her artist parents sketch the outline of a butterfly mural on a wall of the Willert Home Products complex in St. Louis.
Now 28 and based in Austin, Tex., Fishbone is among a new crop of contemporary street artists whose female as well as Jewish and (sometimes) Israeli identities represent a departure for a field long dominated by men—from early 20th-century Mexican artist Diego Rivera to pop artist Keith Haring and London-based contemporary political activist Banksy. "I remember once, a scaffolding worker told me, 'I've never seen a woman up there before,' " said Fishbone, whose commissions in psychedelic hues are splashed across walls in her native St. Louis and beyond (find her on Instagram, @lizafishbone). "But now women are telling their truth, and that's important. There's a lot of power in murals. And I prefer working outside, with the sun on my face."
That spirit of liberation—both literal and figurative—is a thread connecting the stories of Jewish women in the United States and beyond who are part of today's street art movement, a broad and fluid field that encompasses public artwork from large-scale murals to painting on found objects such as cardboard, wood slats and mirrors. And while few of these street artists incorporate explicitly Jewish themes, many note the influence of their heritage and the values of tikkun olam, social justice and community responsibility that translate into their commitment to beautifying public spaces.
In general, street art itself "has developed tremendously in the past 10 years. It's become a lot more legitimized," noted Anat Ronen, 48, a Haifa-born muralist now living in Houston who specializes in detailed, large-scale figurative works—from oversize portraits to animals and plants (@anatronen1971).
With the emergence of superstars like Shepard Fairey (best known for his Hope portrait of President Barack Obama) as well as high-profile murals attracting Instagram tourists to stylish neighborhoods like Miami's Wynwood and South Tel Aviv, public art has wriggled free of its longtime association with graffiti and vandalism. Today, many neighborhoods encourage, and even fund, artists who use spray paint to beautify drab walls; companies and nonprofits likewise hire muralists to promote their work or brands on the sides of buildings. Some municipalities sponsor individual murals as well as street art festivals—anything from annual paid events where crowds watch as artists create temporary chalk drawings to groups of artists invited to permanently decorate empty walls.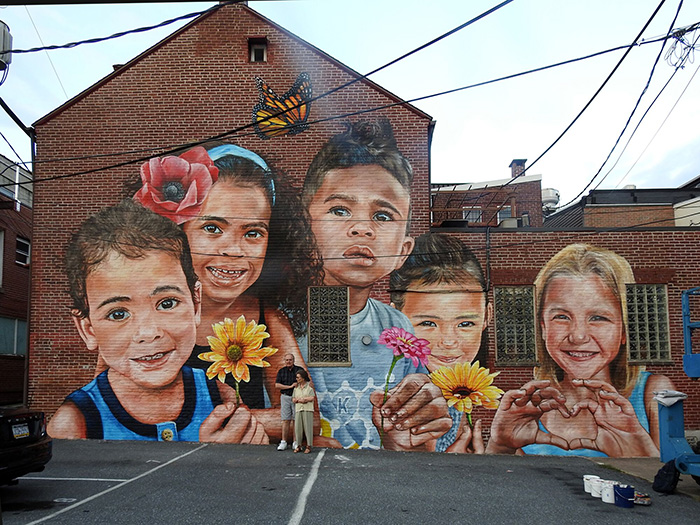 One notable recent work is Rose Jaffe's two-story mural of Justice Ruth Bader Ginsburg. The piece, located on historic U Street in Washington, D.C., was commissioned by the female-owned real estate company Flock DC.
Collectively, street art "is hip," Ronen said with a laugh. "Everybody wants it." Two of her murals and many of her paintings on recycled cardboard are the subject of the exhibition "Anat Ronen: Urban Legend," through January 2020 at the Pearl Fincher Museum of Fine Arts outside Houston. The murals, one of them depicting an armadillo holding a sprig of flowers, were painted on the museum's walls just for the show. Several years ago, Ronen, who worked for a real estate company in Israel and had never studied art, ambitiously took up professional mural painting to qualify for a so-called "artists and entertainers" United States visa—and succeeded. Today, she is a regular on the street art festival circuit and cites the "freedom of working out in the open" as part of the field's allure. The Jewish values she grew up with are also motivation. "It's a mitzvah to give back, to leave something behind for everybody else to enjoy," she said of her outdoor creations.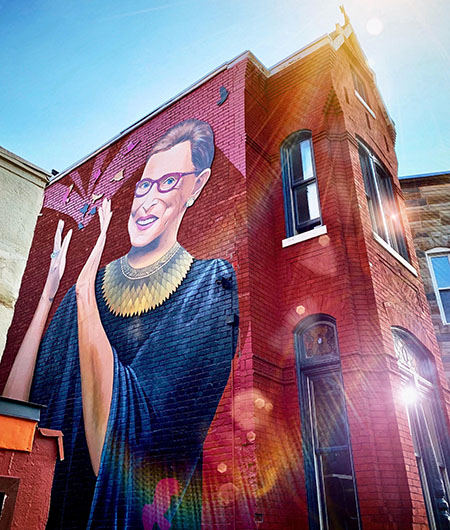 Jewish women have long been prominent—if underrepresented—figures in the mural world. The artist Tania was a founder in the 1960s of City Walls, a nonprofit organization that later morphed into the Public Art Fund that commissioned murals around New York City. Her most familiar work, a 13-story geometric mural created in 1970, still stands at Mercer and Third Streets in Manhattan. Miranda Bergman was one of seven muralists who created the landmark feminist MaestraPeace Mural in 1994 for the Women's Building in San Francisco's Mission District.
And Jane Golden heads the nation's largest public art program, Mural Arts Philadelphia, which engages neighborhoods in collaborative, socially empowering art initiatives each year. "Cities are recognizing that art is important, that it can be a part of a community- development strategy," reflected the 66-year-old Jewish artist, who began her career as a muralist in Santa Monica, Calif., in the 1970s.
Art certainly has been a catalyst for Sara Erenthal (@saraerenthalart), a Brooklyn-based multidisciplinary artist. Born in Israel and raised in an insular Hasidic sect in the United States, Erenthal, now 37, joined the Israeli army to escape an arranged marriage. After moving to Brooklyn, she taught herself to draw.
"Art is healing for me," explained the now secular Erenthal. Her works—primitivist images of round-eyed and sometimes nude women accompanied by feminist messages like "Ever since I found my voice, I can't shut up"—are scattered around Brooklyn neighborhoods such as Crown Heights and Park Slope.
One day, Erenthal noticed a window left out for trash on the sidewalk near her Crown Heights studio. "I couldn't carry it home, so I had the idea to draw on it and leave it," the artist recalled. She realized the sidewalks were full of potential "found art" canvases. Today, a number of her repurposed trash pieces are for sale at local galleries. The genial anarchy of street art suited Erenthal's urge to process her liberation struggle, evident in recent works such as Woman, Speak Up! at the Welling Court Mural Project in Queens, a piece depicting two topless women with raised fists against a turquoise background.
"It's my job to be loud," said Erenthal, who created a piece in 2018 in conjunction with the Museum of Jewish Montreal on the corner of Rue Saint Dominique and Rue Duluth for Montreal's famed city-sponsored MURAL Festival. "I love the street because you can scream and be heard, especially as a woman."
Israel—a young, scrappy nation—is a disproportionate generator of street artists. "Israel is a young country that's all about entrepreneurship," observed Ronen. Street art, with its transgressive graffiti roots and lack of establishment strictures, fits the culture. "Thinking outside the box is a very Israeli thing."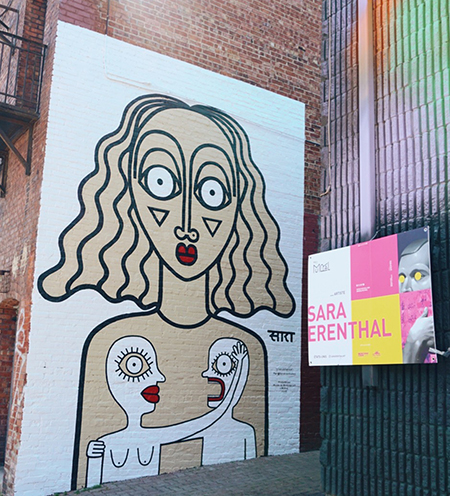 It was that sense of freedom that drew Murielle Cohen, a 40-something Montreal-born model and actress, to Israel in 2005 when she decided to become a full-time artist. Unlike New York City and Paris—cities where Cohen worked as a young adult—"Israel doesn't have a whole history of art behind it," Cohen explained.
She has developed a retro collage style for murals that addresses male-female relationships and questions the impact of technology (@murielle_street_art). One mixed-media piece has the silent film star Clara Bow surrounded by computer motherboards and the words, "Why do I feel like technology is ganging up on me?" Cohen's "Puzzle Poems" series, visible on walls near her Ashkelon home base, hides letters within a grid of faces that reveal a poem to those who look hard enough.
"Street art is about turning a wall that wasn't beautiful into something beautiful," said Cohen, who leads graffiti workshops with the blessing of municipal authorities. "It's marking territory, but it's also recycling. It's the freedom to say what you want to say."
Whether sketching on the sidewalk or decorating a wall, she said, "I'm my own boss. I'm the producer, director and writer." 
Hilary Danailova writes about travel, culture, politics and lifestyle.