Redefining Hospital Food at Hadassah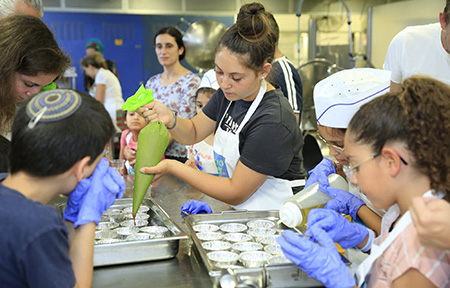 It's not brain surgery, but it's still complex and challenging, soaking up a sizable portion of hospital budgets while being integral to the healing process. It also has a truly terrible reputation. We're talking about hospital food.
People "have told me they'd sooner starve than eat in the hospital," said Amit Ziv, who, until this past September, served as executive chef of the Hadassah Medical Center in Jerusalem. (She left due to health reasons.)
They are, however, behind the times, said the 42-year-old chef. "Young chefs in Israel are redefining hospital food," and the several thousand kosher meals the Hadassah team prepares daily are "not only healthy and balanced, but also tasty and exciting."
This redefinition began a decade ago, when an Israeli Health Ministry survey confirmed the dire reputation of food at the nation's hospitals. In 2013, the ministry updated its guidelines to ensure that the country's hospitals provide a nourishing, appetizing Mediterranean diet. It was Ziv who helped revamp Hadassah's kitchens, emphasizing experimentation and flavor in the hospital's menu.
In 2017, Hadassah's new food culture was underscored when Ziv and her team bested 60 hospital kitchens in a Health Ministry contest. The prize-winning recipes included turkey roll with butternut squash and buckwheat; bulgur, lentils and onions seasoned with cumin, fresh herbs, cranberries and walnuts; and fish-and-vegetable rolls wrapped in rice paper.
At the Ein Kerem campus alone, 12 chefs, 40 servers and 50 ancillary staff as well as three kashrut supervisors and a rabbi help prepare the more than 1,000 patient meals served daily (along with 1,300 staff meals). The campus's tiny food services office in the basement of the iconic Round Building—the focus of a current renovation fundraising campaign called 360 Degrees of Healing—lies near the bustling meat kitchen, with its industrial-size ovens and stovetops, giant cooking pots, walk-in refrigerators, cupboards, steel sinks and worktables, dishwashing systems, hoses and floor drains. The office shelves are crammed with meal plans on two-week rotations, special-diet printouts, nutrition charts, work schedules and recipes.
Under Ziv, the kitchen was encouraged to adapt and experiment. Staff were urged to "be generous with herbs and spices. Why serve plain baked chicken when you can grill it with herbs and garlic, or bake it in mushroom sauce? Why give plain rice when you can add nuts and prunes?" she said, believing chefs should have "as free a hand as possible."
The catch is in the "as free a hand as possible," explained dietitian Rivka Harari, 56, who heads Ein Kerem's nutrition team. "Hospital patients, especially in advanced-care centers like Hadassah, have critical dietary needs and restrictions."
Over half of Hadassah's patients require special diets, she said. There are menus designed for diabetic, pediatric and obstetric patients, food for those on liquid or puréed regimens, meals low in salt, cholesterol or lactose as well as those entirely free of lactose, gluten or iodine. Hemodialysis and pre-dialysis patients must eat meals that are low in fluid, sodium and potassium, while burn patients require food high in protein. Honey and yogurt, which can harbor infectious microorganisms, are never given to patients with compromised immune systems, and there are options for vegetarians and vegans, too.
Hadassah's kitchens also host patients for demonstrations on how to prepare tasty food despite essential dietary restrictions. In August, for example, a cooking workshop transformed more than 25, 5- to 14-year-olds from the hospital's diabetes clinic into master chefs for the day. Jana Chen, Hadassah's head ophthalmology nurse and currently a contestant on Master Chef Israel, led a class that followed the format of the television cooking contest.
Two groups of youngsters, accompanied by their parents, competed to prepare diabetes-friendly meals that balanced protein and carbohydrates. "They learned to make vegetarian burgers from protein-rich lentils, hamburger buns from cornmeal—for those with wheat allergies and celiac disease—a tasty salad and a chocolate cake, with dark chocolate, olive oil and sweetener," said Harari, who was among the event's organizers. Hadassah diabetes experts—physicians, psychologists, nurses and dietitians—dropped by to give short talks. And when the meal was ready, parents, children and staff all sat down together to eat.
If the special diets are demanding, standard meals are scarcely less so. Israel's Health Ministry requires that hospitalized patients daily receive 1,800 to 2,000 calories—half from carbohydrates, 15 percent from protein and 35 percent from fat. Poultry and fish products must be fresh and low fat, no processed meat may be served, and dairy products must contain no more than 5 percent fat. On top of all this, there are cultural palates to be considered—Ashkenazi and Sephardi, Jewish and Arab—along with healthy versions of traditional foods for Shabbat and holidays, such as the Spelt Sufganiyot (doughnuts) and baked cauliflower-and-potato latkes spiced with coriander, cumin and turmeric served during Hanukkah.
"Dietitians state the limitations, chefs find the solutions," said Harari, who was recruited by Hadassah 28 years ago after graduating from the Hebrew University of Jerusalem's agriculture school, then Israel's only institute of higher learning that taught nutrition. Today, she heads an all-female team of 24 dietitians—secular, modern Orthodox and haredi Jews as well as Arabs—that provides input to every patient department.
After the Health Ministry's 2013 guidelines reassessment, Hadassah became Israel's first hospital to redevelop its menus and the way it serves food. "We began where Hadassah began, with child nutrition," said Harari. "It's a changed world since Hadassah's Tipat Halav [Drop of Milk] program of the 1920s, which brought Jerusalem's malnourished children uncontaminated pasteurized milk by donkey. Today, child nutrition is as much about obesity as malnutrition, but it remains a primary health concern."
"It's important that hospitalized children feel at home and eat things they enjoy," Ziv said, noting that kid favorites like burgers and French fries are on the pediatric patient menu. Except the burgers are made from lean meat ground in the hospital kitchen; French fries aren't deep fried; and chocolate milk has less sugar, or a sugar substitute. "The kids eat food they like here, but its nutritional value is higher."
Following the success in pediatrics, menus have been revamped hospital-wide. Meals are adapted to individual medical needs, with fruits and vegetables changed according to season. Breakfast for most patients includes a fresh chopped salad or crudités, whole-wheat bread, eggs, Bulgarian or cottage cheese, olives, tahini, oatmeal and jam. Mid-morning fruit is followed by a lunch of soup plus a choice of grilled chicken, fish fillet, pot roast or fish cakes. Dinner is typically a dairy or vegetarian meal—whole-wheat bread with cheeses, salad and cooked vegetables; quiche; tahini, avocado, hummus or eggplant salad. For patients who are still peckish, there are crackers, fruit, cookies and cake. And everything is fresh. Bread and dairy products are delivered daily, and fruit and vegetables (including a regular half-ton of potatoes) every three days.
Beyond the food itself, distribution is a major emphasis. The dairy distribution center, for example, newly housed in the Sarah Wetsman Davidson Hospital Tower, exudes quiet, focused efficiency. Half a dozen women and one man line a conveyor belt, carefully filling trays. The emphasis is not only on how quickly patients receive their food, but on presenting it aesthetically before sending it out to the wards and day hospital.
And along with the trays, Hadassah has one last innovation. "In every other Israeli hospital, patients receive their trays from the nurses," said Harari. "Hadassah's food is distributed by 40 food servers, who get to know the patients, see who needs help or encouragement in eating, and report problems to the medical staff."
All these innovations appear to be having an effect. "My expectations for hospital food were low, to put it mildly," said Shayna, 79, who was recovering recently from hip surgery at the Ein Kerem campus and preferred not to give her family name. "But what they bring is actually pretty good. To my surprise, I even find myself looking forward to it."
FROM HADASSAH'S KITCHENS
Spelt Sufganiyot
Makes about 20 doughnuts
A

1/4 cup egg substitute
4 tablespoons whole-grain spelt flour, sifted
1 teaspoon aluminum-free baking powder
4 tablespoons water
3 tablespoons grapeseed oil
B
1 1/2 cups whole-grain spelt flour, sifted
1 teaspoon aluminum-free baking powder
1/2 cup unrefined sugar
1 cup soy milk
1 teaspoon pure vanilla extract
3 1/2 tablespoons liquid coconut oil
Pinch of salt
Jam or melted chocolate for filling
Confectioners' sugar
Preheat the oven to 350°.

 

Combine the ingredients under A and set aside.
 Combine the ingredients under B, add to A, and mix well.
Spoon 2 tablespoons of the mixture into each compartment of a silicone muffin pan. Bake for about 20 minutes.
Pop doughnuts out of the pan and cool on a wire rack. Once cool, inject jam or melted chocolate into the doughnuts with a syringe. Sprinkle the doughnuts with confectioners' sugar to taste.
 Makes about 10 servings
3 medium-sized potatoes
1 pound broccoli or cauliflower florets
2 tsp chickpea or red lentil flour
1 tsp natural vegetable soup powder
1 tsp parsley, dried or freshly chopped
1 tsp coriander, dried or freshly chopped
1 tsp dill, dried or freshly chopped
1 tsp chopped celery
1/2 tbs sea salt
1/4 tsp black pepper
1/4 tsp ground cumin
1/4 tbs turmeric
3 tbs good quality olive oil
Cut the potatoes into quarters, and cook in boiling water for about 5 minutes. Remove from the water and let cool.
Put the broccoli (or cauliflower) into the same water and bring to the boil. Remove, chop the florets into small pieces and add to the potatoes. Mash the potatoes and broccoli together.
Add all remaining ingredients, and make flat, round patties from the mixture.
Arrange the patties on greased baking paper, brush each with a little olive oil, and bake at 180 degrees for about half an hour until lightly browned.
Mushroom and Lentil Vegetarian Hamburger
Makes  about 6 servings
1¼ cups green lentils
4 cups water
2 tablespoons olive oil
1 small onion, peeled and diced
20 ounces champignon mushrooms, sliced
1 egg
½ cup of flour plus a little more (part can be chickpea flour)
¼ teaspoon of cumin
¼ teaspoon paprika
Salt, ground black pepper
Cook lentils in the water on a high flame for about 20 minutes until they soften. Drain and blend into puree.
Heat olive oil in a large skillet over a high flame, add the onion and fry for 2 minutes.
Add the mushrooms and a little salt, and fry for 4-5 minutes, until mushrooms are slightly golden.
Transfer half the mushroom-onion mixture to the work surface and finely chop.
Add to the lentil puree.
Add the egg, flour and spices and stir well.
Add remaining mushrooms and onions, and mix well.
Form into patties. If necessary, add another tablespoon of flour and stir again.
Bake in a medium oven.
Serve immediately, like a classic hamburger in a bun, with sliced tomatoes, pickles, lettuce, mayonnaise and ketchup.
The patties can be refrigerated for up to 3 days, and heated up and before serving.
Fish Rolls in Rice Paper
Makes 10 servings
These fish-and-vegetable rolls, served with the signature Hadassah house salad, helped Hadassah win a $20,000 purse in the 2017 Ministry of Health contest. The money paid for a meat smoker and chairs for the staff canteen.
3 pounds tilapia filet, or similar white flaky fish
20 rice paper wrappers
5 tablespoons olive oil
Garlic, salt, coarsely ground black pepper, thyme, Cajun seasoning, all to taste
1 pound carrots, thinly sliced
½ pound scallions, chopped fine
1 pound sweet red bell pepper, cut into strips
3 ounces cilantro, parsley or fresh basil
3 ounces sprouts (any kind)
Season the fish with 2 tbs olive oil and spices (according to taste) and bake in a medium oven for 15-20 minutes, until browned but not dry. Remove from oven and let cool.
In a wok or frying pan, heat the remaining oil and stir-fry the carrots, scallions and peppers, adding spices to taste.
Add the cilantro, parsley or basil and then the sprouts.
Chop the cooled fish and add the fried vegetables. Mix gently.
Prepare the rice paper wrappings by filling a pie-dish with water and soaking them for 20 seconds. Don't leave them in too long. Place on kitchen towel to dry for a few seconds and then on the work surface.
Fill with the fish-and-vegetable mixture and roll them up.
Serve with Hadassah House Salad.
Hadassah House Salad
Makes 10 servings 
¾ pound chard, chopped like cabbage for coleslaw
¾ pound fresh mushrooms, quartered
¾ pound carrots, cut into thin strips (you can do this with a peeler)
¾ pound peppers, julienned
2 ounces sprouts
2 ounces fresh basil, chopped
2 ounces cilantro or parsley, chopped
5 tablespoons olive oil
Pinch of salt
Coarsely ground black pepper
Juice of half a lemon
Pinch of dried ginger
Mix together and serve
Wendy Elliman is a British-born science writer who has lived in Israel for more than four decades.