Susan Weiss Advocates for 'Chained' Women in Israel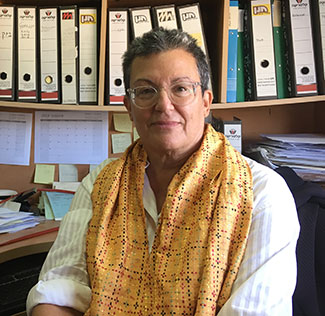 Susan Weiss is the founder and executive director of the Center for Women's Justice, a Jerusalem-based nonprofit that fights for the rights of Israeli agunot—women "chained" to husbands who won't grant them a Jewish divorce document, or get. Because religion and state are intertwined in Israel, the Chief Rabbinate controls all marriage and divorce, and agunah problems affect religious and secular alike.
We sat down with Weiss, who moved to Israel from New York in 1980, to talk about some of the gains agunot have made, the thorny issues that remain and some of the other ways her organization is trying to advance women's civil liberties in Israel. This interview has been edited for brevity and clarity.
---
How did you get into this work?
I started my career as a lawyer in the United States, and after making aliyah with small children, I began volunteering for women's organizations and quickly understood there was a problem for women in Jewish divorce. At first I tried to get justice for agunot using rabbinic leaders, but I realized the problem was more systemic than one or two bad husbands and some unenlightened rabbis. I started the Center for Women's Justice in 2004 with an initiative to sue recalcitrant husbands for damages, and we filed 50 cases around the country. We demanded that the civil courts in Israel respond to the problems in the religious courts. We sued for intentional infliction of emotional distress and reframed the whole problem of withholding a get from an issue of a religious right (the husband's) to an issue of a civil wrong (the wife's).
How do Israeli authorities respond when an agunah pleads her case?
Halacha (Jewish law) says that a divorce occurs only once a man grants a get to his wife. So the first thing the religious courts do is nothing. Years can pass. Then there's extortion: The courts will encourage the agunah to compromise in order to get her husband's agreement to give her a get. This could include extreme concessions like money, custody of the kids, the house. Then there's what I call violence: Sanctions like taking away his driver's license or his professional license, freezing his bank account. They can also put him in jail—theoretically, for a maximum of two, five-year terms. It's impossible to predict when or if a court will turn to sanctions, and it's relatively rare.
What can be done beyond prison and sanctions?
The center has developed prenups that penalize anyone who withholds a get with legal fees, damages and alimony. We also work with a private religious court that has annulled marriages. On the state level, however, we believe the battle shouldn't be over halacha. We want separation of religion and state. The citizens of the State of Israel are paying a very heavy price for this entanglement. In Israel, a woman can be a fighter pilot but she can't get divorced. That's very problematic.
What are some of the other issues you work on?
There are female converts whose conversions are questioned when they get divorced. We went to the Supreme Court to secure the right of single women to use the mikvah. We sued to disallow body searches of women suspected of coming to the Kotel hiding Torah scrolls.
Are there reasons to be hopeful?
Courts are more aware of what's happening, even religious courts, and civil courts are more aware of the problems that the entanglement of state and halacha causes. Ordinary people understand the problems more and more, and they're bypassing the rabbinate when possible, like not having official wedding ceremonies. We have growing support for that, including from the Hadassah Foundation, which funds our work. (Read more about the Hadassah Foundation on page 44.) Our support comes from women's organizations across the United States. We're a modest-size organization, but we have many volunteers in Israel. 
Uriel Heilman is a journalist based in Israel working for the Jewish Telegraphic Agency.