In 'The Branch,' Stories of Jewish-Arab Friendships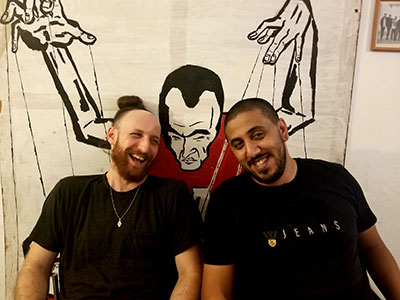 When Hadassah first approached me about hosting a podcast centered around friendships and connections between Jewish and Arab citizens of Israel as well as between Israelis and Palestinians from the West Bank and Gaza, one of my first thoughts was: What if I run out of people to interview?
But instead, I've been fortunate to find more examples than I have had time to document. And it's the depth of some of those relationships that has taken me by surprise, despite my many years of living in Israel and working as a journalist for a number of English-language media outlets.
For episode 14 of The Branch, I sat down with two 30-something rappers who are among the founders of a hip-hop group from Jaffa called System Ali. In packed clubs throughout the country, they perform in Hebrew, Arabic, Yiddish, Russian and Amharic in front of fans who dance and cheer them on. Neta Weiner is a kibbutz-born klezmer devotee and accordion player; Muhammad Aguani is a poet born to a father from Jaffa and a mother from the West Bank. The barriers they break are not just cultural but social, since Israel is a country where so often Arabs and Jews live in separate worlds.
It was in a bomb shelter in Jaffa that doubled at the time as an afterschool center for local kids that Weiner and Aguani first met and started their conversation—which continues today—about identity, class, power and how Israelis and Palestinians see the conflict through vastly different eyes. In talking to them, it was striking to see how much of an impact they have made on each other, precisely because they don't shy away from "the hard stuff."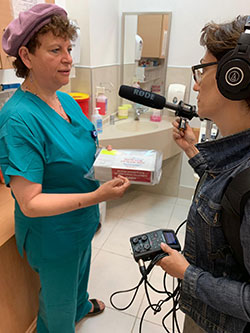 I learned this, too, in inter-viewing a pair of feminist leaders turned friends in episode 7, "A Sisterhood for Change": Israeli Arab Samah Salaime and Hamutal Gouri, who is Jewish, told me that the key to their closeness was that they listened to each other, even when doing so proved difficult.
In the everyday rush of life, where relationships often are conducted in text messages and social media posts, we can forget the power of interacting with someone face to face—especially when that someone comes from not just another background, but the supposedly "other side" of a political and historical divide. I've observed in my reports how the "aha" moments of empathy happen in the small everyday interactions of regular people.
Another example: In episode 9, "Shuk Days," Michal Zackai, the Jewish owner of ShakShuk restaurant in Jerusalem's Machaneh Yehudah market, disclosed that she was puzzled at first when she overheard Mahdi Martur, the Palestinian cook and her right hand, repeatedly fielding phone calls from his nervous mom. Martur's mother was worried for his safety during a particularly tense time in the city. Zackai had not known Palestinians could feel fear, too, during periods of Israeli-Palestinian unrest. Until then, her focus had been only on how the conflict impacted Jews.
I love being able to dive into the lives and backstories of the friends I have interviewed for The Branch—from teachers at a bilingual Arabic-Hebrew school to journalists from Tel Aviv and Gaza with a 35-year friendship. Not surprisingly, the Hadassah Medical Organization provides many hopeful stories of collaboration, including episode 12, "Two Doctors and a Case of Friendship," which focuses on the work of two physicians at the Bat Ami Center for Victims of Sexual Abuse at Hadassah Hospital in Ein Kerem.
Go online now to listen to these inspirational stories for yourself. 
And, if you live in one of the areas covered on my upcoming four-city tour, please come hear me talk about my work on The Branch as well as my life is Israel: