Celebrating Centenarians in Hadassah Magazine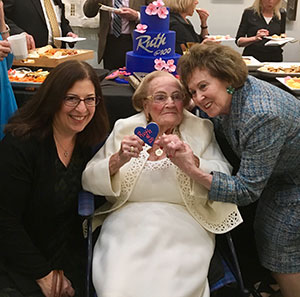 It gave me tremendous naches to attend a 100th birthday celebration for Ruth Hyman, a longtime member of the Deal Shore-Long Branch Chapter of Hadassah as well as our Society of Major Donors. The party on August 29, which I attended with Shelley Kaplan, national treasurer of Hadassah and member from Ocean Township, was a spirited tribute to a wonderful woman.
Being part of such a special event got me wondering about other Hadassah members who may be centenarians. If you or a loved one has just turned 100, or will in the near future, I would love to hear from you. Please email me at letters@hadassah.org with birthday details.