15,000 Menorahs Unto the Nations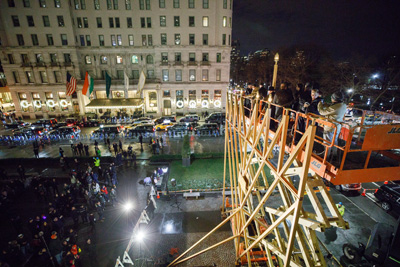 If you visit a famous landmark like the Eiffel Tower or Brandenburg Gate this December, you'll likely encounter another famous structure standing in its shadow. Thanks to Chabad, thousands of giant Hanukkah menorahs will be lit in public spaces around the world beginning on December 22, the first night of the eight-day holiday.
According to Chabad.org, more than 15,000 of its menorahs were lit in public spaces around the world last year while its emissaries distributed more than 700,000 personal-use-size menorahs.
The public lightings began in the early 1970s as a campaign to involve more Jews in observing the ritual as well as to spread general awareness of the holiday. Over the 1980s, multiple court cases in the United States—many brought by Jewish groups that opposed the practice, such as the American Jewish Congress—sought to ban the displays on public property, based on the separation of "church and state" rooted in the Constitution. Gradually, however, the lightings have become more widespread and accepted as part of a holiday display, often erected near a Christmas tree.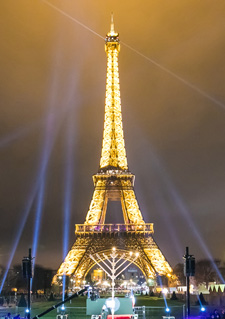 The largest and most famous Chabad menorah is raised each year in New York City's Grand Army Plaza, at Fifth Avenue and 59th Street. It was architect and designer Atara Ciechanover who brought the 32-foot-high, two-ton menorah to life. After passing Chabad's original one stationed there in 1985, she felt the design could be improved. With the approval of the late Lubavitcher Rebbe, Menachem Mendel Schneerson, Ciechanover commissioned famed Israeli artist Yaacov Agam to design a new one.
"It is due to her vision, dedication and careful attention to detail that for the last 33 years, the Fifth Avenue menorah has been a truly Jewish work of art, and a fitting torchbearer for the message of the Hanukkah lights," said Rabbi Dovid Margolin, associate editor at Chabad.org. Although Agam's exact creation has not been replicated outside Manhattan, the typical Chabad menorah is similar, featuring the same straight branches yet built on a simpler, smaller scale.
Indeed, Chabad's straight-branch menorahs are based on rabbinic interpretation. According to Rabbi Motti Seligson, Chabad's director of media, the Rebbe believed that the seven-branch curved menorah resembled the utilitarian lamps used to illuminate much of the Temple in Jerusalem, but that the primary golden menorah was formed with straight diagonal branches—a design that he maintained must be followed for Hanukkah's nine-branch menorahs.