Can Israel's Watergen Change the World Through Clean Water?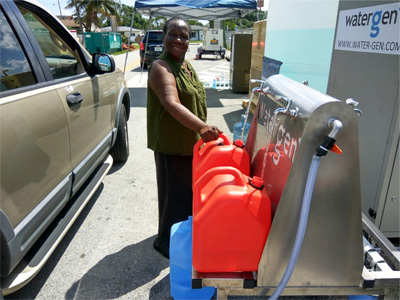 The solution to the world's water crises may lie, literally, in the air we breathe. So says Watergen USA, the American offshoot of an Israeli company that claims to have pioneered an affordable generator that filters humidity from the air to create clean, fresh drinking water.
"The basic technology has been around for a while, but it wasn't cost effective," noted Watergen USA's president, Yehuda Kaploun. Watergen's innovation increased the standard filtration output by 300 percent for water "that will rival what you purchase from Fiji, but at two cents a liter."
The innovation—and the company—dates to 2009, when Israeli soldiers Arye Kohavi and Avi Peretz brainstormed the technology while sitting in a tank. Their first generator launched soon after. Today, the company's range of generators supply clean, renewable water to offices, schools and hospitals around the world. A $2,000 model yields five gallons a day.
But it's the prospect of solving large-scale water crises—whether from natural disasters or lead contamination—that makes Watergen, which was acquired by Israeli-Georgian businessman Michael Mirilashvili in 2016, potentially transformative. In 2017, Watergen USA, headquartered in Miami, partnered with the Federal Emergency Management Agency to provide water to victims of hurricanes Harvey in Texas and Irma in Florida. This year, the firm joined a Flint, Mich., humanitarian coalition to assist with the ongoing lead crisis there, reducing the need for bottled water.
According to Kaploun, supplanting environmentally unsound single-use plastics is a Watergen goal, just behind saving the 1.7 million people who die annually due to lack of clean water.
"Any new technology takes time to become the norm," Kaploun said. "This is an invention that rivals vaccinations and penicillin. We've taken on the goal of changing the world through clean water."