Hello Robin, a Cookie and Challah Bakery in Seattle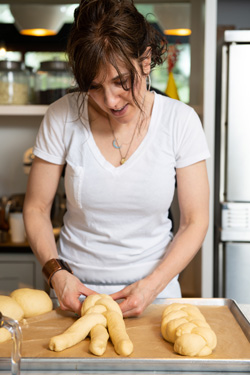 When you walk into Seattle's Hello Robin cookie bakery, the first thing you notice—after the delectable aroma—is the front-and-center kitchen where proprietor Robin Wehl Martin and her team measure, mix and scoop, all while chatting with their hungry clientele. 
Indeed, the tiny storefront in the city's Capitol Hill neighborhood was designed to resemble a home kitchen, and patrons are invited to sit at the counter, drink a cup of coffee and share the latest neighborhood news over cookies.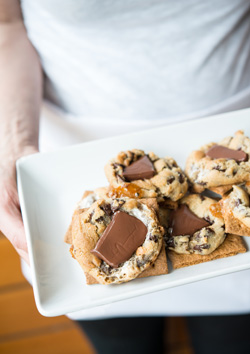 "You cannot beat a warm cookie," said Martin, 49, as she slid another tray in the oven. Her signature creation is the uber-gooey Classic Chocolate Chip. Her popular sugar cookies, which come shaped as dreidels and Stars of David and iced in blue and white for Hanukkah, follow a recipe from her beloved grandmother, Margot Wehl.
"She spent a lot of time baking with her grandkids," Martin fondly recalled of the family matriarch who left Germany in 1948 and settled in Seattle, where she became a chef.
Other tempting bakes include Wehl's spicy Orange Habanero Chocolate Chip cookies and Mackles'mores, a s'more that is also a tribute to famous Seattle musician Macklemore. All products are nut free, and the Flourless Mexican Chocolate cookie is gluten free. (Hello Robin is not certified kosher.)
Every Friday, Martin takes a break from cookies to bake a few dozen challahs, which typically sell out. Challah baking allows Martin, a third-generation life member of Hadassah and former assistant director of Young Judaea's Pacific Northwest region, to connect with the local Jewish community and her Jewish roots.