Hallmark's New Holiday Movies Celebrate Hanukkah
With 24 original holiday movies premiering this season alone, it's no wonder Hallmark is called the Christmas Channel. But this year, two of those movies incorporate Hanukkah into their plots. The first is Holiday Date, which premieres on December 14. It focuses on Brooke, played by Hallmark veteran Brittany Bristow, who hires an actor to bring home for Christmas—only to discover he's Jewish. Truth in casting: Jewish actor Matt Cohen, familiar to fans of General Hospital, plays the role.
The second film is Double Holiday (Dec. 22), which stars Carly Pope and Kristoffer Polaha as work rivals Rebecca and Chris, who fall in love over the eight days of Hanukkah. He joins her Jewish family to celebrate with latkes, lighting the menorah, and what screenwriter Nina Weinman calls "a high-stakes game of dreidel."
The Jewish screenwriter, who has 21 Hallmark movies on her resumé and seven more in development, jumped at the chance to write a Hanukkah story. "Hallmark wanted to up the diversity, the proper representation of what the world looks like," she says. "They're so open to it, they're already thinking about next year."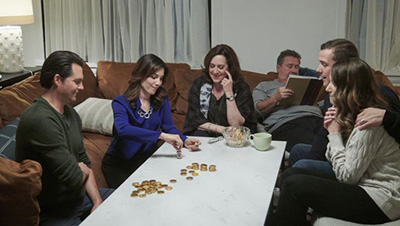 The Double Holiday cast includes Jewish actors Judah Katz and Ellen David playing Rebecca's parents in a story that emphasizes the family aspect of Hanukkah while "keeping it light and fun," Weinman says. "No matter what you celebrate, when you're with family, you're your best self. Chris doesn't have that in his life and gets to experience that through Rebecca's family."
The arc of the romantic plot is predictably familiar, Weinman acknowledges. "It's a formula. It's never going to throw you for a loop. No one dies. You know what you're getting. We take viewers on a fun ride along the way as we watch two people fall in love…. You're going to get that kiss at the end."
Gerri Miller is an entertainment and lifestyle journalist who contributes to the Jewish Journal in Los Angeles and numerous other publications.