Kibbutz Lavi Debuts Line of Accessible Synagogue Furniture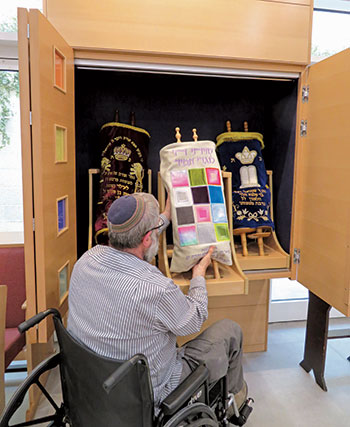 Congregants coming to shul in wheelchairs no longer have to settle for a backseat role, thanks to a new line of accessible furnishings developed by Lavi Furniture Industries in Israel. The world's largest maker of synagogue furnishings recently rolled out a range of pieces designed to permit full participation for worshipers using wheelchairs.
Their custom arks feature shelves that slide forward, allowing a seated person to grasp and lift the Torah without assistance. The lectern (shtender) and Torah-reading table lower and tilt mechanically, enabling someone who cannot stand to lead prayers or read from the scroll.
Other products include retractable partitions separating men and women in Orthodox synagogues (mechitzahs) that can be maneuvered by congregants with mobility or strength limitations. Raised platforms such as the bimah feature built-in ramps, while pews are spaced for easy access.
"Many shuls do not have solutions for full participation in all aspects of the prayer service, and with the aging of the population, this is more and more of an issue. We want to take the lead in this because of our expertise," said Micha Oberman, CEO of the 80-employee Kibbutz Lavi-based company, which has furnished more than 5,700 synagogues in Israel as well as congregations in 70 other countries since 1962.
Last January, the first totally accessible synagogue outfitted by Lavi was dedicated at Herzog Hospital in Jerusalem. Additional features for many geriatric patients include hearing-enhancement devices incorporated into the cantor's lectern and Torah-reading table.
Oberman emphasizes, however, that accessible furniture benefits congregants of all ages and abilities. Adjustable tables are helpful for any Torah reader, rabbi or cantor not of average height, while easy-clean seats help avoid embarrassing situations for parents of young children as well as adult worshipers who are incontinent.
In recent months, the company has completed accessibility projects with Young Israel of Century City in Southern California as well as synagogues in several Israeli cities.