Hadassah Nurse Judith Steiner-Freud Turns 100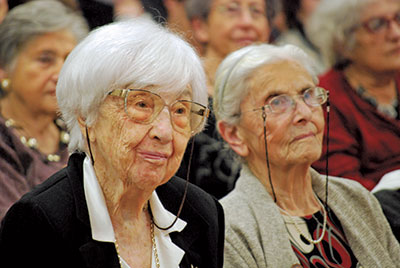 Distinguished Hadassah nurse Judith Steiner-Freud, who graduated from the Henrietta Szold Hadassah-Hebrew University School of Nursing and went on to lead the institution as its director from 1967 to 1983, celebrated her 100th birthday on December 5. To mark the occasion, she attended a party in Jerusalem with family and friends as well as the Hadassah Medical Organization community.
Steiner-Freud was born into a Zionist family in Brno, Czechoslovakia. In 1933, as a teenage member of the Blau-Weiss youth movement, she attended the 18th Zionist Congress in Prague. In December 1939, she immigrated to Mandate Palestine to study nursing. Most of her family were murdered in concentration camps, including her mother, who was killed at Auschwitz in 1944—the same year Steiner-Freud graduated from Hadassah's nursing school.