Mothering With a Disability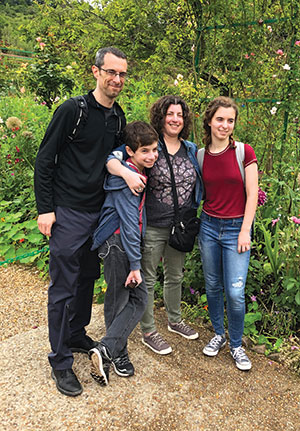 As a new mother, Lisa A. Goldstein was woken in the middle of the night not by the sound of her baby's cries but by the touch of her husband's hand. The Pittsburgh resident was born profoundly deaf, and though she has been able to lip read and speak since childhood, feeding a baby at 3 a.m. presented a new challenge. Her options were to use a signaling system like a bed shaker, a vibrating device placed under her pillow or mattress; a flashing light that would alert her to the baby's crying; or simply rely on her husband's ability to hear the baby.
Like most couples, Goldstein, 46, and her husband worked as a team, caring for their two children, now 17 and 14. But Goldstein's deafness has shaped their family dynamics. From handling waking babies in the middle of the night to using monitors with video, vibration and colored lights for naptime, to connecting with schools and teachers by email, Goldstein and her family are always navigating what she called the "constantly changing territory" of being a parent with a disability.
They are not alone. At least 4.1 million parents with disabilities are living in the United States with children under the age of 18 at home, according to the most recent estimate, cited in a 2012 report by the National Council on Disability.
July 2020 celebrates 30 years since the Americans with Disabilities Act guaranteed equal opportunities in all areas of public life, but raising children continues to bring a unique set of challenges, accessibility issues and stigma for people who are disabled—as well as singular rewards.
Goldstein can read lips only when people speak to her face to face, one at a time, and they enunciate clearly. "We taught [our kids] they had to see my eyes when they talked to me," she explained. "They couldn't call for me from another room; they had to come get me." The result, Goldstein said, is that her kids learned to speak very clearly and are excellent communicators. She also feels they are more empathetic and sensitive, attuned to what is happening around them.
But there are times when Goldstein feels she is missing out. When her kids are in the car or speaking with their friends, she can't follow their conversation. She doesn't attend PTA meetings, and when her daughter was inducted into the National Honor Society, she couldn't understand the speeches.
Still, Goldstein celebrates the particular strengths that give her an advantage as a parent. "I think I'm much more observant," Goldstein said. "I'm clued into body language and other details. I'm also more sensitive and already an experienced advocate."
Jennifer Laszlo Mizrahi, an outspoken champion for the disabled, said this ability to problem solve creatively and cultivate exceptional skills is common in people with disabilities, especially parents. She called it a "superpower," borrowing the term from 17-year-old Swedish climate activist Greta Thunberg, who has used it to describe her Asperger's syndrome. Laszlo Mizrahi herself has dyslexia that went undiagnosed until she was 14, an oversight that she said led to a lot of frustration and bullying. Today, she is the president of RespectAbility, a nonprofit organization focused on fighting stigma and advancing opportunities for people with disabilities.
"You learn to navigate the world differently than others because the traditional way of navigating the world doesn't work for you," said Laszlo Mizrahi. Understanding that the traditional path is not the only path," she added, "helps me relax a little more" in parenting her two sons, one of whom has multiple disabilities.
Laszlo Mizrahi pointed out that the accommodations and attitudes that parents with disabilities—physical or cognitive—encounter can vary widely based on whether the disability is visible or not. National surveys by the United States Census Bureau estimate the population of parents with disabilities at about 1.6 million blind adults, 3.4 million who are deaf and 5.5 million who use wheelchairs. The National Institute of Mental Health estimates that 46.6 million American adults live with a mental illness, nearly one in five. Others have chronic illnesses or learning differences. "People see, 'Oh, you're a wheelchair user. Can I open the door for you?' " Laszlo Mizrahi said. "But if you have anxiety or depression, people can't see it, and they don't know how to address it sometimes."
At the same time, people with more visible disabilities often have to fight the assumption that they are unable or unfit to be parents at all. According to the Center for Advanced Studies in Child Welfare at the University of Minnesota, over two-thirds of states consider parental disability as legal grounds to remove a child or even terminate parental rights. Several states still have laws permitting people with disabilities to be sterilized without their consent, an echo of the eugenics movement, which saw tens of thousands of forced sterilizations during the first half of the 20th century.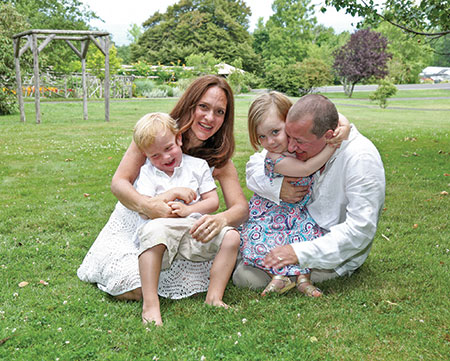 Even when their parenting skills are not called into question, mothers with disabilities often have the added burden of advocating for their own access and inclusion as well as for their children. Heather Osterman-Davis, a 45-year-old living in Manhattan, recently found herself in a "sad but familiar" situation, she said. Her 8-year-old son was eager for her to attend a presentation by his afterschool robotics program. But the class was located on the fourth floor of his school building, which has no elevator, so she couldn't go. Osterman-Davis lives with myalgic encephalomyelitis/chronic fatigue syndrome (ME/CFS), which can severely limit her physical activity, often preventing her from walking long distances, climbing stairs or even standing for a sustained period. Osterman-Davis contacted the robotics class coordinator to see if the location could be changed but received only an offer to have the instructor take photos for her.
"I'm trying to be there for my kid, and I can't because of stairs," said Osterman-Davis, a writer who described her experience on RootedinRights.com, a website run by video producers, writers and digital organizers with disabilities who tell authentic stories to challenge stigma and redefine narratives of disability and mental health. "My son was so upset, because he had been succeeding and wanted to show me and be proud of it, and I couldn't get there."
Osterman-Davis was only diagnosed five years ago, so her disability has involved physical, mental and emotional adjustments both personally and as a family. Davis said she also struggles with social events. "It's this constant play of: Can I go socialize [with other parents] or is it too much? And then if I don't, how do I make parent connections to help sustain my kids' friendships? In elementary school, your kids don't make play dates on their own."
In the Jewish community, many organizations and institutions are taking steps toward inclusion that help disabled parents feel more connected. Goldstein, the Pittsburgh mother, said she felt disconnected from religious services as a deaf child; today, she is on the board of her synagogue. "Being on the board has helped improve communication for everyone," Goldstein said. "After all, I'm not the only one who benefits when people talk one at a time." Goldstein said her synagogue, Temple Emanuel of South Hills, hopes to form an inclusion committee to examine both the building and its programs.
But mothers like Osterman-Davis are still frustrated at the lack of this proactive approach from school systems and other institutions. "It's still this concept that the onus is always on the person who needs something different to ask, as opposed to: 'How can we as a society seek to make things more accessible?' " she said. "Why is it always the marginalized groups that need to do the asking?" 
WEBSITES THAT ADVOCATE:
Disabledparenting.com is an online space for sharing experiences, advice and conversations. Also on this site is the Parenting with Disability: Know Your Rights Toolkit, which gives legal, reproductive and advocacy information.
AbleThrive.com offers support and resources for people with disabilities, including parents.
Sarah Yahr Tucker is a writer based in Los Angeles.