The Old City Gets an Accessibility Makeover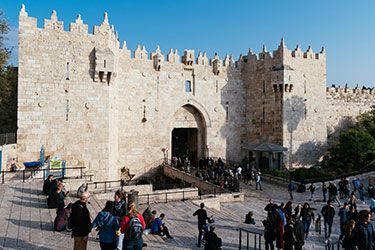 The ancient stone alleyways of Jerusalem's Old City may be beautiful to look at, but navigating the UNESCO World Heritage Site in a wheelchair or while pushing a stroller used to be near impossible. But now, the centuries-old area is more accessible and easier to explore thanks to a far-reaching infrastructure project.
Over the past 10 years, the Israeli government spent $5.5 million to make almost two and a half miles of streets and walkways in the Christian, Muslim and Armenian quarters accessible, installing new handrails in some places and adding ramps and inclines.
Jerusalem Mayor Moshe Lion called the work "unique to Jerusalem, paving the way for ancient cities around the world" to become more inclusive of visitors and locals with disabilities.
Along with the physical improvements to the city, the free smartphone app Accessible JLM-Old City is available in eight languages and allows anyone with a stroller or wheelchair to map out an accessible route within the Old City.
And once an hour, a free shuttle equipped to carry wheelchairs makes the journey to and from the First Station dining and shopping area and the Old City's Dung Gate.