Jennifer Laszlo Mizrahi Is Shifting the Conversation on Disabilities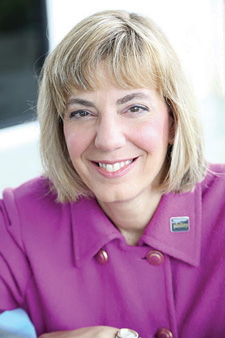 Jennifer Laszlo Mizrahi's career trajectory was shaped by a disability that, as a child, she didn't know she had. Growing up in a Durham, N.C., Jewish family, Laszlo Mizrahi suffered from dyslexia, a learning disability that affects reading. A diagnosis finally came at age 14—around the time she understood that since she couldn't learn to read Hebrew, she would never realize her dream of becoming a rabbi.
But Laszlo Mizrahi, 55, found other ways to make her mark. Herself the parent of two teenagers, one of whom has multiple disabilities, Laszlo Mizrahi is the co-founder and president of RespectAbility, a six-year-old Washington, D.C.-based nonprofit dedicated to fighting stigma and advancing opportunities for—and with—people with disabilities. Through her family foundation, she has also supported the cause philanthropically. Despite advances in recent years, notes Laszlo Mizrahi, the community receives surprisingly little attention, considering that physical and cognitive disabilities collectively affect more than one-quarter of the United States population, according to the Centers for Disease Control and Prevention.
Prior to founding RespectAbility, she was a Democratic strategist and, in 2002, founded The Israel Project, a now-disbanded advocacy organization that she led for a decade.
We caught up with Laszlo Mizrahi at her home in Washington, where she talked about attitudes in the Jewish community toward accessibility and inclusion. This interview has been edited for brevity and clarity.
What are your personal experiences of disability?
I didn't really start reading until I was 12. I was already 5 foot 10 inches—a very tall illiterate person. Eventually, I realized that if I memorized every word as a picture, I could learn to read. When I was in college, a friend accidentally ran me over with my own car, crushing my leg. I was a wheelchair user for a year. It was before the passage of the Americans with Disabilities Act; nothing was wheelchair accessible.
So I was born with an invisible disability, and then I had a physical disability, which went away. But we didn't talk about disability as being a community or an identity at that time.
How have things changed?
I'd say we are where the LGBT community was 20 years ago. The majority of people with disabilities are still in the closet, in denial to themselves or to others—especially people with invisible disabilities, such as learning differences, mental health conditions or chronic pain. People want to put their best foot forward; if your first impression is what a person can't do, as opposed to what they can do, it's very limiting.
I founded RespectAbility in part because we have not been working in a collaborative way, across disabilities, to maximize the power of the very large number of people with disabilities.
Does the Jewish community face particular challenges with regard to accessibility? 
When the ADA was passed almost 30 years ago, faith-based institutions were exempted from legal obligations—so ironically, they tend to be the least inclusive of people with disabilities. Religious architecture often symbolizes the desire to go up toward God. But if you are a wheelchair user, how are you going to get up on the bimah?
What is your Jewish perspective on inclusion?
Jewish people with disabilities have been in leadership roles since Sinai. Moses supposedly had a speech impediment. But God said to him, "You're the right person for the job." Accessibility is not just enabling Jewish people with disabilities to have access to institutions that are built and led by people without disabilities. It's letting people with disabilities lead the Jewish future—on all kinds of issues, not just disability issues.
How does RespectAbility fit into this?
We're currently advising news media and more than 20 ongoing TV series on disability portrayals, including Born This Way, an Emmy-winning, unscripted docuseries on A&E that follows a group of young adults with Down syndrome. Our second area is advancing opportunities through education and employment. And third is authentic leadership, with initiatives like Project Moses, a training and job placement program for Los Angeles Jews with disabilities. 
Hilary Danailova writes about travel, culture, politics and lifestyle.