A Talk With Disability Rights Activist Judith Heumann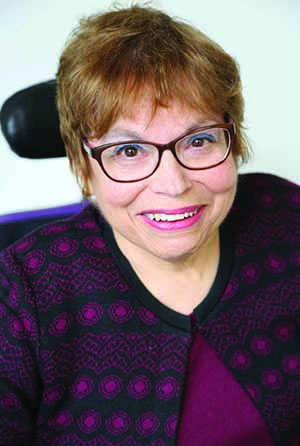 Born in Philadelphia and raised in Brooklyn, Judith Heumann, the daughter of Holocaust survivors, contracted polio as an 18-month-old in the late 1940s. Her new memoir, Being Heumann: An Unrepentant Memoir of a Disability Rights Activist
(cowritten with Kristen Joiner; Beacon Press), describes her entry into the public eye at age 22 when she sued New York City in 1970. She had been unable to obtain clearance to become a public school teacher—the board of education claimed that being a wheelchair user, she could not usher children out of the classroom in case of fire. (The city settled the case in Heumann's favor, opening the way for her to become an elementary school teacher.)
In the aftermath of that case, Heumann and her friends founded a civil rights organization, Disabled in Action, run by and for people with disabilities; she was its first president. In 1977, she led the Section 504 sit-in in San Francisco—at 25 days, the longest ever takeover of a federal government building—which resulted in federal regulations protecting disability rights. Her activism helped spark a national movement that advanced the effort to create the Americans with Disabilities Act.
The 72-year-old's accomplishments have been recognized nationally and internationally. Among the positions she has held are assistant secretary of the Office of Special Education and Rehabilitative Services in the Clinton administration and special adviser on disability rights for the State Department under President Barack Obama. She was also the first adviser on disability and development to the World Bank. In July 2017, she was arrested demonstrating, with other people with disabilities, in the Senate building against the new administration's efforts to dismantle the Affordable Care Act.
Heumann lives in Washington, D.C., with her husband, Jorge Pineda, who is also a wheelchair user, where she continues her work. This interview has been edited for brevity and clarity.
What has changed for people with disabilities since you started out as a teacher and activist, and what are the next steps?
In 1975, there were, according to government figures, about 1 million disabled children out of school. Disabled children today are in school, although certainly children with emotional and other forms of disability still might not be getting the services they need and might be dropping out of school. I would say the education system, while it's much better than it was in the '50s, '60s and '70s, is still not where it needs to be. Teachers aren't receiving training that addresses the needs of people with disabilities.
On the university level, more universities are introducing courses in disability studies, and more students with disabilities are getting undergraduate and graduate degrees. That's all good, but the unemployment rate for disabled people is still much higher than for nondisabled people.
What are some of your proudest career accomplishments?
I'm particularly proud of being able to work with activists—disabled people and others—to really develop and advance a movement that will continue to grow. There are things I've done personally but, at the end of the day, I think that my most significant accomplishment is playing an important role in allowing disabled people to feel valued as disabled people, to feel proud of ourselves—and establishing that we don't need to apologize for our existence.
In what way could the Jewish community be more open, accepting and accessible?
Things we could change include bimahs not being accessible, sign-
language interpreters not being readily available and having separate Jewish camp for disabled kids, as opposed to being integrated. On the plus side, we're seeing women rabbis with disabilities studying and being ordained. That to me is really a
big deal.
You mention in your book that both of your parents were, as you put it, "made orphans by the Holocaust." How did that affect your decision to become an activist?
My Judaism was instilled in me from when I was young—closeness to family and, I think, values. Not only addressing issues of anti-Semitism, but also having a responsibility to look out for the betterment of others.
Peter Ephross is the editor of Jewish Major Leaguers in Their Own Words: Oral Histories of 23 Players.