Advocating for the Never Again Education Act
Across the United States, far too many students aren't taught about the Holocaust in any capacity, and those who are taught it often learn the subject from teachers left to fend for themselves in developing lesson plans and curricula. As we observe International Holocaust Remembrance Day on January 27—this year marking the 75th anniversary of the liberation of Auschwitz—and as awareness of the atrocities wanes and a resurgence of anti-Semitism, extremism and bigotry moves over the country, this lack of education is a problem that can't
be ignored.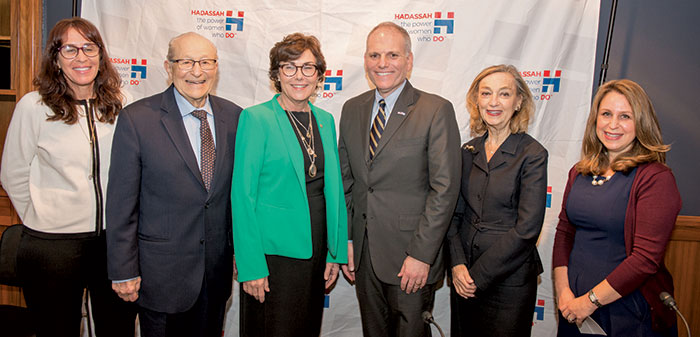 That's why Hadassah made the Never Again Education Act one of its top legislative priorities on Capitol Hill. The bipartisan bill—introduced by Representative Carolyn Maloney (D-N.Y.) in the House and by Senators Jacky Rosen (D-Nev.), Kevin Cramer (R-N.D.), Marco Rubio (R-Fla.) and Richard Blumenthal (D-Conn.) in the Senate—would establish a federal fund to finance grants to public and private middle and high schools to help teachers develop and improve Holocaust educational programs. Hadassah has helped secure the support of nearly 300 representatives and almost 25 senators. Now, as the bill sits in committee, Hadassah's Government Relations office is working to pave the way to ensure its passage.
Last fall, Hadassah hosted a special event on Capitol Hill to educate and advocate in favor of this crucial legislation. Officials from more than two dozen Senate offices, Hadassah volunteers and assembled media heard from Rosen, lead sponsor of the Senate bill, and Representative Salud Carbajal (D-Calif.)  as well as a panel of speakers about the value of teaching the Holocaust in schools today.
Students need to learn the Holocaust's universal lessons now more than ever. Strengthening the availability of resources to develop accurate and age appropriate lessons will help build more tolerant communities and ensure America never forgets. Please go online to watch videos from the Senate briefing and learn how to take action in support of the Never Again Education Act.