Hadassah Proud to Support Accessible Parks in Israel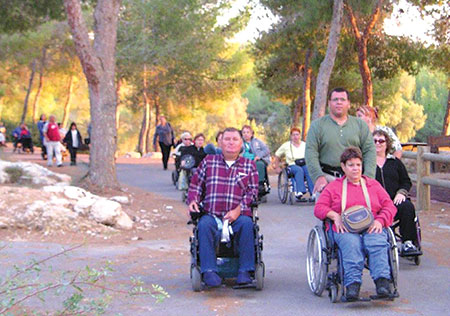 While most of the world is worried about a decrease in the number of trees, as we prepare to celebrate Tu B'Shevat this year on February 10—the Jewish New Year for trees—it should be a moment of pride for Zionists to recall that Israel was the only country with more trees going into the 21st century than it had at the dawn of the 20th. The credit goes to Keren Kayemeth LeIsrael-Jewish National Fund (KKL-JNF), the force for forestation and land reclamation of the Jewish homeland. Hadassah supports and collaborates with KKL-JNF on a variety of these projects.
Forests and parks aren't just about cleaning the air; they also provide a place for recreation and personal renewal. But the rocks, slopes and rugged terrain are often impassable for men, women and children with physical disabilities. In recent years, at some 300 sites managed by KKL-JNF, the organization has invested resources and creativity in forest planning and park design that takes into consideration physical disabilities—trying to disturb nature as little as possible while increasing accessibility.
These efforts include adding ramps where there are stairs and designing them so that no slope is at more than an 8 percent grade. KKL-JNF is modifying picnic tables, food grills, water taps, trail surfaces and restrooms to suit visitors in wheelchairs. For children as well as their parents and grandparents, the organization is building adaptive playgrounds with "bird nest swings" and special seesaws. Sometimes a wide path with good traction is enough to make playground equipment navigable for wheelchairs.
For the visually impaired, raised square stones in contrasting colors help mark accessible trails. Certain attractions have voice signage, where a visitor can push a button and hear an explanation. Today, nearly everyone has a cell phone, so phone apps provide description as well as historical and geological explanations for hikers as they traverse the trails at their own pace.
In the Ilanot Arboretum Visitors Center, which recounts the story of trees native to Israel and is located near Netanya, an easily navigable maze complements the many new accessible trails and recreation area. Also at Ilanot and a select number of other parks, KKL-JNF is inaugurating virtual reality stations that recreate the experience of bird sanctuaries and nature reserves for those unable to travel to them in real life. In the Ben Shemen Forest between Jerusalem and Tel Aviv, an elevated row of aromatic plants enriches the forest experience, especially for those with limited vision.
In the Haruvit Forest between Jerusalem and Tel Aviv, Hadassah pioneered accessibility with the Winepress Trail, in honor of former National President Marlene Post, the current chair of Hadassah Magazine who is a longtime advocate for those with disabilities. The trail, passing through natural woodland, pines and carob trees as well as ancient archaeological artifacts, is a half-mile loop designed especially for wheelchair hikers and the visually impaired.