Esther and Miriam Through a Camera Lens

When Dikla Laor staged her photographs depicting Miriam, the sister of Moses who led the Israelite women in song after the splitting of the Red Sea, she clothed the biblical character in blue, a reference to water. "This is based on the midrash that says when Miriam was alive, the Israelites had a well that followed them" through the desert, explained the Israeli photographer.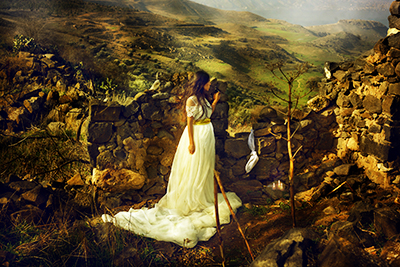 This attention to detail and familiarity with Jewish sources is apparent throughout Laor's lush, theatrical photography series "Women of the Bible," which places biblical characters into the breathtaking landscape of Israel's Golan Heights, where Laor lives. She began the project in 2013 and has so far captured over 70 women, such as Queen Esther at a sumptuous picnic (top, left); Michal, daughter of King Saul, helping her husband, David, escape her father's anger; and Shifrah and Puah, the Hebrew midwives from the book of Exodus. Miriam is a favorite, and Laor has depicted her four times—including as a young child watching baby Moses in a basket next to their mother, Yocheved (top, right).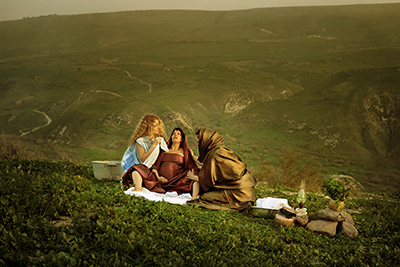 Through her studies of the Hebrew Bible and related literature, the 43-year-old, who uses friends and relatives as models, discovered 230 more women to capture with her camera. "This project has taught me that the women in the Bible were not quite as few and hidden as people think," she
"Women of the Bible" will run at Haifa's Hadarim center from March 8 through the end of April. Or go online to en.diklaphotography.co.il to see Laor's series.
Leah F. Finkelshteyn is senior editor of Hadassah Magazine.