'The Plot Against America,' Philip Roth's Alternate History on HBO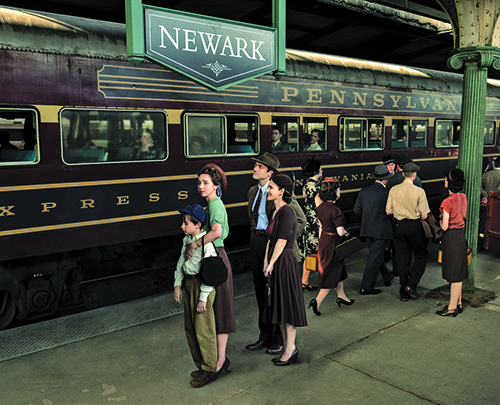 Philip Roth's novel The Plot Against America imagines a United States in which aviator, national hero and Nazi sympathizer Charles Lindbergh defeats Franklin D. Roosevelt in the 1940 presidential election and turns the country into an isolationist, dangerous place where fascism, anti-Semitism and xenophobia flourishes.
Roth's award-winning book, published 16 years ago, has now been made into a television series. Premiering on HBO on March 16 and produced by David Simon (The Wire, Treme, The Deuce), the six-episode series unfolds from the point of view of Herman Levin (Morgan Spector) and his wife, Bess (Zoe Kazan), Jewish working-class parents trying to navigate a precarious new reality. Conflicts arise when Bess's sister Evelyn (Winona Ryder) begins a romantic relationship with Rabbi Lionel Bengelsdorf (John Turturro), a Lindbergh ally.
Ryder, whose father is Jewish, was drawn to the project for reasons beyond her love of Philip Roth, she said in an interview. Her father lost many family members in the Holocaust. "I think it's a great introduction to an incredibly important author," she said, adding that Roth's subject matter is "also quite important and timely, a relevant thing that's happening in our world. For anyone who is of a certain age whose grandparents emigrated from Europe, this story would resonate. There's a visceral thing that happens when you watch this."
For Spector, whose father is also Jewish, playing a character who is raging against the injustice and anti-Semitism surrounding him was "quite easy to relate to in our present moment." But he noted that although The Plot Against America is a cautionary tale, it also ends on a hopeful note.
"I hope Jewish viewers feel that this show asserts an ideal of an America that's inclusive and broadly accepting and defines America as a place of welcome," he said, "a place that was built by immigrants, a place worth fighting for and that we can all believe in and equally participate in, across the political spectrum.
"We're not anywhere close to that," he added, "but it's something to fight toward."