Could the Story of Mass Suicide at Masada Be Fiction?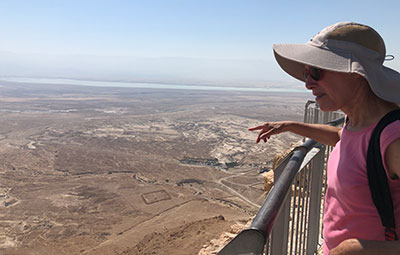 Most who ascend Masada, overlooking the Dead Sea, take a few minutes to watch the brief informational video that screens in a blessedly air-conditioned hall. Visitors learn about the desert plateau's storied history, in which Jewish rebels after the fall of the Second Temple took over King Herod's 100-year-old palaces and survived against all odds—for a while at least—against a massive Roman army.
In the film's dramatic re-enactment, visitors witness the angst of the Jewish rebels who decide to take their own lives and those of their families—a total of 967 Jews—instead of being captured. This story of grave sacrifice is today the mainstream Masada narrative.
However, while the fall of the Second Temple was widely noted in documents of that time, the taking of Masada was only recorded by the Jewish historian Josephus, who wrote it while living in exile in Rome.
What if this story of mass suicide is actually a work of fiction?
From a perch in rare shade atop Masada, archaeologist Jodi Magness recently explained that the leitmotif of mass suicide is often used in Roman-era histories as a literary device. The professor of early Judaism at the University of North Carolina at Chapel Hill has just published Masada: From Jewish Revolt to Modern Myth
, in which she takes a 360-degree approach in deconstructing the "history" of the mysterious site. While refusing to take a personal stance of her own, Magness analyzes several largely overlooked archaeological and historical facts, including the Roman Empire's own benefit in propagating the mass suicide story.
Namely, if Roman-subsidized Josephus writes that the Jews who killed themselves are heroes, are not those who conquered them—the Romans—even greater? Besides, Magness believes, what better warning to dissuade other peoples from rising up against their rulers than such a bloody tale?
Magness reframes the Josephus account and gives historical context to the rebels themselves. They were freedom fighters, perhaps, but as she explains, their legacy of violence—even against fellow Jews—has been whitewashed over time, including by leading archaeologist Yigael Yadin, her former instructor, who died in 1984.
Magness's archaeological work at Masada dates back several decades. In the mid-1990s, she studied the Roman ramparts and excavated some of the eight Roman camps at the mountain's base.
But before all of her scholarly work, the charismatic 60-something worked as a tourist guide for a local field school and took groups up Masada. In a sense, through her new book, she still is a guide.