'Shtisel' Actress Revisits the Hasidic World in 'Unorthodox'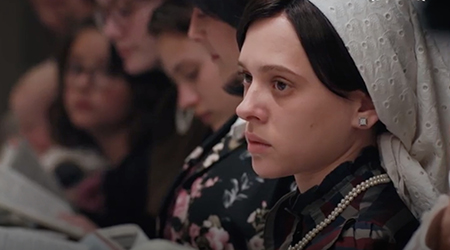 As Ruchami Weiss, actress Shira Haas helped bring the ultra-Orthodox world to worldwide television in the Israeli series and international hit Shtisel. Now she's back in a similar milieu in the four-part miniseries Unorthodox, premiering March 26 on Netflix. Told in Yiddish and English, the story is inspired by Deborah Feldman's best-selling 2012 memoir of the same name. Haas portrays Esty Shapiro, a musically gifted young women and recent bride who feels "different" from her Hasidic community in Williamsburg, Brooklyn, perhaps because of a talent that was nurtured by her bubbe but rejected by the community. Unhappy and unfulfilled, she flees her husband and the Hasidic world to make a new life for herself in Berlin. The community, however, won't let her go so easily, and sends people to bring her back into the fold.
"Esty's story is very specific but also very relatable," said Anna Winger, who co-created the series with Alexa Karolinski. "She's a young woman who wants to fit into the community into which she was born and wants to fulfill everybody's expectations, but she yearns for more and she struggles between the pull of her individuality and her desire for community. I see it less as a rejection of the life she was born into and more a desire to feel understood."
"She is trying to find her voice," added Haas, whose portrays Esty with a mix of vulnerability and strength. She prepared for the role by reading Feldman's book multiple times and arriving in Berlin a month before shooting to take Yiddish, piano and vocal lessons in order to play the musically talented Esty. "I was so committed to it," Haas said. "It was a big responsibility, and I dived into it hard to do my best in every aspect."
With impressive credits like her award-winning debut in Princess, The Zookeeper's Wife and Shtisel, which begins shooting its third season in May, Haas is grateful for the chance to add Unorthodox to her résumé.
"It's so relevant and means the world to me," she said. "To have a strong female character like this is rare, such a gift and an honor."