A Primer on the World Zionist Congress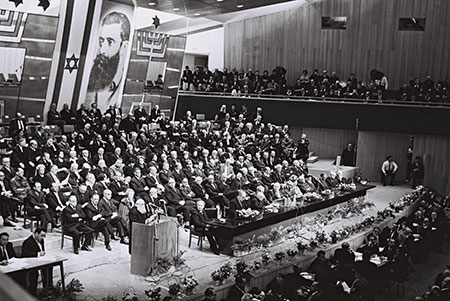 This October, Hadassah's permanent 32-member-delegation—made up of representatives from the leadership of Hadassah, the Women's Zionist Organization of America, and Hadassah Israel—will join other delegates at the 38th World Zionist Congress in Jerusalem, assuming travel and gatherings are permitted by then.
Now referred to as the international "parliament of the Jewish people," the congress is the direct descendant of the First Zionist Congress, convened in Basel, Switzerland, in 1897 by Theodor Herzl.
The main business of the congress, which sits roughly every five years, is to distribute nearly $1 billion annually to support Zionist education through programs mostly enacted by the World Zionist Organization, Keren Kayemet LeYisrael-Jewish National Fund and the Jewish Agency for Israel.
So, how are delegates chosen and who gets to vote? Delegates, running on slates, must be elected. Any Jew over 18 who is a permanent resident of the United States and does not vote in Israel's Knesset elections is eligible to vote for American delegates.
In advance of voting earlier this year, WZO, a Zionist umbrella group that includes Hadassah, among other prominent bodies, enacted two new rules: Thirty percent of delegates must be women and 25 percent must be between the ages of 18 and 35.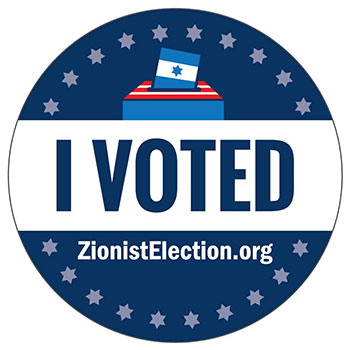 In the United States, the American Zionist Movement carried out the elections. Before the voting, held online from January 21 to March 11, AZM made a massive push on social media to educate voters, especially younger Jews, about the role of the congress and the importance of having a voice in determining how and where that $1 billion is spent. 
AZM's efforts paid off. Over 123,000 individuals voted, more than double the 56,000 Jews who voted in 2015 for delegates to the previous, 37th congress. This year, of the 1,737 delegates, there will be 773 female delegates and 560 who are between 18 and 35.
In this election cycle, 15 slates—comprising religious, pluralistic, secular, political and apolitical groups—ran. The top three vote finishers were: Vote Reform (31,500), representing the Reform and Reconstructing Judaism movements; Orthodox Israel Coalition-Mizrachi: Vote Torah (21,698), a coalition of major religious Zionist and modern Orthodox organizations; and Eretz HaKodesh (20,023), consisting of Yeshiva, Hasidic, Sephardic and Israeli Torah-observant communities in the United States. The number of delegates each slate sends to the congress depends on the number of votes each receives. (Full election results can be found online.)
Hadassah's special status began in 1994, when the Zionist General Council granted it 32 permanent delegates with full voting rights. The only other group with such status is the Women's International Zionist Organization, or WIZO. As a result, Hadassah does not run in elections, affording its members the opportunity to consider other Zionist affiliations when they vote. At the convening of each congress, Hadassah sits in a faction called Hadassah/Confederation, with the World Confederation of United Zionists.