'Viral' Documents the Rise in Worldwide Anti-Semitism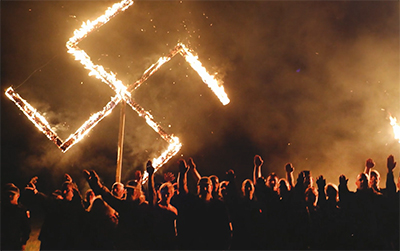 In a year when the global spread of the Covid-19 virus is top of everyone's mind, a virulent strain of hatred against Jews not only persists, it's on the rise worldwide.  The documentary Viral: Anti-Semitism in Four Mutations, which premiered on May 26 on PBS following a brief pre-pandemic theatrical run and is available for streaming from the PBS site, explores the frightening rise in anti-Semitism and attempt to discover the reasons behind it.
Filmmaker Andrew Goldberg, an Emmy award winner for the documentary A Yiddish World Remembered, spent over three years focusing his lens on four examples of anti-Semitic outbreaks: far-right in the United States, the anti-Israel far-left of the U.K.'s Labour Party, Islamic radicalism in France and an anti-Semitic propaganda campaign in Hungary under Viktor Orban.
"We wanted to pick examples that were entirely different from one another," Goldberg said. "Since we started this film, the number of violent anti-Semitic acts in the U.S. has skyrocketed. The Tree of Life synagogue shooting in Pittsburgh had not even happened when we began production."
Narrated in part by actress Julianna Margulies, the film begins with audio from a 911 call from the Pittsburgh shooting and includes interviews with rabbis and journalists, historians such as Deborah Lipstadt, and educators as well as politicians, Bill Clinton and Tony Blair among them. But it's the filmed clips of  hate-filled rants of white supremacists and Islamist terrorists that make the most indelible, chilling impressions.
"Jews are perceived as the power working behind the scenes, controlling the economy, behind Israel, destroying the white race—spokes of a conspiracy wheel—and it never changes. I absolutely think it will get worse and I have no idea what will turn it around," Goldberg said. But he hopes the film will serve as a wake-up call.
"This is an ugly world we're living in," he commented. "It's far beyond the scope of the film to come up with solutions. But I do feel that educating the population about the problem is the most important first step."
Gerri Miller is an entertainment and lifestyle journalist who contributes to the Jewish Journal in Los Angeles and numerous other publications.