Israeli Author Emuna Elon on Family, Writing and 'Shtisel'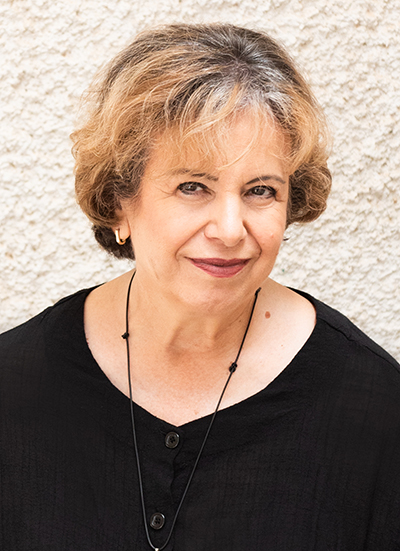 Emuna Elon, whose first novel, If You Awaken Love, was a National Jewish Book Award finalist, is the author of House on Endless Waters
, a stirring narrative that focuses on the experiences of Dutch Jewry during the dark days of the Nazi occupation of the Netherlands. In a phone interview from her home in Israel, Elon spoke of the aspects of her own life that inspired her latest work and her commitment to an unflinching exploration of a painful past. This interview has been edited for brevity and clarity.
What inspired you to tell the story of a hidden Dutch child?
I have no easy answer to that question. The Blum family of my novel bears no resemblance to my own background or experience. Holland and the story of its Jews were unfamiliar to me. As often happens to novelists, the story of House on Endless Waters emerged from a mysterious source, as if from some kind of communal Jewish subconscious. Once the story came to me, I spent many weeks in Amsterdam, reading and interviewing, and, like Yoel, my protagonist, doing extensive research. I learned that before the war the Jewish community of Amsterdam had a population of 140,000, from which only 38,000 survived. I learned what it was like to be a Jew in Amsterdam in 1940. Some of the most poignant stories I heard were the tragic accounts of hidden children and the draconian actions of the Dutch government when the war ended.


You write of Nettie, Yoel's sister, who escaped the horrors of the Holocaust only to lose her son, a veteran of Israel's wars, to an agricultural accident. Why burden Nettie with yet another tragedy?
Our family spent four years on a kibbutz in the Beit She'an valley where my husband served as a rabbi. It was there, when I was in my early twenties, that I met women like Nettie, quiet dignified women who had endured so much pain and yet lived meaningful and useful lives, grateful for the peace they enjoyed at the end of a well spent workday. I came to understand that what happens in life is not as important as how it is accepted. Hence, Nettie, quiet and dignified, offers solace without bitterness.
You grew up in a distinguished rabbinic family and your late husband, Benny Elon, was a revered rabbi. How did the ambience of such a traditionally observant community impact your writing?
Both m
y girlhood and my marriage immersed me in a life of Torah, and an intense study of Torah means a search for meaning and identity. It is no accident. then, that Yoel is involved in a desperate search for his elusive identity. My late husband was a non-conformist rabbi, open to nontraditional ways of studying Tanakh and Talmud. His intellectual horizon was expansive and open, as is my own. He founded Beit Orot yeshiva in 1987, offering a revolution in its approach to Torah study. We established a publishing house together, Sifriyat Beth El, in 1985. In 1996, he became a member of Knesset and a minister in Benjamin Netanyahu's government. While we lived lives that were traditionally observant, we were always open to a wide world of ideas and influences.
Your son, Ori Elon, is the co-creator of the popular series Shtisel about a haredi family in Jerusalem. How do you think your family life influenced his work?
Benny and I raised six very different children, and I am the fortunate savta of 29. Ori, who is 38, is my fourth child. He was, from earliest childhood, familiar with the community he depicts in Shtisel. It is a world he perceives with affection, and his stories of the Shtisel family are vested with humor and complexity, universal in their appeal, at once eclectic and familiar. Ori himself is religiously observant and as we speak he is en route to Ukraine to honor the Baal Shem Tov. In our home, we never imposed our values on our children but encouraged them to make their own choices. We embraced their disparate choices. One of my sons is irreligious, declining to even wear a kippah, but we accepted his decision as we accepted Ori's. I am, of course, proud of Ori's achievement, as I am proud of all my children and the lives they have chosen to live.
Gloria Goldreich's newest book, The Paris Children, will be published in September.