Hadassah Grandmothers to Join PJ Library Fun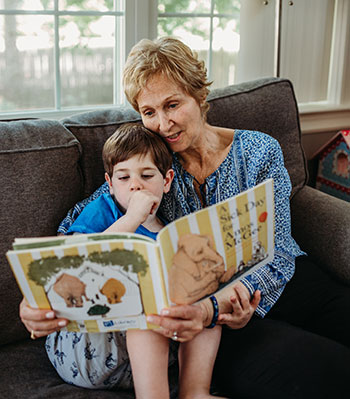 How do you share your love of Judaism with grandchildren, some of whom may live far away or have a non-Jewish parent? For Carol Rosenthal, a Hadassah national board member, one answer is books—specifically, the free PJ Library books her grandsons receive in the mail each month.
"By getting the books in the mail, especially with an interfaith family, it's not coming from me, so it's easier," explained Rosenthal, who lives in Sioux Falls, S.D. When Rosenthal visits her grandsons—two in Texas and one in Kansas—reading together offers a natural, unpressured way to start conversations about Jewish life, she said, noting that it is helpful since all the boys are being raised Jewish with one non-Jewish parent.
Now, a new Hadassah grandparents' initiative, in partnership with an existing program offered by PJ Library, plans to open that experience to members.
Since 2016, PJ Library, a marquee project of the Harold Grinspoon Foundation, has sponsored a grandparents' subscription that offers free Jewish books sent to their homes to read whenever grandchildren visit.
Beginning next year, according to Hadassah Executive Director/CEO Janice Weinman, members will be able to sign up through Hadassah for a program that combines PJ Library books with Hadassah-coordinated discussion groups focused on the challenges and opportunities of Jewish grandparenting. For now, she said, Hadassah hopes to pilot the project in four regions later this year.
"Very often, grandparents are the ones who serve as transmitters of Jewish heritage," observed Weinman. Herself the grandmother of two young children, Weinman was inspired by surveys demonstrating the influential role of older relatives in promoting Jewish continuity, especially given the high rate of intermarriage. "I saw how important it is for grandparents to interact with grandchildren around Jewish issues. And I saw this as a way for the Jewish community to unify around a common interest."
Since many Hadassah members are grandparents, the leadership felt that a program tailored to their needs would excite existing members—and recruit new ones.
"We'd hear people say, 'My grandchildren are being brought up in homes where there isn't a lot of Jewish practice, and I wish I had this way to share Judaism with them,' " said Miriam K. Aron, who co-chairs the Hadassah-PJ Library initiative with Debby Mazon.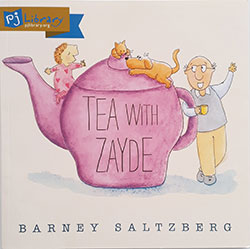 Winnie Sandler Grinspoon, president of the Harold Grinspoon Foundation, said that PJ Library's mission "is to serve as many people across the Jewish landscape as possible. We are excited to connect the women of Hadassah to the world of PJ Library, and we're also excited for the PJ Library community to get to know Hadassah."
For PJ Library, the Hadassah initiative is a chance to extend its grandparent program, which currently enrolls 38,000 bubbes and zaydes. New enrollees receive two books to start their library, along with access to supplementary resources and community events. A new title arrives each year thereafter; in contrast to the children's subscription, which tailors its monthly mailings by age, grandparents all receive the same selections.
The most popular title so far is probably Tea with Zayde. Written and illustrated by Barney Saltzberg, it's a sweet and relatable modern story about a little girl who video chats with her far-off grandfather every afternoon.
Reading the books with grandson Oliver, 3, is among the memories that Hadassah member Ann Pava cherishes. "He just cuddles up on my lap and settles in," said Pava, a volunteer and philanthropist who lives in West Hartford, Conn. Pava was president of the Western Massachusetts Jewish Federation in 2005 when it helped launch PJ Library, which is based in the Springfield, Mass., area. "But my own kids were all too old then, so I never got to be a PJ Library mom."
Now it's her turn to share PJ Library with Oliver, who lives in East Brunswick, N.J., and with two more grandchildren on the way.
As part of a modern Orthodox family, Pava and Oliver may use the books differently than PJ's target secular demographic, but Pava said high-quality children's literature is valuable for every kind of Jewish family. 
Books, she said, "bring us all together."