Never Again Education Act Signed Into Law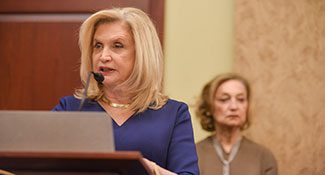 On May 29, America's commitment to ensuring that future generations learn the important lessons of the Holocaust marked a turning point when the Never Again Education Act was signed into law by President Trump. It was the end of a process that began more than two years earlier, when Hadassah adopted the effort to strengthen Holocaust education as its own.
Representative Carolyn Maloney of New York introduced the Never Again Education Act in the House of Representatives and, after the legislation was enacted, called Hadassah's support and advocacy for it "instrumental." Hadassah managed to keep the bill bipartisan and increase the number of supporters 13-fold from the original number of co-sponsors. With the organization's continued focus on the bill and an outpouring of support from across the country, the United States House of Representatives passed the bill on January 27 of this year—International Holocaust Remembrance Day—by a vote of
393 to 5.
In the Senate, Hadassah recruited senators of both parties to support the bill, including co-sponsors Senators Jacky Rosen (D-Nev.), Kevin Cramer (R-N.D.), Marco Rubio (R-Fla.) and Richard Blumenthal (D-Conn.). After 10 months of lobbying by Hadassah and a coalition of organizations that it led, the Senate bill had amassed nearly 80 co-sponsors. It passed the Senate by unanimous consent on May 13.
The new federal program, which includes awarding $10 million in grants for Holocaust education to schools, will help reverse the disturbing trend of students graduating from high school without any understanding of what the Holocaust was, how it happened and to whom and why. Hadassah also hopes that it will help to undercut the appeal of hate groups and communities that traffic in anti-Semitism.