A New Program Helping to Make 'Odd Couples' Housing Shidduchs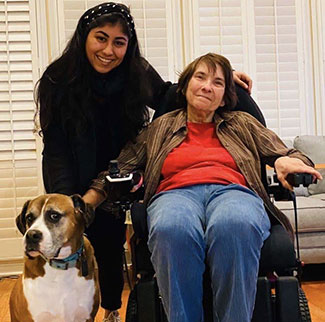 Sally Lorino shares her St. Louis home with two graduate students from India: Amisha Wankhede, 24, and Nagesh Khanvilkar, 31, who are earning degrees in cybersecurity and information technology at Webster University. The two students shop for groceries, cook Indian dishes like dosa and lentils and steady Lorino at night as she gets in and out of her wheelchair. 
"Having them in the house gives me a sense of freedom and security," said Lorino, 69, a former associate dean of Webster's School of Communications who suffers from cerebellar ataxia, a disease of the nervous system that causes stumbling, falling and slurred speech. The students pay a greatly reduced boarding fee instead of a typical apartment rent, learn about American culture and enjoy the companionship of an elder.
"Sally is helpful and supportive and takes care of me as my parents would. That 'missing home' thing subsided quickly," said Wankhede, who moved in more than a year ago.
Lorino met her housemates through Odd Couples Housing, co-founded by independent investment banker and consultant John Levis. The St. Louis-based program matches seniors who have spare bedrooms with young adults looking for an affordable place to live. An online questionnaire, almost like an intergenerational dating service, predicts compatibility: Smoker? Introvert or extrovert? Early bird or night owl?
Since October 2018, Odd Couples has made over 20 local matches. Most of the homeowners are women age 54 to 88; most of the housemates are American or international students.
Despite the pandemic, two new "matches" moved in the spring, and prospective roommates are still signing up.
"Our matches are not experiencing loneliness in isolation," said Levis, 77. "We picked up on the trend of people wanting to age in place, and this desire has only increased during the pandemic with the crises at nursing homes. Adult children are relieved and joyful that someone is living with mom and dad, especially at this time." 
While Levis, who grew up attending St. Louis's Temple Emanuel, does not believe the question of religious identification should appear on the housing questionnaire, he noted that Odd Couples "has had great support from the Jewish community."
The biggest hurdle now is whether universities will be reopening this fall, and how to test reliably for Covid-19 once a match has been made. Levis said that his company hopes to expand to other college towns with a good housing supply, like Denver.