Savannah, a Haven for Jews Since the Colonial Era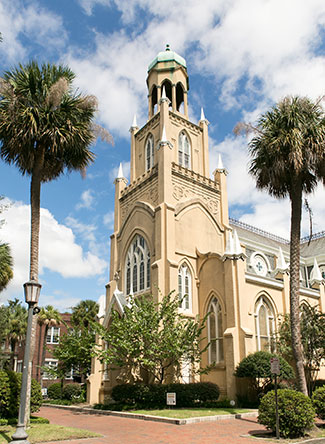 Even during a pandemic, when Rabbi Robert Haas delivers his sermons online rather than in person, he often still pairs his kippah with a dress suit—made in seersucker. Indeed, seersucker suits are perennially popular among his congregants at Mickve Israel in Savannah, Ga. For three years running each August, one synagogue member has sponsored a Seersucker Shabbat complete with a themed cake served at the kiddush. This year, the program shifted to YouTube, as have all services since March, when the Covid-19 pandemic hit.
Located in the heart of the city's historic district, the Reform synagogue is among the nation's oldest Jewish congregations and was the first to be established in the South. It was founded by 41 Jews who arrived from London in 1733, five months after the establishment of the Georgia colony. Of that group, 32 were Sephardi Jews who had survived the Spanish and Portuguese inquisitions by living as crypto-Jews—those who pretended to be Catholics yet practiced their own faith in secret.
Savannah, boasting the nation's largest National Historic Landmark District, sits atop many "best of" travel lists thanks to its colonial-era cobblestoned streets, distinctly southern charm and atmospheric magic. And while temperatures in this subtropical city along the tidal Savannah River can swelter into the humid 90s in the summer months, the rest of the year, visitors can stroll its streets comfortably.
Jennifer Rich, executive director of Mickve Israel, moved to Savannah more than 15 years ago from Denver with her husband and their two daughters. Prior to the move, she hadn't appreciated the extent to which the city's history is entwined with the story of its Jewish community.
"What's been impactful for me," she said, "is learning about Jews having freedoms in Savannah that even in the northern colonies, or Europe, many Jews never had before." Freedoms that included, according to Rich, being able to own land, to work at whatever job they chose and to worship in "100 percent freedom."
Historian Stan Deaton further spotlights the role of the historic synagogue in local lore.
"The congregants of Mickve Israel played an important role in Georgia's history almost since the colony was founded in 1733," said Deaton, the Dr. Elaine B. Andrews Distinguished Historian at the Georgia Historical Society. "The early Jewish settlers of Georgia were crucial to its ultimate success."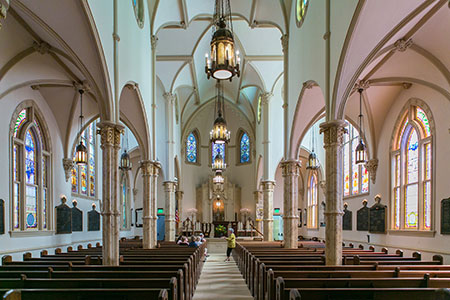 Take Dr. Samuel Nunez, a Portuguese Jewish physician who had been persecuted in Lisbon for speaking out against the Inquisition. It was Dr. Nunez who organized the voyage of those first 41 Jews. After arriving in Georgia, he was allowed by James Oglethorpe, the colony's founder, to treat colonists stricken by an epidemic, now thought to be yellow fever. The doctor's success in administering to his patients eased concerns about allowing Jews to settle in the new colony.
Today, Mickve Israel counts almost 1,000 congregants—and is growing.
"We are at our highest membership level in our history," said Rich. Two factors fuel this rise in affiliation at a time when synagogues across the country are witnessing declining numbers: an influx of retirees from the Northeast and Midwest as well as nearby Okatie, S.C.; and young families relocating to the area for jobs at Gulfstream aviation, Savannah College of Art and Design, Georgia Southern University and the Savannah Port Authority.
Beyond Mickve Israel, Savannah's Jewish community encompasses the nondenominational Rambam Day School, a Jewish Educational Alliance community center and two other synagogues—one Orthodox (Congregation Bnai Brith Jacob) and one Conservative (Congregation Agudath Achim). The rate of affiliation with a synagogue stands at 80 percent, as compared with a national rate of 30 percent, Rich said. "We're small but very strong," she added, with lots of service and leadership opportunities for anyone interested. The city also is home to a 96-year-old Hadassah chapter with over 400 members who live in and around Savannah and neighboring towns.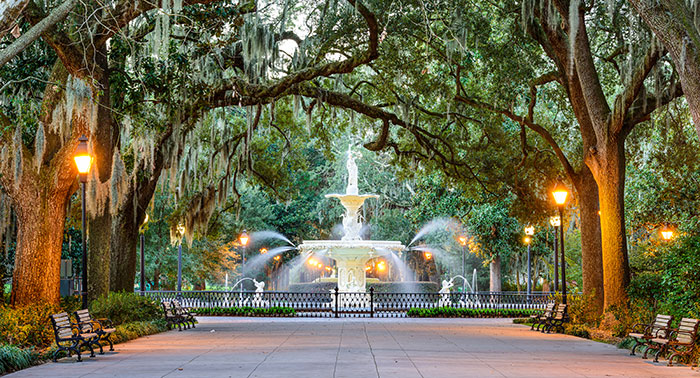 Like squares on a checkerboard, the city of Savannah was laid in 1733 with four open squares, each with eight surrounding blocks: four residential and four civic, comprising a ward. Savannah remains a lovely patchwork of these wards, with streets winding around the oases of greenery with walking paths and fountains and towering southern live oak trees draped with Spanish moss.
Mickve Israel sits on Monterey Square, which features a monument to General Casimir Pulaski, the Warsaw-born hero of both the Polish and American revolutions, who died after sustaining wounds in the Battle of Savannah.
Drive or walk by Mickve Israel and you will likely mistake it for one of the city's abundant centuries-old churches. According to historians, the edifice, completed in 1878, is the only purely Gothic revival synagogue in the United States, its stained glass windows appearing proudly arched and pointed. English architect Henry G. Harrison, who was active in New York City in the latter half of the 19th century, designed the sanctuary.
Worshiping on the day I visited—pre-pandemic—was Jane Guthman Kahn, then 87, whose family traces its roots in Savannah to 1900. Her great-aunt was Atlanta resident Lena Guthman Fox, who served as inspiration for the Pulitzer Prize-winning play—and later, movie—Driving Miss Daisy. "The story is true," Kahn said. "The whole story of Driving Miss Daisy is true. Only the trips out of Atlanta were to Savannah to visit family—not to Alabama.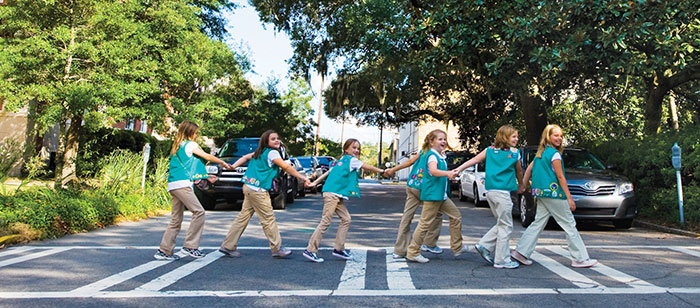 "The most formative things in my early years were connected with the Sunday school here, temple youth group and my Girl Scout troop," she continued. Indeed, Girl Scouts USA was first founded, in Savannah, by native daughter Juliette Gordon Low in 1912, and its first commercially prepared cookies were made by the kosher Gottlieb's Bakery in 1936.
A bill of sale for that batch of 7,500 dozen cookies—they were oatmeal—is among the fascinating artifacts housed in the Lawrence & Nancy Gutstein Museum, located on the second floor of Mickve Israel. Notable treasures from its collection include two Torah scrolls. One, made in 1450 of deerskin tied together with cow gut and today so fragile that it never leaves its glass display case, was brought to Savannah by the earliest Jewish settlers. "To our knowledge," said docent Nancy Green, who led my tour of the museum, "this is the oldest complete Torah in North America."
On the tour with me were Sue and Mike Neale, a couple visiting from London. Congregants at Edgware United Synagogue, the Neales had traveled to the States for the Choo Choo City Rails' model railroad convention in Chattanooga, Tenn. Then they rented a car to drive more than 350 miles to Savannah, having heard about Mickve Israel from friends back home.
"We always promised to come to Savannah, but not in the summer," joked Sue Neale, 67, a retired special education teacher. The Neales said they always seek out Jewish cultural sites on their travels. "It's a link to our heritage," she explained. "Jews have been so persecuted, and despite the Diaspora, there are so many more similarities than differences. Anything that connects us to history we have to value." 
---
IF YOU GO
Consult the Savannah Jewish Federation for the latest kosher options as well as information about synagogue services.
VisitSavannah.com is a good resource to plan your itinerary ahead of time and to find the latest updates on when major sights anticipate reopening.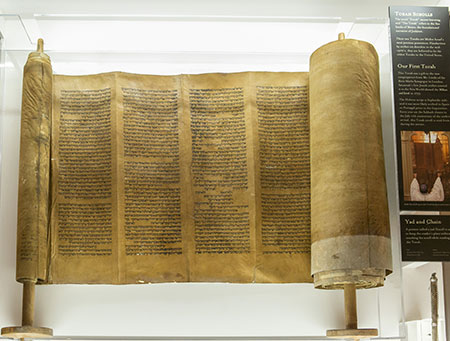 WHAT TO SEE
Through at least the fall season, Congregation Mickve Israel is streaming Shabbat as well as High Holiday services. Additionally, Rabbi Robert Haas has been teaching classes weekly on Zoom, then uploading them to YouTube.
In nonpandemic times, the Lawrence & Nancy Gutstein Museum at Mickve Israel offers tours run by volunteer docents—most of whom are members—on weekdays. For now, the synagogue is prioritizing opening its sanctuary and building to congregants prior to opening the museum for tours.
Leave Mickve Israel and cross Bull Street to take an elegant step back in time at The Mercer Williams House Museum and Carriage Shop. The Italianate mansion is today best known for the 1981 murder that transpired within its walls, a crime that lies at the heart of the 1994 best-selling book and later movie, Midnight in the Garden of Good and Evil.
The Juliette Gordon Low Birthplace in 1965 became the city's first registered National Historic Landmark and is now one of Savannah's most visited tourist attractions. Indeed, troops of Girls Scouts are a common sight on surrounding streets as they visit the home, owned by Girl Scouts USA, as a kind of rite of passage.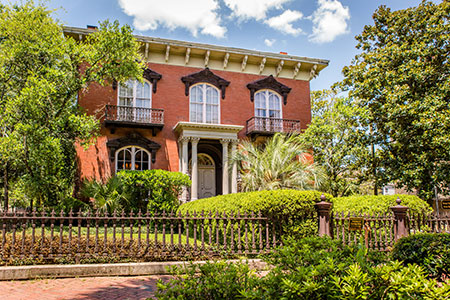 After leaving Low's home, walk two blocks south on Bull Street to reach Chippewa Square, one of Savannah's best known, in part because it was home to the bench where movie character Forrest Gump waited for a bus that would take him to see his friend Jenny. The bench is no longer there, but the park is leafy and beautiful. At the center stands a statue of Georgia colony founder James Oglethorpe that was designed by noted sculptor Daniel Chester French, creator of the seated Abraham Lincoln statue in the president's memorial in Washington, D.C.
Four more blocks down Bull Street leads to Forsyth Park, a 30-acre greenspace that is home to a Saturday farmer's market as well as special events throughout the year. At the north end of the park is an enormous fountain inspired by Parisian design.
In recent years, the park's most controversial feature—its 48-foot-tall Confederate Monument—has been in the news. Two years ago, the Savannah city council voted to move two bronze busts of Confederate leaders that flanked the north and south side of the monument to the Laurel Grove Cemetery, where the men—Lafayatte McClaws and Francis Bartow—are buried. However, in 2019, Georgia lawmakers passed legislation outlawing the defacement or removal of monuments on state-owned properties. Then, on June 10 of this year, the bust of McClaws, a major general in the Confederate army, was spray-painted with a Black Power fist and topped with a white hood. A new task force will determine the future of the busts and monument.
SCAD Museum of Art, located just east of the historic district but eminently walkable from it, is a contemporary art museum affiliated with the Savannah College of Art and Design. Visitors enter through a stunning 86-foot-tall steel and glass lantern. Inside, galleries are dedicated to emerging and established contemporary artists.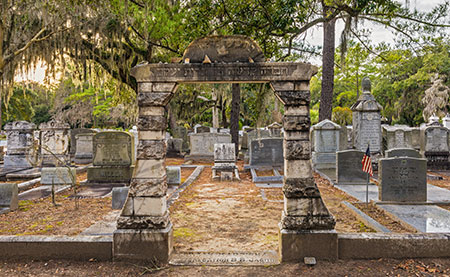 No trip to Savannah would be complete without a visit to Bonaventure Cemetery, which, since 1909, has included a Jewish section, today set behind gates topped with Stars of David. The 160-acre cemetery, the city's largest, sits on a bluff overlooking Wilmington River. Many folks know that the burial ground plays a major role in Midnight in the Garden of Good and Evil, but few realize naturalist John Muir once camped out in Bonaventure. He wrote in his 1916 book, A Thousand-Mile Walk to the Gulf:
"If that burying-ground across the Sea of Galilee, mentioned in Scripture, was half as beautiful as Bonaventure, I do not wonder that a man should dwell among the tombs…. The most conspicuous glory of Bonaventure is its noble avenue of live oaks. They are the most magnificent planted trees I have ever seen, about 50 feet high and perhaps three or four feet in diameter, with broad spreading leafy heads. The main branches reach out horizontally until they come together over the driveway…while each branch is adorned like a garden with ferns, flowers, grasses, and dwarf palmettos."
---
Allison Salerno is a writer and audio producer based in Athens, Ga. Her work has appeared in Atlanta magazine, espnW and Columbia Journalism Review, among other outlets.