OneShared.World Seeks a New Global Operating System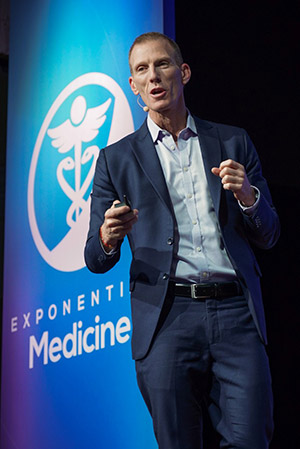 Like the prophets of old, Jamie Metzl bemoans a world wracked by oppression, destruction, poverty and social injustice. This March, as the coronavirus spread its furious tentacles across the world, Metzl had a revelation.
"I realized that our biggest problems are global—but the way we are organized is national," says Metzl, 52, an expert on science, technology, health, politics and international affairs, and author of five books, including his most recent, Hacking Darwin: Genetic Engineering and the Future of Humanity. "If the international community would have been organized differently, this pandemic could have been stopped in its tracks."
In a speech posted on YouTube on March 17 and on his personal blog a few days later, Metzl called for a new global ethic and structure. "What happens on one part of the planet affects all the rest," he said. "We are all one humanity facing common existential challenges." Metzl's "Declaration of Global Interdependence" struck a chord. On April 1, he convened a Zoom meeting to discuss his ideas from his New York City home; 125 people from 23 countries on five continents joined. Just 35 days later, he founded OneShared.World, a collaborative social and political movement intended to bring about systemic change around the globe. It is up to 5,000 members, including such well-known Americans as cellist Yo-Yo Ma; Andrew Young, the civil rights leader and former ambassador to the United Nations; and Andrew Yang, a former presidential candidate.
Inspired by tikkun olam, Metzl hopes to begin fixing the broken pieces of the world. The declaration now includes seven principles, from equitable protection for the vulnerable to safeguarding the earth. It has been translated into 18 languages and counting and has attracted thousands of individual signers in over 100 countries, including Israel.
By Rosh Hashanah, sometimes referred to as the birthday of world, Metzl will have taken the first steps toward the daunting prospect of reorganizing the world. "Tikkun olam was never just for Jewish causes," he says. "It's a special responsibility and a message of hope that stands at the core of our tradition. Instead of kol Yisrael arevim zeh bazeh, all Israel is responsible one for the other, it's now kol ha-olam arevim zeh bazeh, the whole world is responsible one for the other."
One of the most enthusiastic respondents to Metzl's call to action was Paula Rayman, 73, of Watertown, Mass., a suburb of Boston. She is now a major player on the organization's core leadership council. Rayman, professor emerita at the University of Massachusetts, balances Metzl's structural and political outlook by bringing to the table a grassroots perspective on peace-building and conflict resolution. A lifelong activist in the United States and the Middle East, she is a founding member of Women Waging Peace, which connects women peacemakers from around the world.
Like her mother, Rita, who was president of Hadassah's Menachem Begin chapter in Delray Beach, Fla., Rayman finds inspiration in Henrietta Szold's vision of practical Zionism. After college, she lived on Kibbutz Hanita, north of Haifa, for two years, searching for a socialist utopia that she didn't find, and later wrote the first of her five books, Kibbutz Community and Nation Building. Today, her question is: "Can we as a human species become resilient to face all these challenges?"
For his part, Metzl had a life-changing experience as a student at Brown University, where he met a survivor of the Cambodian genocide. Metzl was inspired to work in a refugee camp on the Thai-Cambodian border and funded his flight from proceeds of a garage sale.  "All my life, I had the sense that really big things were wrong in the world," he says. "I always asked, 'Why, why, why?' "
With a Ph.D. in history from Oxford and a law degree from Harvard Law School, Metzl has focused his work on issues of genocide, genetics and justice, previously serving on the National Security Council, in the State Department and as deputy staff director of the Senate Foreign Relations Committee. After three terms on the board of HIAS, the refugee assistance agency, he is now an emeritus member. He launched an unsuccessful 2004 congressional campaign at Union Station in Kansas City, Mo., the point of his family's arrival to this country after World War II and the city where he grew up.
In 2019, he was appointed to the World Health Organization's expert advisory committee on human genome editing. "We have a right to be angry that the WHO didn't stop the Covid-19 crisis," he says, referring to the Trump administration's decision to pull out of the United Nations-affiliated organization, which would take effect next summer. "But it is underfunded, understaffed and under empowered. It doesn't have the necessary authority and resources we need it to have. Instead of defunding it, we need a stronger WHO, not a weaker one."
OneShared.World's goal, according to Metzl, is to have a "seat at the table of power" to provide a global outlook on international decisions made by bodies like the United Nations and the WHO, both of which he says are governed by countries focused on their own national interests.
OneShared.World's practical strategy for moving forward as a global think tank began with a multiyear educational endeavor that features toolkits (available on the website) in different languages for different ages on the concepts of interdependence and hope. An emergency action plan, released this summer, calls for providing at least a dollar a day in direct cash support for six months to 820 million people living in extreme poverty who are at the greatest risk for Covid-19, with a matching amount to their immediate communities and neighborhoods. The plan, "Rise or Fall Together," has a high price tag: $400 billion, the bulk of which would come from a supplementary international reserve. "This is not charity," the plan concludes. "It's an investment in communal self-preservation." The group is also preparing a new report that envisions a strategy to build a global public health infrastructure to prevent future pandemics.
Anyone who signs on to OneShared.World's mission—individuals, schools, places of worship, organizations and businesses—receives an advocacy/action kit to help reach out to local, national and international officials; to launch or join social media campaigns; and to build coalitions for change. A virtual interdependence summit, slated to be held on the sidelines of this September's United Nations General Assembly, will call on G20 governments to support a campaign for ensuring water, sanitation, hygiene and pandemic preparedness for all by 2030. Beyond the pandemic, Metzl's initiative is addressing issues of climate change, ecosystem destruction, weapons of mass destruction, global underdevelopment and social justice concerns like Black Lives Matter.
OneShared.World's attempt to reorganize the world may seem overly ambitious to some skeptics, but Metzl is undeterred. A competitor in 13 Ironman Triathlons, 30 marathons and 15 ultramarathons, he views his new organization as a giant race for which he has been unknowingly training all his life. "The need is so dire that there's a great urgency to move quickly," he says, but with Rayman's more cautious voice, he is slowing down slightly, recognizing that the organization is a team effort instead of a solo sport, and that "the only victory is a sustainable victory."
Some people, Metzl notes, are shortening the organization's name to OS.W. "O.S. is an abbreviation for operating system," he explains. "We're really trying to alter the operating system of the world. If we don't integrate a sense of responsibility for the common good, we're going to make our world unlivable." 
Rahel Musleah, a frequent contributor to Hadassah Magazine, leads tours of Jewish India and speaks about its communities.