Leah Shakdiel, Orthodox Female Rabbi and Proud Iconoclast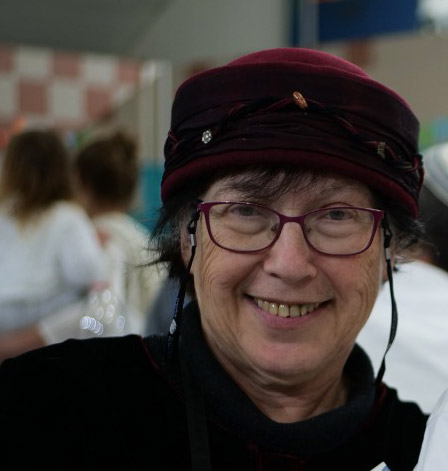 Jerusalem-born rabbi Leah Shakdiel is a proud iconoclast. More than 30 years ago, the Orthodox feminist appealed, successfully, to the Supreme Court of Israel for the right to sit on the Yerucham Religious Council, where she served from 1988 to 1993. She is active in religious peace organizations, was ordained last year and now serves as the rabbi at the Center for Women's Justice.
At 69, she is also the matriarch of a large family, which includes seven children (some from her husband's first marriage), 27 grandchildren and six great-grandchildren. This interview has been edited for brevity and clarity.
---
Why did you decide to become a rabbi?
I am part of the generation of Jewish feminists who were struggling for years for the right of women to learn Torah at the highest level and for the establishment of Torah learning institutions for women. In recent years, there was a breakthrough, and Orthodox women started getting ordained by Orthodox rabbis in New York and a little later in Israel. I said to myself, "Why not me?" We used to think it wasn't going to happen in our lifetime. I heard about a small institution in Jerusalem called Beit Midrash Har'el, headed by Rabbi Herzl Hefter. In my application, I asked them not to rule me out because of my age.
What were the studies like?
It was extremely difficult and frustrating for me. I had studied Talmud before, and I had an image of myself as a good student. I had even completed an entire cycle of daf yomi (the seven-and-a-half-year cycle of studying one page of Talmud per day). But this was different. As a feminist, it was frustrating to learn all the stuff written by men, for men, especially things about women, like the issues of niddah (ritual impurity), which is about our bodies. I had to suppress my antagonism the whole time.
What has changed since your ordination?
It's a big change in my self-image. I have always been a teacher. I teach in two academies for students who take a year of studies before the army, one secular and the other mixed secular and religious. Being a rabbi gives me added value. I also get asked halachic questions now. For example, Merkam Ezori, which operates joint programs for Yerucham, the southern town where I live, and the neighboring Bedouin village of Rahma, has a program where Jewish and Bedouin children grow vegetables and cook together. They asked me all kinds of halachic questions about whether the cups the Bedouin bring need to be kosher, and how we can plant vegetables so there is no kilayim (mixing of different species of plants, which Jewish law prohibits). I try to encourage both Jews and Muslims to nurture pride in their own traditions. We can share the value of thanking God for the food we have and what the earth gives us.
Does the municipal rabbi in Yerucham accept you as a rabbi?
Yerucham is a small town of about 10,000 people, and it's still mostly Sephardi. I've lived here for 40 years, and I'm pretty well-known. I think that many people here see my becoming a rabbi as part of my mishegas. But I do have a good relationship with the rabbi here. I think he respects me as a Torah scholar even when we disagree on things.
Tell me about your peace work—why you do it?
I am active in a lot of organizations, including Oz Veshalom-Netivot Shalom, the religious peace movement. There is also Tag Meir, a response to the violence of Tag Mechir, which conducts reprisal attacks on Palestinians after Palestinian attacks on Israelis. We visit Palestinians who were victims of attacks by Israelis to show them that some people believe in coexistence and respect their humanity. I see my activism as a moral imperative, and I remain optimistic that eventually there will be peace, hopefully in my lifetime.    
Linda Gradstein teaches journalism at NYU-Tel Aviv and reports for Voice of America.