Queeng Playing Cards, a 'Fair and Equal Deck'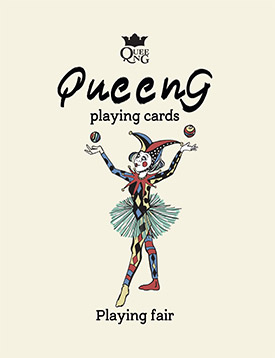 To change inequality, one first has to recognize it. One Tel Aviv teenager saw it in a deck of cards: Maayan Segal was 13 when she asked, "Why is the king always worth more than the queen?"
Three years later, as an 11th-grade student focused on math and biology, she had the idea to create a deck in which men and women are equal. Thus was born Queeng, an amalgam of "queen" and "king." Instead of the traditional king, queen and jack, the deck has monarch (king and queen), duke and duchess, and prince and princess. The joker is female.
To get from idea to product, Segal had to learn about advertising and paper quality, and she had to find a designer. Her father, Uri Segal, who heads a digital marketing company, provided encouragement and knowledge and introduced his daughter to a designer.
Launched in January on the crowdfunding website Indiegogo as the "fair and equal" deck aiming to become "the default playing cards of our time," Queeng has been a smash success. Prices start at $15 for one pack of cards. Maayan Segal's original goal was to raise $10,000 for productions costs; instead, her deck of cards so far has brought in almost $500,000. But there was a glitch: In April, the coronavirus pandemic stranded the first set of decks in Los Angeles, where they were produced, and the shipping date had to be delayed.
The many responses to the Queeng Facebook page have included requests to add persons of color and figures with various disabilities. Segal has welcomed the suggestions.
"We are working on a second edition," she said, "one that involves different colors and more types of people, so all can relate."
She believes that change will come not through the cards themselves but through the questions they will raise. "The second that the cards arrive, and children see a difference," she said, "they will ask questions and the topic will be discussed."