Cookbook Explores the Crypto-Jewish 'Roots' Cellar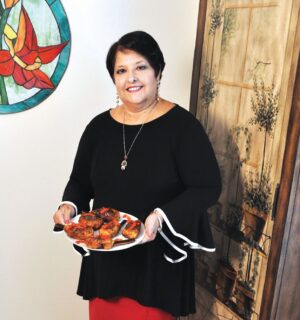 Years after her conversion from Catholicism to Judaism, Genie Milgrom of Miami was cleaning out her elderly mother's house in 2014 when she discovered documents linking the family to a crypto-Jewish heritage in medieval Spain. Even sweeter was the discovery of a collection of handwritten recipes passed down by generations of grandmothers.
The retired pharmaceutical executive had another surprise once she published the collection in her fifth book, Recipes of My 15 Grandmothers: Unique Recipes and Stories from the Times of the Crypto-Jews During the Spanish Inquisition. It was an instant hit, topping Amazon's sales chart for kosher cookbooks. Milgrom's previous memoirs had chronicled her journey from a strict Catholic upbringing in a Miami Cuban family to converting to Orthodox Judaism and becoming a spokeswoman for the crypto-Jewish genealogy community. But Milgrom, 65, never anticipated the public fascination for such dishes as chuletas (Spanish for pork chops), made with French toast and garnished with caramelized peppers.
In presentation, the dish resembles pork chops—a trompe l'oeil survival technique for crypto-Jews. Even in pork-crazy Spain, "at no time did the Jews mix meat and milk, at no time was pork used, until perhaps 1945 Cuba," said Milgrom, whose grandparents migrated from Spain via Central America in the early 1900s.
Recipes of My 15 Grandmothers combines recipes with Sephardi lore—such as the way crypto-Jews concealed religious fast days by busily cooking all day long, resulting in enormous empanadas stuffed full of garbanzos, eggs and more. "It looked like they were just waiting for this amazing dish to be done, and once sundown came, it'd be ready and they'd eat it," Milgrom explained of the reader favorite.
Much like the anise that scents Iberian recipes, Milgrom's inheritance was both sweet and a little bitter: She'd spent a decade converting and crisscrossing the Atlantic to research her roots, when the proof was in a drawer all along. "I was very upset with my mom for seeing me go through all this trouble, knowing she had all this stuff right here," the author said. "Then I realized I just had to be grateful that my family had schlepped all this with them and preserved it so nicely for hundreds of years."