Both a Religion and a Nationality
Zionism—and Hanukkah—underscore Judaism's dual components
Judaism and Zionism have many faces—as do anti-Semitism and anti-Zionism. The attacks on Israel, especially online and on college campuses in the United States, are so categorical that the very basics that define modern Zionism are under attack. Since last Hanukkah, we have even heard prominent Jews echo these assaults on our history and on our identity. Some critics insist that Judaism is just a religion and that calling it a nationality risks Jews' standing in America. Others claim that to remain a democracy, Israel has to stop trying to be a Jewish state, while still others doubt that Jews are indigenous to the Middle East, questioning whether Israelis really belong in Israel.
Trying to keep up with the anti-Jewish or anti-Israel mobs, these internal critics started trying to fit Jews, Israel and Zionism into one ideological straitjacket or another. We reject such oversimplifications and negations of our past.
From the giving of the Torah on Mount Sinai to the establishment of the modern, independent State of Israel, Judaism has taught that we are a people, not just a religion, and that we have ties to a particular homeland, the Land of Israel. We have the right, like the other 192 countries in the United Nations, to establish a democratic nation-state on that land. These assumptions aren't part of modern retellings of the Jewish story—they are wired into Judaism's DNA.
Most Jews believe they belong to the Jewish nation while also believing in Judaism as a faith. The American Jewish Committee's 2019 Survey of American Jewish Opinion found that only 24 percent of American Jews defined "being Jewish" as "mostly a matter of religion"; 59 percent focused on peoplehood particulars, such as "ethnicity and culture"; and 16 percent answered "both."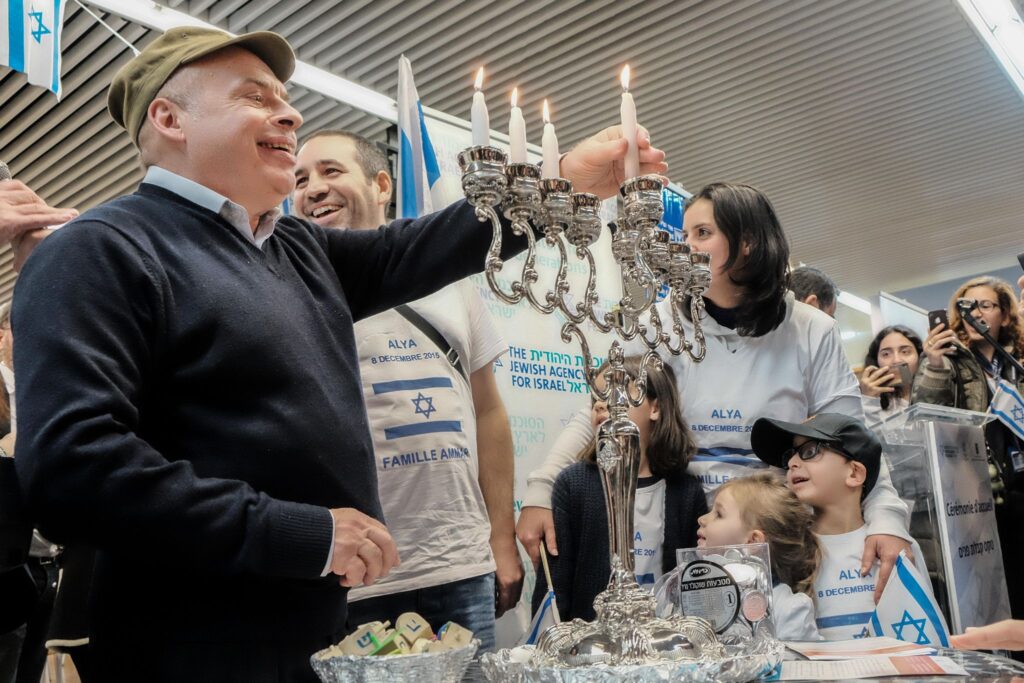 Millions of Jews celebrate Hanukkah, which this year begins the evening of December 10. Indeed, it is one of the most popular Jewish holidays. The calendar overlap with the Christmas season highlights for many American Jews the fact that both holidays are religious celebrations.
But Hanukkah has other dimensions, too. Over 2,000 years ago, the Seleucid Empire tried to destroy Judaism and the Jewish people in our homeland. But the Maccabees prevailed. More than 60 percent of American Jews, according to surveys, celebrate that victory by lighting candles all eight nights. Many more spend at least one night exchanging gifts, spinning dreidels, reciting blessings and singing songs about the Maccabees that recall how Israel rallied to their battle cry: "All who are faithful, follow me!"
Amid the merriment, no one focuses on which parts of this holiday are national and which are religious. And no one tries to claim that the story takes place anywhere but in the Jewish national home, with Jerusalem as our eternal capital.
If you tried cutting out Hanukkah's national elements, retaining solely the religious ones, you'd make a mess. You'd have no Maccabees to honor, no land to liberate, no Hasmonean dynasty that followed.
Indeed, the Bible itself is a religious document that tells the national story of a people, starting with
Abraham's religious-national revelation. And it continues with Moses, who leads the Jews as a nation out of Egypt while constantly talking to God.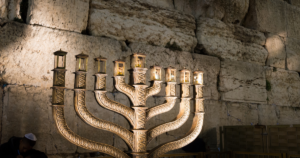 Throughout our history, Jews have struck different balances between nationalism and religion, depending on the place and the time. For example, in the 19th century, hoping to defeat anti-Semitism and refute charges of dual loyalty, the founders of what became Reform Judaism initially proclaimed themselves "no longer a nation, but a religious community." That rebellion against Judaism's dual identity failed, especially after Hitler and the birth of the State of Israel. Today, peoplehood and Israel play an important role in Reform Jewish identity.
The Zionist movement reverted to the "yes, both" definition, too. Political Zionists initially had great contempt for the rabbis. But in resurrecting the Jewish homeland, Jewish language and Jewish state, even secular Zionists learned that you can't divorce the Jewish religion from its people. Today, the overwhelming majority of Israeli Jews, even those who call themselves secular, not only light Hanukkah candles; two-thirds also light candles and bless wine every Friday night, according to a Jewish People Policy Institute study by Shmuel Rosner and Camil Fuchs, performing many rituals that look "religious" to American Jews.
Anti-semites have always shown a special zeal for targeting Jews' core identity. The tools are always the same: demonization, delegitimization and double standards. When religion was deemed the core of Jewish identity, these tools were used against Judaism. In the 19th century, when the core identity started becoming more secular and national, these tools were used against the Jewish race. And today, when Israel is at the core of so many Jews' identities, these tools are often directed against the collective Jew, the State of Israel.
---
"As Jews recite Hanukkah blessings consecrating the Maccabees' national victory, may the lights flickering in millions of windows symbolize that while each person's identity is complex, the fight against hatred should be simple."
---
The anti-Semites' smokescreen works on some, including Jews anxious to be popular or fit in. Those defining Judaism as a religion often tolerate progressives who claim to love Jews yet hate Israel obsessively. Those emphasizing the Jewish people's national needs often excuse ultranationalists who claim to love Israel yet hate liberal Jews.
Consider these recent incidents of Jew-hatred: Was it a left-winger or a right-winger who sent a tweet with the sick riddle, "What's the difference between a Jew and a pizza? The pizza leaves the oven." Who was guilty of abusing a Jewish political candidate in California with cries of "Fire up the oven?" Who photoshopped a Jewish journalist's face onto an Auschwitz prisoner's body? Who made a cover for the mock album "Set Fire to the Jews" with a distorted picture of the singer Adele as "Adelef Hitler?" And who knocked the kippah off of a 14-year-old in Brooklyn? The first Tweeter was a Boycott, Divestment and Sanctions supporter. The second online bully was a Neo-Nazi. The third was a far-right Trump supporter. The fourth was a Students for Justice in Palestine activist. And the fifth was just a hoodlum.
Hate is hate. The debate about which is worse—left-wing or right-wing anti-Semitism—is intellectually hollow and morally shallow. To fight anti-Semitism effectively, like all hate, you have to practice zero tolerance for it in all its forms.
As Jews recite Hanukkah blessings consecrating the Maccabees' national victory, may the lights flickering in millions of windows symbolize that while each person's identity is complex, the fight against hatred should be simple. Fight bigotry wherever it festers, whether it appears ever so conveniently among partisan rivals or ever so uncomfortably among allies; whether it advances your ideological agenda or complicates it.
And remember that more than anti-anti-Semitism, Zionism—like Judaism—offers a positive vision for finding identity, community and meaning in this often confusing, alienating and, especially these days, isolating world.
---
Natan Sharansky was a political prisoner in the Soviet Union and was a minister in four different Israeli governments. Gil Troy is Distinguished Scholar of North American History at McGill University and the author of nine books on the American presidency. This essay is adapted from their book, Never Alone: Prison, Politics, and My People (PublicAffairs).