Finding Passion In My Insular Jewish Enclave
Editor's Note: This essay was a notable entry in our teen writing contest, which asked girls: "How does my Jewishness impact my work for social and racial justice?" The contest was co-sponsored by Hadassah Magazine and jGirls Magazine. Find the winning essay here.
---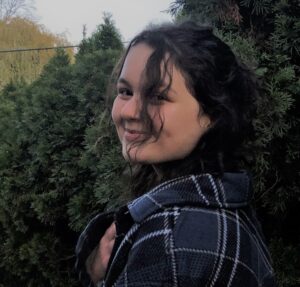 In the late months of the last school year, in the immediate aftermath of George Floyd's murder, I remember an urgency overtaking me and several of my friends.
Our small suburb seemed not to react, at least at first, to the immensity of what was going on. People still milled around lazily on Saturday afternoons; the lawn signs that have peppered our streets since 2016 with "hate has no home here" stayed in place, unmoved by this newest strike at their message.
My town is heavily Jewish, and if it is diverse, it is a kind of segregated diversity. Frankly, the town is racially divided, and it's rare to see a Black family living on a block of Ashkenazi Jews. In the weeks after Mr. Floyd's death, many of us were frustrated by the silence that had settled itself over our neighborhood.
A few of us went out one morning, armed with flyers we had made. Each displayed a powerful quote, like this from Desmond Tutu: "If you are neutral in situations of injustice, you have chosen the side of the oppressor."
We pasted them all over town, earning a fair number of odd looks. It wasn't that people didn't support it. They just hadn't yet realized what was going on.
That was the impression that I had, at least. Nobody knew what was happening—or, maybe more accurately, they hadn't cared to learn yet. It was scary, realizing the lack of concern within my community at that time.
This realization solidified in me something upsetting: the idea that the tight-knit Jewish community I'd grown up in was so isolated.
I know these people and I know our shared traditions. I know that justice, rigid ideas of right and wrong, take up a lot of space in Jewish theology. Adam and Eve, Cain and Abel – their stories are central to Jewish thought and ethics; they are easy examples of extreme good and evil. My community does care in a deep way about systemic injustice, be it by way of our own history of slavery in Egypt or the pogroms or the Holocaust. These brushes with hatred have let us build on the theoretical foundations presented by biblical figures. But at the same time, our collective memory of such injustices has allowed us to isolate ourselves—and in doing so, I realized, we have allowed ourselves a second form of isolation: willful ignorance. We don't have to aid the oppressed if we don't notice their oppression.
The first protest held in my town happened a month or so after the police killed George Floyd. It was a stunning whirlwind of passion and extended community in a way I hadn't seen before. Some friends and I found each other at the meeting point, signs in hand. We listened first to a few speakers—girls our age from the area. They told us, a crowd of people come together from bits and pieces of the same town, stories about their own loved ones' interactions with police. They told us to dispel the myth of "not here," and to look out and see the fact that we, here, were no different than any other town.
We walked for a long time; people stood along the curb and passed out water and we chanted the whole way.
When we reached the end we kneeled for eight minutes and forty-six seconds. The clouds broke with all of us on our knees and it started to rain; my sign smudged and the marker got on my t-shirt.
Then we got up and all went home, back to our tight-knit, separate neighborhoods. It was beautiful and it was communal, but at the end of it nothing had changed. The only real shift I can see in my neighborhood now is that alongside the "hate has no home here" signs, there are a few Black Lives Matter signs sprinkled in.
Still, something did shift for me. After living in an insular Jewish enclave, I felt, for the first time, what it's like to be part of a large, interconnected movement for change. Without having grown up so isolated, I wouldn't have felt such awe at the joyous intensity of different communities coming together at the protest, and I wouldn't have been able to recognize social justice work for what it often is: an act of communal passion.
---
Aderet Fishbane is a 17-year-old senior at SAR High School who lives in Teaneck, N.J.