Mayim Bialik: Hanukkah, Israel and Her New Starring Role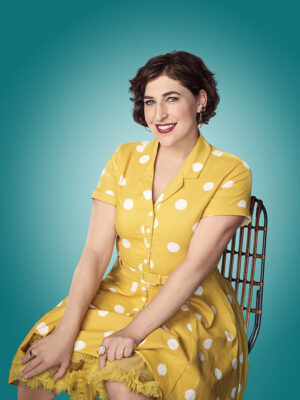 America has had a decades-long love for Mayim Bialik, ever since audiences first saw her in the teen comedy series, Blossom. After eight years as Amy Farrah Fowler on The Big Bang Theory, the 45-year-old actor is starring in a new FOX comedy, Call Me Kat, which premieres on January 3. She is also executive producer of the series with her Big Bang co-star Jim Parsons.
Based on the popular BBC series Miranda, Bialik plays Kat Silver, an unconventional woman who, after being challenged both in life and by her domineering mother, Sheila (Swoosie Kurtz), uses her entire savings to open a cat cafe, a themed-eatery where felines are free to roam, in Louisville, Ky. The series breaks the fourth wall, with Kat addressing the audience with her thoughts and perspectives in frequent humorous asides.
Here, Bialik, opens up about the new series, her family's Hanukkah traditions and the upcoming launch of a podcast that focuses on mental health. This interview was edited for brevity and clarity.
Tell us about your new series. How does Kat represent a distinct type of modern woman?
My character is a 39-year-old single woman who turns lemons into lemonade on the daily. She is quirky and socially anxious, and she sometimes lies …when she's nervous.
Kat is so joyful. She really does find the positive in every situation. I think we could all use a little entertainment right now, and this show has some pretty good old-fashioned comedy.
And Kat is not a size 0 and not even a size 2 or a 4! No one asked me to lose weight for this role and my character dresses funky and lives by the philosophy you should wear what you want and be who you want. I find it so refreshing!
How does this series compare to the others you have worked on?
Well, joining Big Bang Theory in the season finale of season three was like coming into the last semester of the last year of high school at a new school where you knew no one and there wasn't even a locker left. You had to just carry your books around.
Big Bang Theory was a finely oiled machine when I got there, which was really fantastic because there was very little pressure. They already knew exactly what they were doing. There were all of these beautiful rhythms, and, you know, I essentially imitated Jim Parsons for the first couple years, and that seemed to work.
What we have here, in Call Me Kat, is we get to build from the ground up, and [writer] Darlene Hunt has created, like, the best playground ever for us [actors]. And besides the fact that we also are just so excited to be working and not in our houses anymore, we have material and characters that we all love to play with. [But] it's definitely a learning curve for us. We are learning each other. We are learning the system that works best for all of us, but it is a lot more pressure on me, personally; I'll say that.
Kat's father is Jewish—was that an interesting part of your character's backstory to explore?
I think it's really awesome that I get to play a character who is Jewish. My kids say that every character I play has to be Jewish because I am Jewish! While I don't think that's true, I am proud that I am so universally known as a Jewish person, so I love that my character has that identity as well.
As your character will be dating, will we see your character talk about interfaith marriages with her mom?  
I think there's a lot of fascinating stuff to mine here but I also know that our show is primarily about a woman finding her own place and her own joy in life. I don't know if religious conversations will make their way into our show, but we shall see what our writers have planned.
She does have an old crush who is back in town. But she is not defined by who she is dating or if she's dating at all. She is eccentric and unique and loud and fun and likes to kick when she is excited.
Tell us about your soon-to be-launched podcast, Mayim Bialik's Breakdown.
The podcast focuses entirely on mental health. Every episode focuses on a diagnosis or mental health issue and each episode features either an expert in the field or an expert in their own personal mental health. Some of these guests are friends of mine and some are celebrities [including a few coworkers from Call Me Kat and a medical officer from the Suicide Prevention Hotline]. Every episode, I break down the science of the condition or disorder we are talking about, and I also include ways to understand the mind-body connection.
For thousands of years, other traditions have known the mind and body are connected, but Western medicine is just catching up. I break down the science behind things like acupuncture and diet and a lot of the supplements that are now becoming mainstream. We have an associated website, where people can learn more about what every episode discusses with resources where they can get help and more information either for themselves or a loved one.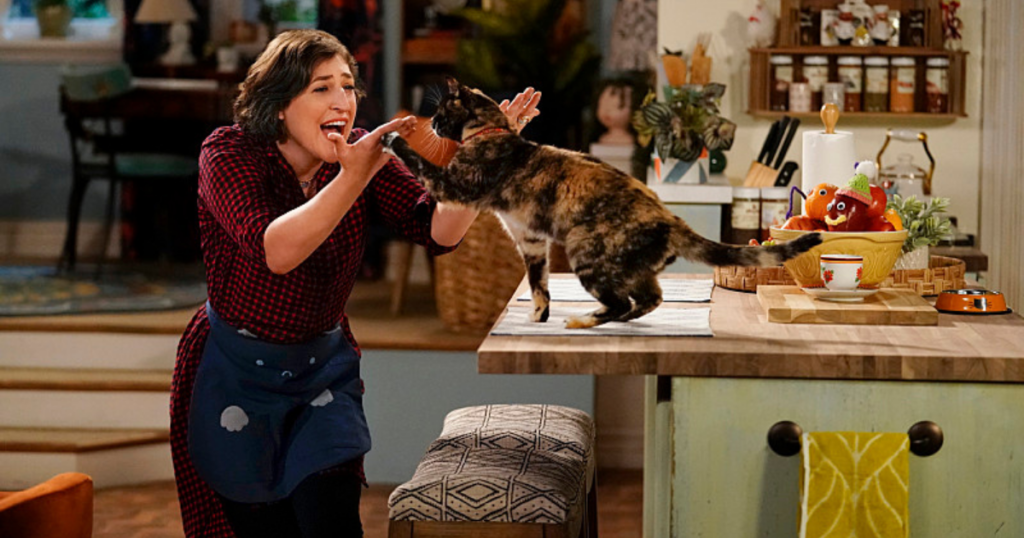 You are a staunch supporter of Israel and have discussed being Jewish and observant. Are you involved in any Jewish groups?
The work of Rabba Sara Hurwitz and Yeshivat Maharat is close to my heart, as are organizations like Eshel that make the Jewish world safe for our LGBTQ+ members of our community. I am also an ardent Zionist and especially appreciate the efforts to bridge gaps between Arabs and Jews in Israel. I also support the beautiful work of places like Pardes and LIMMUD, which are bringing a new lens to how we view Jewish education in our community beyond denominations.
You have posted recent images on social media of lighting the menorah for Hanukkah. Can you share with us other favorite Hanukkah traditions?
Obviously, shredded potato latkes. I make vegan sufganiyot, the recipe is in my cookbook, Mayim's Vegan Table if anyone is interested! We sing a few songs in Yiddish and I still force my kids [Miles and Frederick] to play dreidel at least one night.
How has Covid changed your Hanukkah celebration this year?
My mother lives in town but we only see her outdoors, so the first night was a very chilly candle lighting in her backyard, safely distanced. That's pretty much it. We are doing that all eight nights.
Call me Kat premieres Sunday, Jan. 3 (8:00-8:30 PM ET/PT), and then makes its time period premiere on Thursday, Jan. 7 (9:00-9:30 PM ET/PT).
---
Susan L. Hornik is a veteran entertainment and lifestyle journalist.