Israel in a Time of Pandemic
When I uprooted my family from our comfortable life in the suburbs of New York City in the summer of 2019 to relocate to Israel, I never could have imagined that the year ahead would bring a pandemic that would radically transform our daily lives.
We first crashed up against this new reality late last February, when my wife, four children and I flew from Israel to Italy for a highly anticipated family ski vacation. It was only after we arrived in Milan that we learned we'd landed in the world's newest Covid-19 hot spot. When we cut our trip short to rush back to Israel, we found ourselves among the first in the country to be subject to quarantine.
Not long afterward, when Israel went into its first pandemic lockdown, I marveled at the country's success in keeping the virus at bay. Israel's government barred foreigners from entering the country; mobilized the Mossad to obtain masks, ventilators and manage the health system's response; and imposed what seemed like a draconian lockdown that restricted residents to within just over 300 feet of their homes.
Though strained at being cooped up, we were lucky to have a huge backyard adjoining our apartment in our suburban-style city midway between Jerusalem and Tel Aviv, so our kids, who ranged in age from 2 to 10 years old, could run around. When lockdown strictures eased slightly and my wife resumed commuting to her job at a medical software startup, she came home with tales of an astounding rarity on the highways of Tel Aviv: little traffic.
Soon, the country's low case rate dropped to near zero. Israel was hailed as a global model for its handling of the pandemic, and Israelis were justifiably proud of the country's quick and effective response.
I believed Israel's successful initial response to the outbreak was helped by some key national traits: quick mobilization in response to a common threat, unity of purpose and sacrifice in order to survive and the ability to impose top-down control in a small country with one major airport and a single, centralized system of government and health care.
As I watched a very different coronavirus response unfold in New York, I felt fortunate to be in Israel, and alarmed and saddened by the outbreak in the United States. My parents were longtime residents of the New York City suburb of New Rochelle, which was designated one of the state's earliest hot spots when a member of their synagogue, Young Israel of New Rochelle, became the area's so-called patient zero. The shul was shut down by authorities, my parents went into quarantine, dozens of members of the congregation came down with the virus and two eventually died from it.
From afar, I shared in the trauma that friends and family were experiencing from overwhelmed hospitals, makeshift morgues and lack of access
to testing. As people I knew started dying, I took to the sad task of writing newspaper obituaries for some of them.
Six months later, it felt like the tables had turned. The virus's first wave had subsided in New York, while Israeli infections were climbing steadily.
I watched with frustration as every attempt at some kind of restriction during Israel's long, hot summer was blocked by protests against the Netanyahu government or political threats from potentially affected business and religious groups. Catering halls objected to limits on celebrations. Restaurateurs thwarted indoor dining restrictions. Many haredi leaders refused to shut down their yeshivas.
---
READ MORE: Covid's Collateral Damage: Women
---
Meanwhile, at the community level, the kind of strict social distancing that had become common in most of the New York City area wasn't catching on. Most neighbors and friends I ran into were dismissive of the virus's perils, invoking the national catchphrase "Yihiye b'seder" (things will be fine)—or noting that the virus was primarily a problem for the old or immunocompromised. Israelis continued to patronize cafes and welcome others into their homes on Shabbat. Friends' adherence to social distancing fell along a spectrum, and we were on the more stringent end.
We felt caught between the competing urges of exercising caution and participating in Israeli social life. We eschewed joint Shabbat meals and (mostly) restricted playdates for our children, but went on vacation on our own and hosted the occasional guest in our backyard. When my brother and his young son dropped by one blisteringly hot afternoon, we relented, staying in our air-conditioned living room and removing our masks to eat ice cream. The next night, my brother learned that he had been exposed three days earlier to a colleague who had just tested positive for the virus, and he went into quarantine. Thankfully, we all ended up in the clear, but we felt reckless for letting our guard down.
By fall, this country that Israelis love to describe with superlatives—home to the strongest army in the Middle East, ranked No. 1 worldwide in venture capital investment per capita, hailed as a global leader in innovation—was grappling with a new, more ignominious superlative: home to the world's highest Covid infection rate.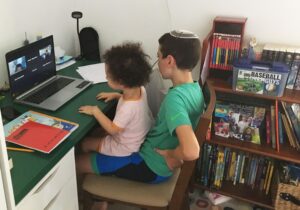 Soon after the school year's September 1 opening, when children returned to classrooms wearing masks but with no social distancing, the country's daily infection number soared to 7,000—the per capita equivalent of over 250,000 daily infections in the United States.
On the eve of Rosh Hashanah, Israel went into a second national lockdown, which was nothing like the first. Few people, including us, seemed to be abiding by the rule restricting residents to within 1,000 yards of their home.
Authorities had failed to communicate that the most effective means of stemming the spread was keeping distant from other people. Like many, my wife and I had lost confidence in the government's management of the virus. We adopted behaviors we felt were prudent, whether required or not, and ignored rules we felt were arbitrary, like the movement restrictions.
In my view, these were imposed nationwide only because the government feared a backlash from targeted restrictions on haredi cities and neighborhoods with high infection rates, and because Israelis couldn't be trusted to refrain from spending the High Holidays with extended family. This was maddening.
It began to feel like other Israeli traits made the national character more of a liability than an asset in the fight against the virus: the inability to articulate and stick to long-term plans, contempt for following rules, a misplaced belief in Israeli exceptionalism and a government paralyzed by the interests of small parties.
---
DON'T MISS: How Covid Is Hitting Women's Pocketbooks
A Hadassah Magazine Online Discussion
February 25 at 7 p.m. EST
---
Today Israel is a good news/bad news story. The country went into a third national lockdown in January to combat the highest infection rates of the pandemic while simultaneously running an aggressive vaccination drive that has made Israel the envy of the world. More than 1 million Israelis already have received the vaccine, and it appears possible that by Passover the country will be able to celebrate its liberation from the pandemic, with all willing adults vaccinated.
But the damage is not over: The pandemic has killed about 3,700 Israelis so far, left hundreds of thousands unemployed, and crushed tens of thousands of small businesses.
As we continue to stare down the coronavirus this winter, Israelis are caught between two opposing impulses. One is a culture that spurns any behavior that conceivably could make someone a frier—a sucker. This is evident in the aggressive way Israelis drive, the quantity of dog poop that's left on the sidewalk when no one's looking and the lies politicians told when they violated their government's lockdown rules.
On the other hand, many Israelis take very seriously the notion of collective responsibility and sacrifice for the common good. Service to the nation is not some abstract notion. It's built into the national ethos, starting with the military.
It's why, when it comes to the vaccine, there are both Israelis trying to jump ahead in line and Israelis refusing shortcuts and insisting that others more vulnerable than they get the protection first.
In any case, with enough doses expected to satisfy everybody, I have growing faith in another Israeli national slogan: "We got through Pharaoh. We'll get through this, too."
---
Uriel Heilman is a journalist for JTA–The Jewish Telegraphic Agency.
---
This story updates an earlier version that appeared in the January/February print issue of Hadassah Magazine.