I'm a Stuck-at-Home Mom, Not a Stay-at-Home Mom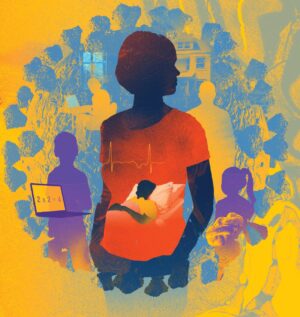 The pandemic became real to me on Tuesday, March 10, 2020, when news got out that my children's Hebrew school fell within the one-mile zone of containment created to halt the early spread of coronavirus in New Rochelle, N.Y. Had my kids, my husband and I been exposed? My throat hurt, but could it be allergies? How easily transmittable was Covid-19, we wondered. Back then, no one had answers.
Three days later, I raced to Massachusetts to visit my 90-year-old father, Jack Goldberg, who had been hospitalized for severe shingles after being weakened by a harrowing round of radiation for gastric cancer. Beth Israel Deaconess in Needham was going on lockdown and visiting hours were ending at 5 p.m. My mother, siblings and I congregated in the ICU, taking turns sitting with my dad.
During my time alone with him, the recently adopted protocols of "no touching" must have escaped my frontal lobe, and I leaned in and gently kissed his forehead. Immediately, I jumped back, horrified, certain that my link to New Rochelle and my sore throat meant that I must be infected and that my thoughtless action just condemned my dad to death. That was the first week of my panic pandemic.
My father died on September 24, at home, surrounded by family. I had not given him Covid. In fact, I tested negative less than a week after the ill-advised kiss. He recovered from shingles, and he rallied to live another six months.
Still, those six months were a whirlwind for me, a working mom. And my life is still a whirlwind. I am actively jealous of my husband, Ofir, a television director at NBC who regularly escapes our home in Scarsdale for his office in Manhattan.
If I ever had dreams of being a stay-at-home mom, they never looked like this. Indeed, I am a stuck-at-home mom, albeit one lucky enough to have colleagues fighting similar battles at home.
---
READ MORE: I Was an Optimistic, Active Senior. That was Before Covid.
---
My kids—Sam, a sixth-grader, and Janie, a third-grader—became fellow soldiers battling through remote learning last spring and charging into hybrid schedules in the fall. They mastered Zoom at the same time that I did for my work as an editor for this magazine. They have been my constant companions, a blessing and a distraction as I settle them into unfamiliar routines and juggle my daily commitments while preparing endless meals. (I'm convinced that their favorite part of having me at home is hot lunches—goodbye turkey sandwiches and cold pasta; hello chicken nuggets, grilled cheese and ravioli.)
All this change, coupled with not actually going anywhere or doing that much, is exhausting. My mom friends report the same brand of panic mixed with growing apathy. The excitement of tinkering with a challah recipe and sipping cocktails over Zoom dissipated months ago. Now, we huddle around outdoor heaters in our backyards as we commiserate over drinks and Trader Joe's appetizers. We have so many questions: Will our children ever go back to school full time? Will sleepaway camp open this summer? Will I ever fit into my work clothes again? Will my kids get to hug their grandparents anytime soon—and when can I leave them for a sleepover with my in-laws?
No one still has great answers. And while I am not among the 25 percent of mothers who claimed, in a recent McKinsey & Company survey conducted with the organization Lean In, that they are considering downshifting their careers or leaving the workforce because of the current difficulty in balancing their jobs and child care, I sympathize with those saying, "Enough."
For me, the only possible answer is to fight my way through the panic and past the seemingly insurmountable responsibilities of today. I hope there are enough women who feel the same as I do so that when my daughter's generation reaches adulthood, there will be supportive mom bosses, like mine today, who when they need something say, "O.K., I can wait 20 minutes, call me after your daughter gets off the bus."
---
Libby Barnea is the deputy editor of Hadassah Magazine.
---