Why Vaccines Matter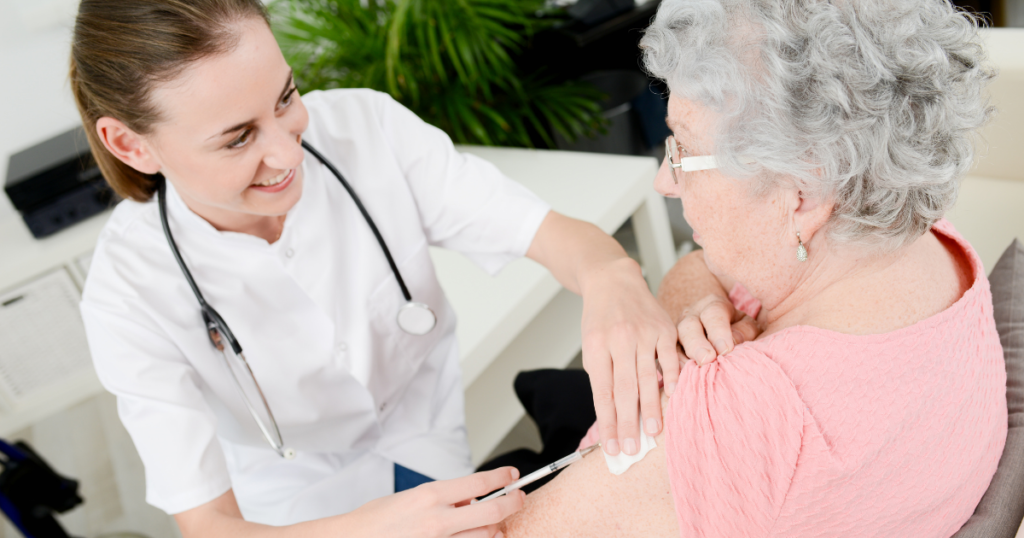 Were it not for the Covid-19 pandemic, Catherine Pearlman would not have known that she could receive a flu vaccine this winter. Pearlman, 48, a professor of social work and parenting expert who lives in Southern California, developed a mild egg allergy as a young teenager. The allergy caused no major problems until she was in her early 20s and wanted a yellow fever vaccine for a trip to Kenya. The yellow fever vaccine is manufactured using eggs, and injections could contain trace amounts of egg protein. At the time, people with egg allergies, both mild and severe, were told to check with an allergist before getting the shot.
Back in 1995, Pearlman's allergist was cautious. "They told me I could try to get the vaccine, but I had to do it very carefully in an immunologist's office," said Pearlman. An immunologist gave her a pinprick test, and she had a reaction. "They said, 'You can't get it. And you can't get the MMR or the flu vaccine,' " also manufactured using eggs. For years, Pearlman refused the flu vaccine, unaware that this information had become outdated.
According to the Centers for Disease Control and Prevention's Advisory Committee on Immunization Practices, most flu vaccines became safe for people with mild egg allergies nearly 10 years ago; the trace amounts of egg protein have largely been eliminated. Options exist for those with severe allergies, including injections developed using animal cells and recombinant vaccines, which are created synthetically (though they can be hard to find). Inoculations against MMR and yellow fever are also now safe for those with mild egg allergies, although it is important to consult an allergist.
Vaccines are widely considered by the medical community to be one of the greatest achievements in public health, effectively eliminating diseases like smallpox, polio and diphtheria that once claimed millions of lives. Though they are produced using different techniques, each is designed to stimulate the immune system to respond powerfully to a specific pathogen without causing illness.
Immunize a population and new outbreaks of a disease will be less likely to spread. Those who cannot receive a vaccine because of cancer treatment or other serious health issues, allergies, pregnancy or age limitations will also be protected through herd immunity, the term for widespread immunity through either mass inoculation or mass exposure to disease.
The rapid arrival of vaccines to combat the coronavirus pandemic offers new hope for the end to one of the worst public health crises in recent history. The Covid-19 vaccines—more than 200 are in development around the world—also have increased public discussion about immunization and highlighted one of the greatest dangers to vaccination programs: misinformation.
Lack of information and falsehoods around vaccines have become a growing concern for scientists and medical professionals in recent years. Misconceptions about their safety and effectiveness have led to decreased immunization rates around the world, resulting in renewed outbreaks of infections like measles and whooping cough and reversing decades of health care progress. In 2019, the World Health Organization named vaccine hesitancy—the reluctance or refusal to immunize despite the availability of a vaccine—as one of the top 10 threats to global health, on a par with noncommunicable diseases like cancer or diabetes. Reports and polls suggest that, despite reassurances from the health care community, there is public concern about the safety of the Covid vaccines.
While some fallacies about vaccines have been promoted by so-called anti-vaxxers, circulated on social media or gained traction through celebrities, others are due to lack of information, like Catherine Pearlman's belief that the flu vaccine was still dangerous for her. Pearlman discovered the truth only recently when questioning a new allergist about the upcoming shots for Covid. Pearlman said she was "incredulous" when she found out. "I've had the flu before, and it was terrible," she said. "I could have avoided that."
Another misconception is that vaccines are less necessary for adults. In the United States, immunization compliance rates for children are relatively high, about 70 percent, according to 2018 data from the CDC, but many adults are unprotected against vaccine-preventable diseases. Young and middle-aged adults, aged 18 to 49, are the least protected. The CDC reports that only about 34 percent of this group, for example, received a flu shot in 2018, compared with nearly 69 percent of adults aged 65 and over.
According to the CDC's National Health Interview Survey conducted in 2017, fewer than 25 percent of adults at increased risk for pneumonia had been vaccinated against it; and the relatively new vaccine for shingles, a recurrence of the varicella (chickenpox) virus prevalent among older adults, had been administered to only about 35 percent of those over age 60. The report urged all health care providers to assess the vaccination status for adults at every health visit.
The CDC recommends getting, in addition to an annual flu shot, the shingles vaccine at age 50; the pneumonia vaccine at age 65 (or younger, if health conditions like asthma, diabetes, heart disease or chronic obstructive pulmonary disease are present); and a tetanus booster every 10 years, with one of those boosters a combined treatment for tetanus, diphtheria and pertussis (whooping cough), known as the Tdap.
---
Adult Vaccines: The List 
This list is based on information from the Centers for Disease Control and Prevention. Check with your doctor for dosage recommendations and updated information.
º  Influenza, annually
º  Tdap (tetanus, whooping cough, diphtheria), for those who haven't had it yet, then a booster every 10 years
º  MMR (measles, mumps, rubella), for adults born in 1957 or later who didn't receive two doses as children
º  Varicella (chickenpox), for adults born in 1980 or later who were not immunized as children and never had chickenpox
º  Human papillomavirus (HPV), available for some adults up to age 45 who were not immunized as adolescents and have not been exposed to HPV
º  Shingles (herpes zoster), for ages 50 and older, including those who  have had shingles or who received the previous Zostavax shingles vaccine
º  Pneumococcal (pneumonia), for ages 65 and older, or younger adults with certain medical conditions
º  Meningococcal (meningitis), for college students living in residential housing who were not immunized as adolescents, or older adults with specific risk factors
º  Hepatitis A and B, for international travelers, health care professionals or those with other risk factors
---
"That's really important, because there's been a recurrence of pertussis in adults," said Dr. Michael Rabovsky, a family medicine physician and chairman of the family medicine department at the Cleveland Clinic in Ohio. "It might not be fatal in all adults. It might be a very lengthy, nagging cough. But in infants and vulnerable people or those who are immunocompromised, pertussis can be fatal."
Dr. Rabovsky is one of many doctors concerned about misinformation surrounding vaccine safety, which tends to spread on social media. A common myth is that an inoculation can cause the illness it is intended to prevent. "One of the misconceptions is, 'I got the flu when I got the vaccine,' " he said. "Sometimes people do get [an immediate] reaction from the flu vaccine, but they're not getting influenza. Their body is going through an antibody response. It's reacting to the stimulus that we're giving in the vaccine to produce antibodies."
With Covid cases still straining health care resources across the United States, many doctors stress the added importance of getting a flu shot. Though fall is the best time to get the inoculation since peak flu season tends to be in January or February, those who haven't received the shot yet should still get one in the winter months, or even later. The vaccines are updated annually to counteract the rapidly mutating influenza virus and to replenish immunity, which typically wears off after three to six months. Flu shots are especially important for adults over 65; the CDC recommends that they get an injection, not a nasal spray vaccine, and consider getting the high-dose and adjuvanted vaccines designed for this age group, which can create stronger immune responses.
"We can't afford to let this become a 'twindemic,' " the flu plus Covid, said Dr. Ellie Carmody, an infectious disease specialist at New York University Grossman School of Medicine, part of the NYU Langone Health system, and director of the Infectious Diseases Clinic at New York City's Bellevue hospital. Dr. Carmody notes that certain vaccines like the one for pneumonia are important for older adults due to immunosenescence, age-associated weakening of the immune system. Others, like the one against human papillomavirus, a common sexually transmitted infection that can cause cancer, are important to receive at a young age, before an individual is sexually active.
Dr. Carmody has been involved in several Covid vaccine trials. She said she was very encouraged by the results published by Pfizer and Moderna, both of which reported efficacies of about 95 percent in their late-stage, large-scale Phase III trials. Pfizer and Moderna have received emergency-use authorization from the U.S. Food and Drug Administration and began distribution in mid-December.
"Thus far, SARS-CoV-2 has been a relatively stable virus," Dr. Carmody explained. "It hasn't exhibited the same degree of genetic drift as the flu demonstrates every year. That's been one of the advantages that makes the development of a Covid vaccine easier." She stressed that the vaccines' rapid development does not indicate any compromises in safety. "There have not been any shortcuts taken," said Dr. Carmody. "I've seen that proper Phase I, II and III trials have been conducted. These vaccines have been developed quickly, not because of shortcuts, but because the technology is so much more advanced than it ever has been and coordination has been unprecedented."
Dr. Yoseph Caraco, who heads the Hadassah Medical Organization's Clinical Pharmacology Unit and the Hadassah Clinical Research Center at Hadassah Hospital Ein Kerem in Jerusalem, agrees that the field of vaccine research is progressing rapidly worldwide. While the Israeli government is working to procure vaccines from some of the early developers, some Israeli-produced vaccines are also in the works. Dr. Caraco helped design protocols for Phase I trials of the Covid vaccine developed by the Israel Institute for Biological Research. By early December, 40 volunteers had been enrolled in the trial at Hadassah. Recent statements in Israeli media by Dr. Shmuel Shapira, director-general of the institute, indicate that Phase III trials will reportedly begin in April.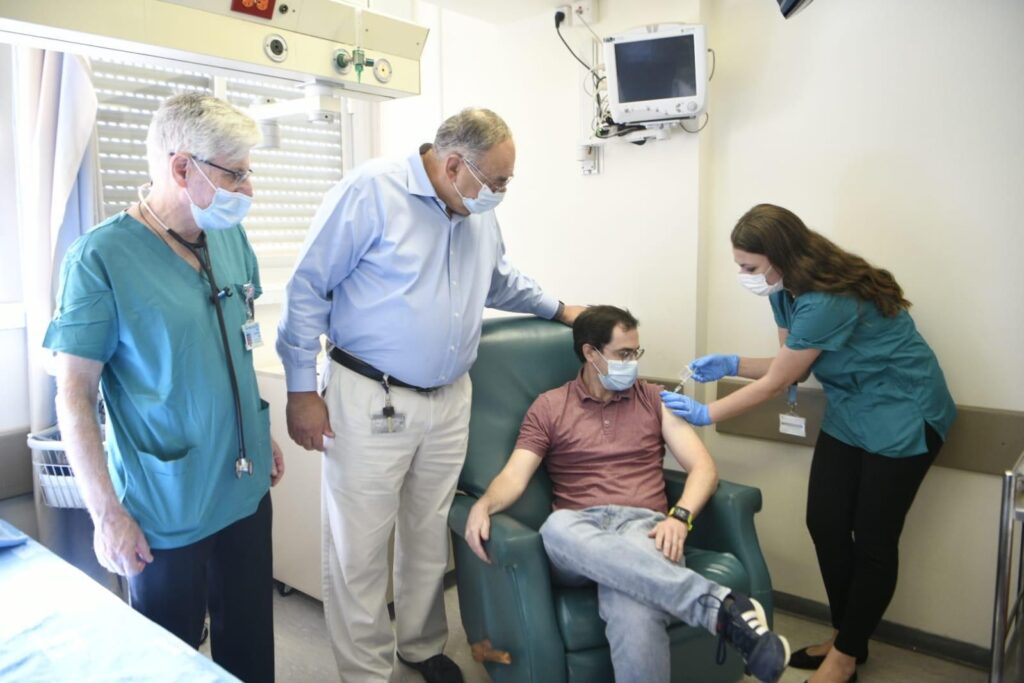 Dr. Caraco says that emphasizing transparency and proven facts about vaccine risks is important for public confidence. "There is a growing concern about the attitude of the public toward the emerging vaccines," he said. "Our task is to provide the public with accurate information. This should be weighed against the known risks and morbidity associated with Covid-19."
Health professionals anticipate a multiphase rollout process that prioritizes health care workers and high-risk populations. Major medical centers have been preparing the infrastructure to receive, store and distribute the vaccine for some time, said Dr. Rabovsky of the Cleveland Clinic. "Health care systems that would look at themselves as competitors are all cooperating on this and making plans together," he said. "I find that promising."
Widespread Covid vaccinations mean a better chance of containing the pandemic. And the value of vaccination is not simply for personal health, Dr. Carmody, the infectious disease specialist, points out. "The benefits of herd immunity are for those people who cannot get vaccines, such as a transplant recipient or someone with autoimmune disease," she said. "They remain protected because everybody else has been vaccinated. It's something to do not only for yourself, but for your loved ones and for the altruistic benefits to our country and our society overall."
---
Sarah Yahr Tucker is a freelance writer and journalist based in Los Angeles.