Baking Challah as Much-Kneaded Therapy
It's late afternoon, and I am working on three hours of sleep. This is my third batch of challah dough. I baked the other two but found them wanting, discarding the dry chunks in the hours before dawn.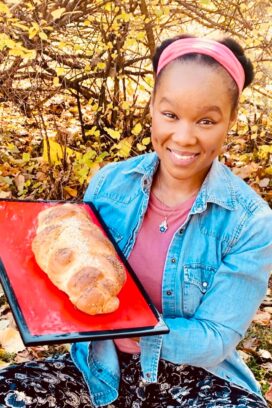 Baking is an addiction. It releases endorphins and taunts your sense of self with a demand for perfection that, when it comes, feels effortless. It's dough between your fingers; handfuls of flour tossed everywhere because that's what creates a good working surface and a pliant surface of dough. It's piling up whisks, spoons and cups caked with dried goo and welcoming the mess that frames the strict science of baking. It's about the therapy that accompanies kneading the dough. It's about wanting to be in control but not knowing whether or not you are until after the fact, which is, in a sense, about losing control.
Before my plunge into baking, I would buy challah every Friday at the Trader Joe's near me in the Lincoln Park section of Chicago. The bread was pretty good; some Fridays you ended up with a fresher loaf than others, but they certainly did the job for the Shabbat meal. Then one day last fall, my husband, Jacob, returned from shopping with unfortunate news: "The store decided not to carry challah anymore!" I was crestfallen, but at the same time, I took it as a sign that my nascent challah-baking was meant to be more than occasional.
My first time baking challah—or anything, really—happened in September. In hindsight, that test run was quite ambitious. I decided to bake a six-strand, apple-and-cinnamon-stuffed challah and a classic three-strand loaf. Seeing photos online of gorgeous challahs in an array of designs and shapes gave me inspiration. By sheer luck, both loaves were successes—light, soft and airy, the outside golden brown with a glossy finish.
Initially, as I began making challah every week, I felt a little overwhelmed with all the work involved in the process. In a new apron I bought myself at a local thrift store that came embroidered with homey red apples, I would wait until sundown, usually on Thursdays, to start—not only because I work better at night, but because my 2-year-old son, Asher Lee, is sound asleep then. First, I would clear a workspace on my dining room table and put down all the necessary equipment and utensils; then I would begin by pouring a precise amount of warm water, active yeast, brown sugar (my personal choice) and three eggs into a large mixing bowl.
The sugar acts as food for the yeast, resulting in a bubbling foam on top. Because I only recently invested in an electric mixer, at first, I had no choice but to mix by hand. If anyone is part of an underground fight club in an effort to blow off steam during the pandemic, let me recommend making challah by hand. Mixing and kneading dough, every week, to the right consistency definitely left me with a Popeye arm. It takes a lot of mixing, and then more mixing; a lot of kneading, and then more kneading.
The reason for all of this working of the dough is to create—trigger warning for the "g word"—a dense network of gluten strands in the dough. (Gluten-free flours also exist.) I enjoy every part of kneading, using my hands for every press and pull, stretch and fold, the feeling of sticky goop therapeutic between my fingers.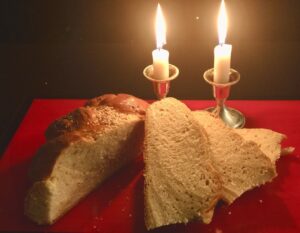 There's nothing like homemade challah. Delivering one that meets the standard of the "real thing" demands patience and discipline. The perfect challah is all about consistency; a glossy egg-washed crust enclosing a soft fluffy center, the algorithmically woven patterns, the special flavors—like sweet challahs made by adding apples, chocolate or cinnamon stuffed into the dough.
In my years of cooking, most things have come easily. Not so with challah. Despite the beginner's luck of my first try, my second attempt was a rude awakening at the mercurial nature of working with dough. The wiggle room I typically enjoy when cooking is called, in Yiddish, the shit-arein school of cuisine—a little of this, a little of that. I quickly learned that that doesn't cut it in baking. There is a reason that the Hebrew word for bread, lechem, comes from the same three-letter root as lochem, struggle, and milchamah, war. It is why one of Hashem's curses on Adam and Eve as they flee the Garden of Eden is that they will "scratch bread from the earth."
Today, I can buy a pound of flour for $2.50 at the grocery store. But how quickly we forget all the labor that went into that bag of flour: sowing, growing and harvesting the wheat, threshing, milling and so on until it is dusted atop my table.
One month after I began baking weekly, I joined Holla for Challah, a Facebook group for lovers of challah—the more elaborate and exotic, the better. Bakers on the page share various step-by-step recipes as well as photos of beautifully braided loaves, from traditional three-stranders to mouthwatering chocolate babkas made from challah dough. The supportive community inspired me to post, too, and I recounted the story of making those first two challahs back in September. Now, I try to encourage other newbie bakers.
I shared those early loaves with my mother and grandparents-in-law. As I watched them take those first bites, their eyes widened with pleasure. "This is very delicious, Aayisha!" they murmured around mouths full of challah.
For now, as the coronavirus continues to roil the world, baking bread lends a semblance of calm and routine to my life, allowing me to unwind, take deeper breaths and steady my thoughts. At the same time, sharing the bread I've made with my hands is a way to spread love, joy and happiness. So, when I'm feeling uneasy and need to recenter, I find myself rolling up my sleeves, powdering my hands with a soft, finely ground meal of wheat and getting to work at my dining room table.
Aayisha's Traditional Challah  
1 1/2 cups lukewarm water
1 package instant dry yeast (2 1/4 teaspoons)
3 tablespoons olive oil
2 tablespoons dark brown sugar
2 tablespoons organic honey
1 1/2 teaspoons fine kosher salt
1 teaspoon vanilla extract (optional)
4 cups all-purpose flour
3 eggs, divided
1/2 cup sesame and/or poppy seeds (optional)
In a medium-size bowl, add the lukewarm water, yeast, olive oil, brown sugar and honey. Allow to sit for 5 minutes for the yeast to activate and foam. Add the salt and vanilla extract, if using. Beat in two eggs, add the flour one cup at a time and thoroughly whisk by hand or use a stand mixer. The dough will have a liquidy texture, hang in there!
Place your dough in a clean bowl and cover with a damp towel. Store in the refrigerator for at least 3 hours (preferably overnight). This cooling method will allow your dough to thicken as it rises.
When the dough is ready to knead, you should see that it's risen a few inches and now has little air pockets on its surface. If you don't see as much rise as you should, don't worry. Over the approximately 6 to 9 minutes you will knead, the dough will firm up.
Turn the dough out of the bowl onto a workspace sprinkled with flour. Coat your hands as well. Place your powdered fingers at the top of the dough, then fold into the middle of the dough, toward yourself. Take the other sides and repeat until you have a ball-like shape. Re-powder your hands and surface if needed. This time, grab the edges with your fingers and fold them into the middle of the dough. Take the palm of your hand(s) and press down lightly. The dough should appear to be sliding against and into itself rather than into the work surface. The dough may absorb the flour on your hands and surface—that's good. Keep powdering your hands. Remember, knead dough into itself, not into the table.
After 4 to 5 minutes of kneading, rinse your hands and clean your work surface. Coat your hands and surface with a little olive oil instead of flour. Knead the dough for another 3 minutes.
Complete the kneading process by re-dusting your hands and surface with flour, so that your final ball of dough has a powdery finish. Allow dough to rest 10 minutes after kneading.
Divide dough into three even sections. Dust flour over your workspace and hands, if needed. With both hands, roll each section 16-inch strands. At the ends farthest from you, pinch the three strands together, then carefully braid your 

challah

. Pinch the ends when finished. Allow 

challah

 to rest 5 minutes after handling it.
Preheat oven to 350°. Place your braided 

challah

 on a baking sheet lined with parchment paper. Brush 

challah

 with egg wash (the remaining egg lightly beaten with 1 teaspoon of water and a tiny pinch of kosher salt) and leave to rise for one hour. After the final rise, sprinkle with seeds, if using. Bake for 35 to 45 minutes, stopping after the first 15 minutes to repeat the egg wash.
Let 

challah

 cool on a rack before slicing.
---
Aayisha Ruby Gold is a stage and screen actor, theater director and writer who lives with her husband and young son in Chicago.