The Pandemic is a 'Fire Drill for the Climate Crisis'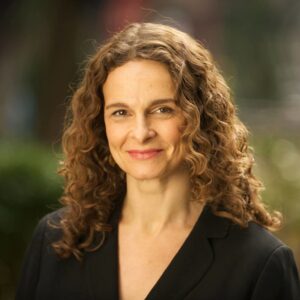 When Rabbi Jennie Rosenn visited her father in San Francisco more than five years ago, the usually cool, sweater-weather summer was instead what she recalls as "apocalyptically hot" and shut down the city. That experience was one of several that drove home for her the immediacy of climate change.
At the time, she was vice president of community engagement at HIAS, helping to build a Jewish response to the global refugee crisis. But she also was imagining the possibility of a billion climate refugees fleeing floods, fires and other natural catastrophes, as several environmental groups have predicted could happen by 2050. Last April, she launched Dayenu: A Jewish Call to Climate Action to mobilize the Jewish community to confront the climate crisis on a systemic level.
Rosenn, 52, was ordained by Hebrew Union College-Jewish Institute of Religion and was twice named one of The Forward's 50 most influential Jews in America. A life member of Hadassah, she lives in Manhattan with her husband, Rabbi David Rosenn, executive director of the Hebrew Free Loan Society. They have two sons, 20 and 14. This interview was edited for brevity and clarity.
---
Did you grow up with an awareness of environmental activism?
My parents, Paul and Sally Castleman, were computer systems professionals and political activists. We had a tzedakah collective and once or twice a year, we would choose where to allocate our stack of dollar bills. I always chose civil rights. My brother Tony always chose the environment and my younger brother Seth got whatever was left. For years, I thought the environment was apart from issues of social and economic justice, but now I understand that it's not a bifurcation. At its most essential, the climate crisis is about the future of humanity: whether we will have clean air, water, food, shelter, and who will have it. It affects everybody, but not everybody equally.
Why the name Dayenu and why now?
This is the existential issue of our time. The Jewish community was not fully showing up. We have little time to get on a different path. A 2018 report from the United Nations' Intergovernmental Panel on Climate Change concluded that by 2050 we need to reach net zero emissions if we stand a chance of averting the worst impact.
Dayenu is a joyous Passover song of gratitude and abundance. It also means we've had enough as well as we have enough. We have the technology, the policies, the power to create a world in which everyone can have enough. That dual sense of urgency and hope, direness and possibility, is at the core of Dayenu.
How is Dayenu different from other Jewish environmental organizations?
There is no national Jewish organization mobilizing the community on the scale and speed that science and justice demand. If every individual changed their personal practices and every institution changed its carbon footprint, it wouldn't be sufficient. Last April, when half the world shut down, emissions only dropped by 17 percent. The remaining 83 percent is embedded in our infrastructure. Dayenu is developing ways for people to take strategically targeted action through national campaigns. We're cultivating a network of Dayenu Circles, grassroots groups that are forming in places like Hillels, synagogues, youth groups and neighborhoods. Dayenu partners closely with other organizations within and beyond the Jewish community.
Has the pandemic increased the urgency of your work?
The pandemic has given us an unexpected opportunity to rebuild and re-envision our world so it's not the same polluting, inequitable and fragile economy as before. It's a fire drill for the climate crisis, and it's small in comparison to climate collapse.
How will Tu B'Shevat resonate differently with you this year?
Tu B'Shevat is an opportunity to connect spiritually to the severity of the crisis, to the beauty of our earth and humanity. It will be a time to refuel and ground our work.
---
Rahel Musleah leads "NamaStay at Home," a series of virtual tours of Jewish India and other cultural events (explorejewishindia.com).