What Is Normal?
Golem Girl
By Riva Lehrer (Random House)
What is normal—a normal body, a normal life—and who decides? In Golem Girl, a richly layered memoir, Riva Lehrer explores this issue as well as the deeper question of how to value a body that is different. Lehrer, an acclaimed artist who was born with spina bifida, a birth defect that occurs when the spine and spinal column don't develop properly in utero, tackles these themes right off by placing the word "golem" in the title.
A golem, she tells us, is a monster—the most famous one, the Golem of Prague, built out of mud by 16th-century Rabbi Judah Loew for the purpose of saving the Jews. "I am a Golem," Lehrer writes. "My body was built by human hands." But who exactly is "saved" by her existence is the focus of her insightful, witty retelling of her own life story.
When Lehrer was born in 1958, the mortality rate of children with spina bifida was 90 percent; those who survived were usually institutionalized. But her mother, Carole Lehrer, had been a medical researcher at Cincinnati Children's Hospital.
Her knowledge, determination and connections, along with the dawn of a new era of spina bifida surgery, saved her daughter's life and, at the same time, initiated a lifelong course of medical interventions. The first half of the book is something of a medical diary—Riva Lehrer's first two years lived entirely in the hospital; her nine years as a student at the Randall J. Condon School for Crippled Children (now the Roselawn Condon School); the many surgeries and therapies orchestrated by her mother. To this day, spina bifida affects the functioning of nearly all of Lehrer's internal organs as well as her appearance.
There is much pain in these chapters, both physical and emotional. They describe a fraught mother-daughter relationship exponentially complicated by Carole Lehrer's own botched back surgery and eventual drug dependence. But there is also love and joy. At the Condon school, Riva Lehrer finds friends and a sense of belonging, even as she understands that the school has no plans for its students' future lives, no mention of jobs, relationships or marriages.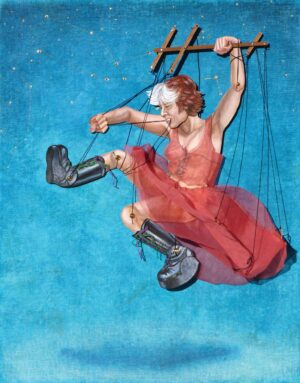 Her mother's death when Lehrer is 17 ushers in the second half of the memoir. Lehrer has a father and two brothers, but without her mother, she is left largely alone to navigate her own medical care as well as her future. Between surgeries and medical crises, she studies art and explores the complexity of her sexuality as a disabled person, coming out as queer, and constructs an independent life within a newfound artist community built around disability culture. The vivid paintings that appear through the book exemplify Lehrer's development of a distinct collaborative form of portraiture in which she and her subjects work together to present those who are different. Her goal: to present her subjects in their full humanity, often with great joy.
Today, Lehrer, 62, is on the faculty at the School of the Art Institute of Chicago and the Medical Humanities Department at Northwestern University. Her portraits hang in the National Portrait Gallery as well as in many other prominent collections. With this memoir, she proves that her skill as a writer mirrors her skill as an artist. She has lived her life intentionally, exploring words as with brushstrokes: normal, able, disabled, monster, freak, human. Lehrer writes that she is "a queer, crippled Jew with peculiar shoes, a dreadful, grievous monster." But she also describes the golem, and thus herself, as "a coherent form that can contain God's will."
---
Elizabeth Edelglass is a fiction writer and book reviewer living in Connecticut.