Adapting to Good Fortune, and Purple Cabbage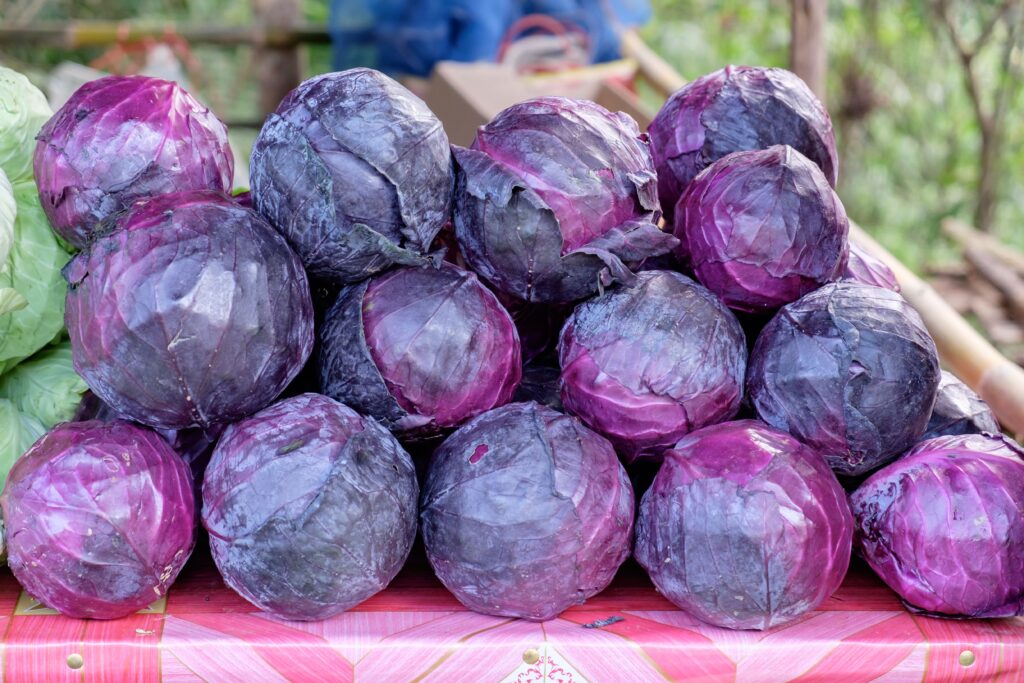 What do Passover, the Chosen People, the color purple, a vowel sound, bees, a hamsa and university faculty have to do with each other? With a little creativity, they all meet at the root ס-ג-ל (samekh, gimel, lamed), to adapt. Do you recall when peanut oil could be found in kosher households in America on Passover, while peanuts themselves, which are kitniyot, were prohibited? Ostensibly lacking other, more appropriate oils, Jews הִסְתַּגְּלוּ (histaglu), adapted.
The root itself can be traced to a word that appears first in the Book of Exodus, in the form of the noun סְגֻלָּה (segulah), treasure. God appears to Moses to announce that He has chosen the Israelites to be his עַם סְגֻלָּה (am segulah), cherished nation, a grammatically awkward translation that has been loosely adapted over time into the expression Chosen People. Like the decision to permit peanut oil, the development of the term has more to do with sociology than etymology. In Jewish folklore, segulah refers to things that promise good fortune, like hanging a hamsa amulet above the crib of an infant to guarantee his or her safety.
The root proliferates in Midrash where it finds itself adapted by the talmudic rabbis to their homiletic needs. Playing on the similarity between the Hebrew word for bee, devorah, and the Hebrew title of the Book of Deuteronomy, Devarim, the rabbis take our root into apiculture. Just as the bee מְסַגֶלֶּת (mesagellet), gathers up, honey for her owner, so, too, the nation of Israel מְסַגְלִים (mesaglim), accumulates, good deeds for God's sake.
The story of how the root came to designate סָגוֹל (sagol), the color purple, can be traced to Eliezer Ben-Yehuda, the father of modern Hebrew. He found in Rashi's commentary on the Talmud the term סַגְלִי (sagli), referring to a purple-colored plant, perhaps like the כְּרוּב סָגוֹל (keruv sagol), purple cabbage, found in the produce section of an Israeli supermarket.
Nouns derived from our root range along a wide spectrum of semantic uses. There is the meeting of the סֶגֶּל (segel), faculty of a university, and the three-dotted symbol for the vowel sound "eh," the סֶגוֹל (segol). If you have a vivid enough imagination, the diacritical mark under the word's first letter, the samekh, looks like the cluster of grapes being carried, in the well-known image, by the Israelites sent as advance scouts to the אֶרֶץ סְגֻלָּה (eretz segulah), treasured land, promised to the Chosen People. The message here is that the Jews, like Hebrew, are an adaptive people, מְסֻגָּלִים (mesugalim), capable, of adjusting to circumstances.
---
Joseph Lowin's columns for Hadassah Magazine are collected in the books HebrewSpeak and HebrewTalk.