What Wines to Pour on Seder Night and Beyond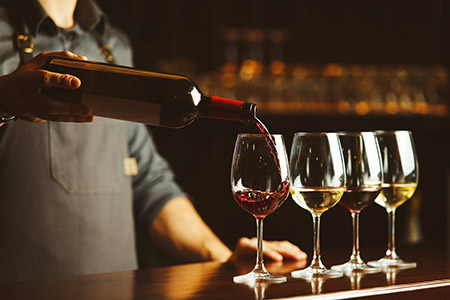 Passover falls just after the one-year mark of the world as we know it changing, and kosher wine sales have changed as well. Whether you've spent the intermittent lockdowns developing a taste for new Israeli reds or have stuck to your old faithfuls, here's how sales fared in 2020 as we look ahead to the first seder on the evening of March 27.
"Sales to on-premise establishments (restaurants, hotels, caterers/Pesach programs) were down significantly, while sales to retail went up," said Gabriel Geller, manager of wine education at Royal Wine Corp., a leading manufacturer and distributor of kosher vino. And once those enthusiasts made their purchases at retail shops, they weren't afraid to have a few extra glasses. But they kept budget in mind. "Consumers drank more wine but paid less per bottle than they usually do," Geller added.
Since international travel was largely impossible in 2020, wine drinkers instead turned to their glasses as a way to explore new countries, according to Geller, who noted "a growing interest in wines from countries like Spain, Italy and France, but Israel and California remain steady in popularity."
Just how many bottles you should plan to stock up on for your seder "really depends on how many people are attending"—perhaps far fewer than pre-coronavirus, Geller said.
He recommends keeping things slow and steady with a dry or off-dry rosé, such as the Herzog Lineage Rosé 2020, for each of your four cups "as they're easy to drink and relatively lower in alcohol than most red wines." But when it's time to enjoy your brisket, break out a special bottle of red. L'chaim! 
TOP SELLERS AND PAIRING PICKS FROM ROYAL WINE CORP.


BEST-SELLING RED OF 2020 
Baron Herzog Cabernet Sauvignon
BEST-SELLING WHITE OF 2020 
BEST-SELLING SPARKLING OF 2020

SPLURGE WINE FOR PASSOVER
Herzog Generation IX Stags Leap District 2018, which retails for $250
BEST ISRAELI RED TO PAIR WITH BRISKET
FAVORITE WHITE WINE TO PAIR WITH MATZAH BALL SOUP