Did You Know? A Quiz About Jerusalem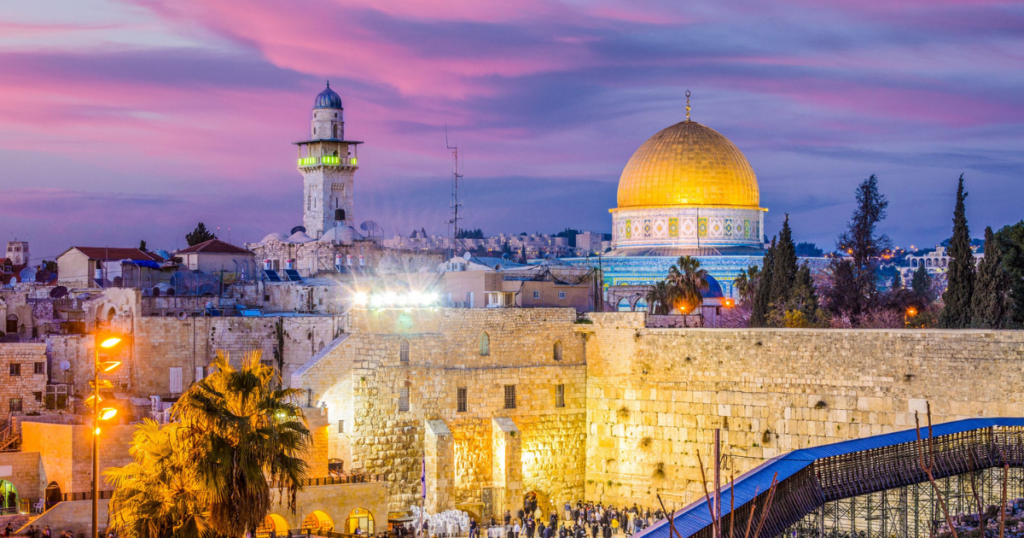 The eternal yet ever changing, ancient yet modern, capital city of Israel and the Jewish world is home to nearly 950,000 people. Every year, Jerusalem is celebrated on Yom Yerushalayim. Have you ever wondered how far your knowledge extends to Jerusalem's culture, architecture, natural beauty, innovation and inspiration, packed into each of its 25 neighborhoods?
Take our quiz! (Answers at the bottom of the page.)
1:  Who wrote the famous lyrics "The trees and stones there softly slumber,/ A dream enfolds them all./ So solitary lies the city,/ And at its heart a wall"?
a) Henrietta Szold
b) Naomi Shemer
c) Debbie Friedman
2:  King David's Harp is a nickname for what?
a) The Jerusalem Theatre
b) The International Convention Center
c) The Chords Bridge
3:  Jerusalem's First Station, home to shops, restaurants, concerts and cultural events, was originally what?
a) A 19th-century medical clinic
b) The first fire station in Jerusalem
c) A 19th-century railway station
4:  Jerusalem's Botanical Gardens have the largest collection of _____  in the world.
a) Bonsai trees
b) Bougainvillea
c) Lily of the Nile (agapanthus)
5:  Hadassah's hospitals are the _____ largest employer in Israel's capital.
a) first
b) second
c) third
6:  The city's light rail begins atop _____ and currently ends at Heil Ha'Avir, with a planned extension to Hadassah Hospital Ein Kerem.
a) Ben-Yehuda Street
b) The Knesset
c) Mount Herzl
Now you know…MORE ABOUT JERUSALEM!
What would YOU like to learn next about Zionism? Let us know at zionisted@hadassah.org.
---
Answer Key: 1-b; 2-c; 3-c; 4-a; 5-b; 6-c