Cultural and Economic Projects Link Gulf and Israeli Women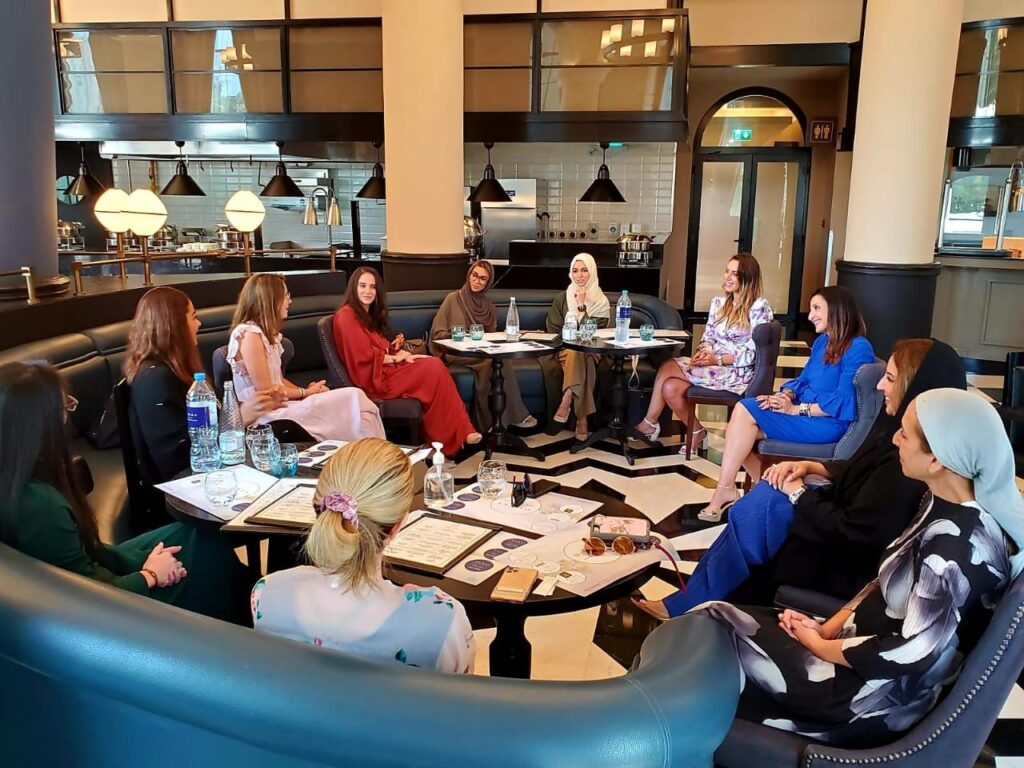 When Hamas fired thousands of rockets from Gaza into Israel in mid-May and civil unrest swept the country, the WhatsApp group of the Gulf-Israel Women's Forum was flooded with expressions of support for Israeli members and prayers for peace.
"As a Bahraini woman I stand with everyone and anyone who fights terrorism, and wish Palestinian women freedom from Gaza militants," Mashael Alshemeri, the CEO of Sharaka Bahrain, the Gulf-Israel Center for Social Entrepreneurship, wrote to the group. "I stand against violence all over the world, including Jerusalem, and condemn the launching of rockets on this holy city. I stand with my sisters in Israel."
Journalist Shoshanna Keats Jaskoll, an Israeli member, responded to the messages of support: "Thank you to all. This conflict is so hard and there is little we can do. Having friendships like these gives me hope."
The exchanges are an example of the success of the Women's Forum, which was founded last year to build ties between Israeli women and their counterparts in the Gulf. The group also works to strengthen the Abraham Accords, the normalization agreement between Israel and the United Arab Emirates announced in August 2020 and later expanded to include Bahrain, Morocco and Sudan.
The Women's Forum, with about 100 current members, is a smaller offshoot of the UAE-Israel Business Council, which was founded prior to the Abraham Accords, in June 2020. That group has thousands of members and plans to open an office in Dubai. The office will serve as headquarters for both the Business Council and the Women's Forum, according to Fleur Hassan-Nahoum, deputy mayor of Jerusalem.
Hassan-Nahoum, along with Justine Zwerling, the head of the London Stock Exchange in Israel, co-founded the Women's Forum, along with two Emirati businesswomen. Hassan-Nahoum and Zwerling were also among the founders of the Business Council.
Members of the forum come from a variety of professional fields, including high tech, marketing and journalism. While several deals are in the works, including a medical startup called Medcurator that will encourage medical partnerships between Israel and the UAE, the group is as much about creating interpersonal relations as well as economic connections.
"I truly believe that women are natural, instinctive peace builders," said Hassan-Nahoum.
She acknowledged that the recent conflict between Israel and Hamas "opened up some painful conversations in our group." But, she added, "they were empathic, respectful and ultimately the relationship is better for it. Every relationship has its moments of difficulty, but a sustainable one knows how to deal with it with emotional intelligence and move forward."
As one of the founders of the Business Council, Hassan-Nahoum has been active in helping Israeli companies who want to expand into the UAE. And she sees the Women's Forum as a natural extension of her work in Jerusalem.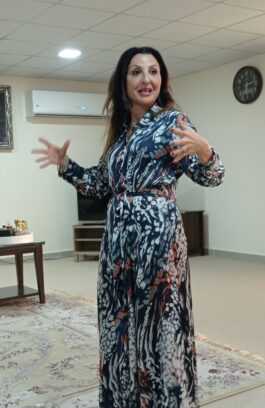 "As deputy mayor, I spend time empowering women and developing women's leadership on a community level and a city level," said Hassan-Nahoum, who was born in London and grew up in Gibraltar. "The Gulf-Israel Women's Forum continues this work on a regional level."
Members of the Women's Forum most recently met in person at the Capital Club in Dubai in early June. For the first time, two Egyptian women joined the group. One of them is Salma El-Hariry, CEO of S[k]aleUp Ventures, which invests in socially conscious technology companies. She reached out to Hassan-Nahoum after seeing her speak on a Zoom meeting and said she was thrilled to meet like-minded women.
"I believe the world gets better with collaboration," El-Hariry told Hadassah Magazine. "It was exciting to see female leadership and more open, genuine conversation than in the male-dominated scene."
She said she has started talks to collaborate with MassChallenge Israel, which is part of a global accelerator program for high-tech startups.
An earlier meeting of the Women's Forum in April, attended by this reporter, who is also a member of the group, was held at a luxurious family farm outside Dubai. The host was Aida Mohammed al-Busaidy, a media consultant. As the 20 participants  took  off their shoes in the entrance, there were hugs and squeals of joy as the Israeli and Emirati women reconnected, having first met in person in October 2020. They communicated in English, which most Emiratis speak fluently.
The majority of the Emirati women also took off their shelas, or head coverings, which is the custom among Arab women when they are inside and only among other women. (Several Israeli members are also religiously observant.) The conversation flowed easily from family to business to politics.
Al-Busaidy said she believes the Women's Forum is doing important work in cementing the Abraham Accords on a person-to-person basis. "There are women from different backgrounds all coming together regardless of what their nationality or religion is, and that's beautiful," she said. "It imitates the environment we've grown up in in Dubai, which is very much a melting pot of cultures and religions. With diversity comes a lot of depth in conversation and there is a lot of knowledge sharing that happens amongst the women and a lot of learning."
Zwerling, the Israeli co-founder, agrees. "We have built and facilitated deep bridges," she said, creating long-lasting friendships and cultural awareness as well as business connections. "We have shared recipes, cooked together, baked challah, shared beauty and fashion tips."
Jordan Shalmor, another Israeli member, is a high-tech entrepreneur who helps Israeli tech companies enter the American market. One of several Israeli members of the forum who has recently moved to Dubai, she said she "was amazed to see the power of this group that is made up of strong, talented, smart women."
"Peace comes first from the people, and it is a privilege to be part of a group that is advancing this in such a professional way. I have no doubt that together we can make a real change," she said after attending the April gathering. Shalmor, who arrived in Dubai in March, said she finds the city "magical and full of challenges."
Hassan-Nahoum said her experience in the Women's Forum has made her realize that most Westerners, and most Israelis, do not fully understand the role of women in the UAE.
"The biggest misconception about women in the UAE is that they're repressed, that they're invisible," Hassan-Nahoum said. Many women, like fashion designer and forum member Shatha Essa, run their own businesses with dozens of employees.
Fifty percent of the legislative council in the UAE are women, Hassan-Nahoum added, "while only 25 percent of the Israeli Knesset are women. Thirty percent of [UAE] government ministers are women. How many ministers do we have? They're doing much better than us in terms of gender diversity in decision-making positions."
The April event coincided with Yom Hashoah, Holocaust Remembrance Day, which had never been marked in the UAE until this year. There were several events sponsored by the small local Jewish community, which has seen a recent flourishing with the opening of synagogues and kosher establishments. Zwerling brought candles to the gathering, and each woman lit a candle in memory of a specific Holocaust survivor. The women stood for a moment of silence, with several holding hands.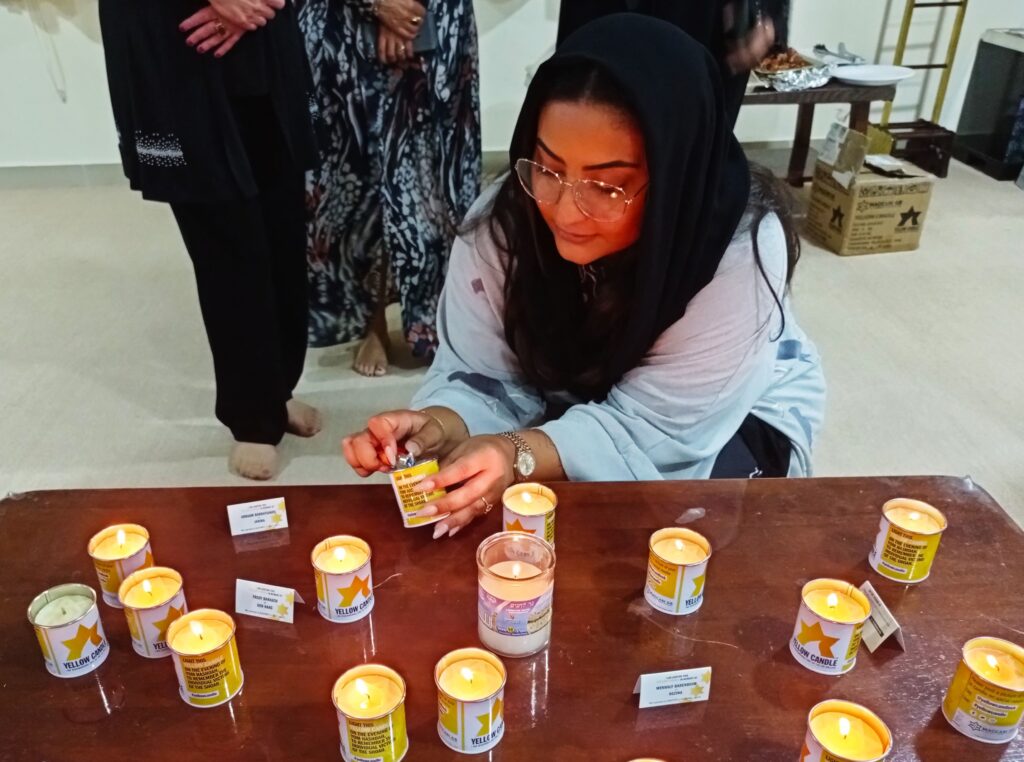 Beyond the UAE and, now, Egypt, the Women's Forum counts several members from Bahrain, encouraged by Ariella Steinreich, a public relations consultant who has many contacts in the Gulf nation. The difference between the Abraham Accords and previous agreements between Israel and the Arab world "is that this one is supported by the people" in these countries and "you see that play out every day in this forum," Steinreich said. "I've made introductions for friends and clients to women in the forum who are working in fields where there are synergistic opportunities."
Looking ahead, Hassan-Nahoum said there are plans for a delegation of Women's Forum members from the UAE to visit Israel within the next few months as well as for a joint exhibition, Maktoub Fresh Ink, of Hebrew and Arabic calligraphy.  For the exhibit, the Women's Forum will bring 10 Israeli and Emirati calligraphers together to spend 10 days in Dubai running workshops and creating individual as well as collaborative works. The exhibit will be shown in both Dubai and Jerusalem.
---
Linda Gradstein is a freelance journalist based in Jerusalem and teaches journalism at NYU-Tel Aviv.