Exploring Cape Cod's Midcentury Moment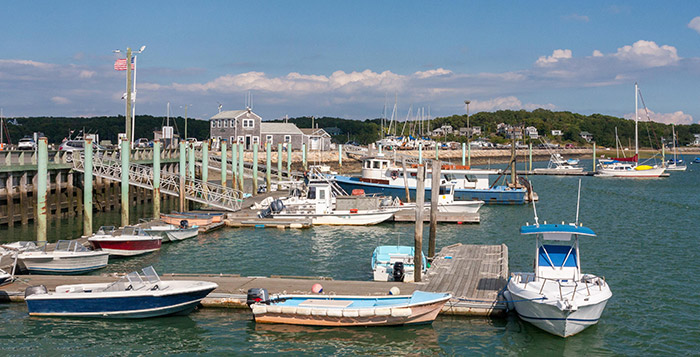 Massachusetts's Barnstable County, better known as Cape Cod, has been one of the hottest pandemic destinations for Americans: Out of 926 metro areas tracked by the United States Postal Service, Barnstable Town, the largest community on the Cape, had the fourth-largest increase in new arrivals this past year (No. 1 was Hudson, N.Y.). Locals expect this summer to be the busiest in memory. 
Starting east at the Cape Cod Canal, the Cape curves 65 miles into the North Atlantic like a giant, flexed arm, with the town of Sandwich near the upper arm, Chatham at the elbow and Provincetown at the fist. The curious landform was created by retreating glaciers, which left so-called kettle-hole lakes and salt marshes that distinguish the Cape not only from the mainland, but also from the islands offshore. Native names such as Waquoit Bay recall the Nauset and Wampanoag people; the latter still live in Mashpee.  
This year, the Cape may be an escape for pandemic-weary city folk, but decades ago, it was an artists' haven and a refuge for Jewish intellectuals fleeing Nazi Europe. 
In 1914, the Provincetown Art Association was formed, anchoring one of the country's oldest continuous art colonies. Within decades, cheap land, stunning scenery and golden light attracted painters like Robert Motherwell and his Jewish wife, Helen Frankenthaler. German-born painter and teacher Hans Hofmann brought his New York acolytes to paint here, notably Jewish artists Lee Krasner and Larry Rivers. 
"In the 1930s, bohemians would come to Wellfleet and buy an old farmhouse for $500," noted Peter McMahon, a home designer in the town of Wellfleet, just south of Provincetown, who is the author, with Christine Cipriani, of Cape Cod Modern: Midcentury Architecture and Community on the Outer Cape.
As founding director of the Cape Cod Modern House Trust, which leases four federally owned Bauhaus landmarks in Wellfleet, renting them in season to fund their upkeep, McMahon promotes the legacy and preservation of an extraordinary cultural moment. It arguably began when Walter Gropius, founder of the Bauhaus arts and crafts school in Weimar Germany, escaped Nazi Europe and eventually settled in Boston, where he chaired Harvard's Graduate School of Design. Gropius's protégé was the Hungarian-Jewish designer Marcel Breuer, who followed Gropius to Harvard and, inevitably, to Cape Cod. Their summer circle included Laszlo Maholy Nagy, a Bauhaus professor who established the Illinois Institute of Design, and Serge Chermayeff, who co-founded the American Society of Planners and Architects.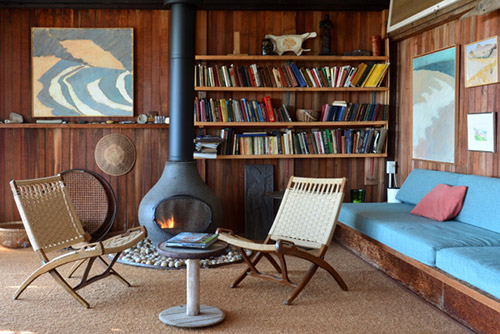 "The Bauhaus had a lot of Jews and communists, and were considered decadent by the Nazis," noted McMahon. "And they imported their avant-garde ideas" all the way to Cape Cod.
McMahon jokingly calls these ultra-secular cosmopolitans "Crypto-Jews": "They all knew each other was Jewish, but they didn't talk about it. Their own kids didn't know they were Jewish. For reasons of politics, they reinvented themselves as ethnically ambiguous." 
This worldly fusion is evident in the houses they designed and commissioned. Nestled into the pine forests around Wellfleet, these structures feature walls of windows, so that the interiors seem part of the surrounding woods—an impression enhanced by wood-beam construction. The Bauhaus aesthetic is all right angles, with flat roofs and living rooms cantilevered over sloping terrain. 
Once their era had passed, many of these vintage masterpieces were sold and torn down or fell into neglect. This prompted the Modern House Trust to save several prime examples along the Cape Cod National Seashore, including the Kugel/Gips House—a Modernist home once owned by Peter Kugel, a German Jewish émigré and Boston University professor, that now appears on the National Register of Historic Places. The three other restored midcentury Wellfleet homes available to paying overnight guests through the Modern House Trust are Hatch House, Weidlinger House and Kohlberg House.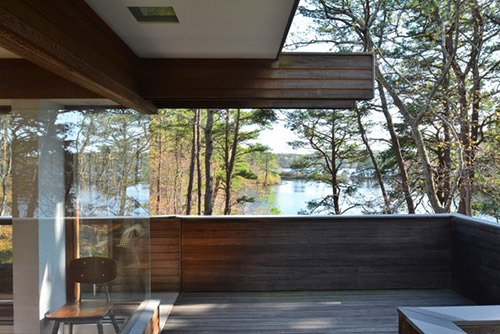 McMahon, 63, is a Boston native who grew up summering in Wellfleet and now lives there year-round. His mother's artistic family included Jewish uncles-by-marriage Will Barnett, the painter, and New Yorker cartoonist Mischa Richter. By the 1960s and '70s, the family's Cape neighbors included Jews in a variety of professions, such as the historian Howard Zinn and the linguist Noam Chomsky. "Provincetown was a wild, never-ending carnival," said McMahon. The midcentury art scene was "highly social, boozy and communal, with big dinners and frozen daiquiris." The 1960s, he added, was "a hippie love-in." 
Provincetown remains a serious art town, but it began to acquire a kitschy edge when the 1950s brought a highway and mass tourism. Indeed, the Cape is a landscape of social as well as visual contrasts—a culture of "craggy, bleak isolation," as McMahon put it, as well as, in Provincetown, a vaunted gay mecca. It's where pine forests alternate with towering dunes. On the upper Cape, Falmouth combines colonial charm with "a rich intellectual life all year round," noted resident Sam Slarskey, a retired educator from Boston and past president of the Falmouth Jewish Congregation. 
Cape Cod maintains a year-round Jewish community that seems to thrive, paradoxically, on its isolation. "There's a DIY attitude that goes along with being a rural congregation," observed Rabbi David Freelund, a native New Yorker who leads the 220-family Cape Cod Synagogue in Hyannis, a Reform congregation founded in 1933. 
Rebecca Holmes, an active participant in the Orleans-based havurah Am HaYam (Hebrew for "people of the sea"), agreed. "Many who join us are looking for a Jewish community, not necessarily a religious one," she said of the nondenominational group, which has a mailing list of more than 400. Jews of all backgrounds gather to cook, kibbitz and daven on the bluffs in summertime. 
Over and over, people told me the Cape is changing. City refugees are settling here in droves, tearing down the bungalows of yesterday's artists and replacing them with large, year-round houses. "In the 35 years I've seen it, it's become very citified," Renate Wasserman, an Am HaYam member, said of the area. "There's a lot more money around. But it's still the Cape; it's still wonderful. I'm always discovering new corners."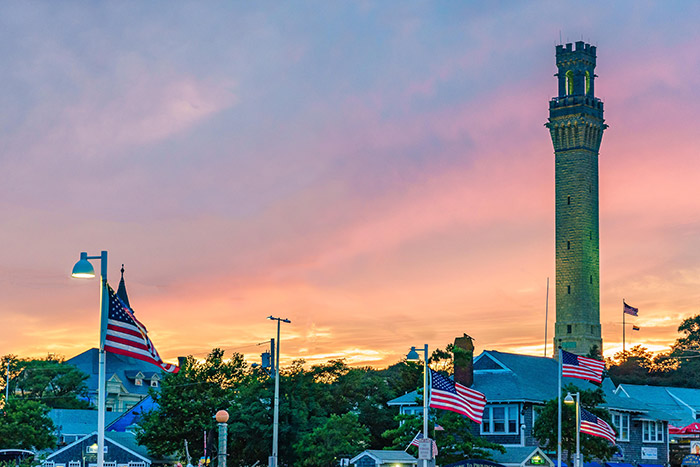 ---
IF YOU GO
Falmouth is known for the Woods Hole Oceanographic Institute, a world-famous marine research facility with public programs for all ages. Another
highlight is Highfield Hall & Gardens, a vintage estate featuring a nature trail, an outdoor musical instrument gallery, children's garden programs, art exhibitions and local farm-to-table cooking classes. The Falmouth Jewish Congregation hosts holidays and concerts at its circa 1797 East End Meeting House, a colonial landmark.
All over the Cape, you'll find well-tended trails popular with hikers and bikers. Connecting Woods Hole with downtown Falmouth, the Shining Sea Trail lives up to its name; it's a picturesque four-mile ride along the coast. Another favorite is the seven-mile stretch on each side of the Cape Cod Canal. Ambitious bikers can also follow the 25-mile Cape Cod Rail Trail, on the bay side from Dennis to Wellfleet.
If you aren't in a hurry, take historic Route 6A. Starting just over the Sagamore Bridge and beginning at what is known as the Upper Cape, the route wends along Cape Cod Bay through Sandwich, Barnstable, Yarmouth, Dennis and Brewster before heading to the Lower Cape by connecting in Orleans with Route 6, the lone conduit to Provincetown.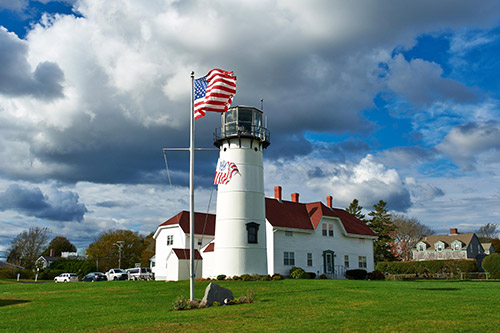 Chatham, at the Cape's elbow, is a large town with a preppy New England feel. Wellfleet, a storied artists' retreat, boasts a lovely harbor and beaches along Cape Cod Bay. The town center is lined with galleries and bookshops, and the Wellfleet Bay Wildlife Sanctuary is a birder's delight.
In Provincetown, check out the Provincetown Art Association and Museum and the Pilgrim Monument, a hilltop obelisk towering 250 feet over the harbor. Herring Cove Beach, amid the dunes by Race Point Lighthouse, is popular for its bay views.
The Cape Cod National Seashore is a pristine stretch of sand along the Cape's Atlantic coast. You'll find excellent beaches with public facilities and a network of paved trails. National Historic Sites in the park include the Marconi Wireless Station Site, where Guglielmo Marconi built America's first transatlantic radio transmitter in 1902, and vintage lighthouses. Indeed, the Cape is dotted with historic lighthouses (for a full listing, see capecodlighthouses.info). Favorites are the Chatham Light, which in the early 19th century included two towers. One of them moved up the coast to become the Nauset Lighthouse, which you can tour en route to Nauset Beach. 
---
Hilary Danailova writes about travel, culture, politics and lifestyle.